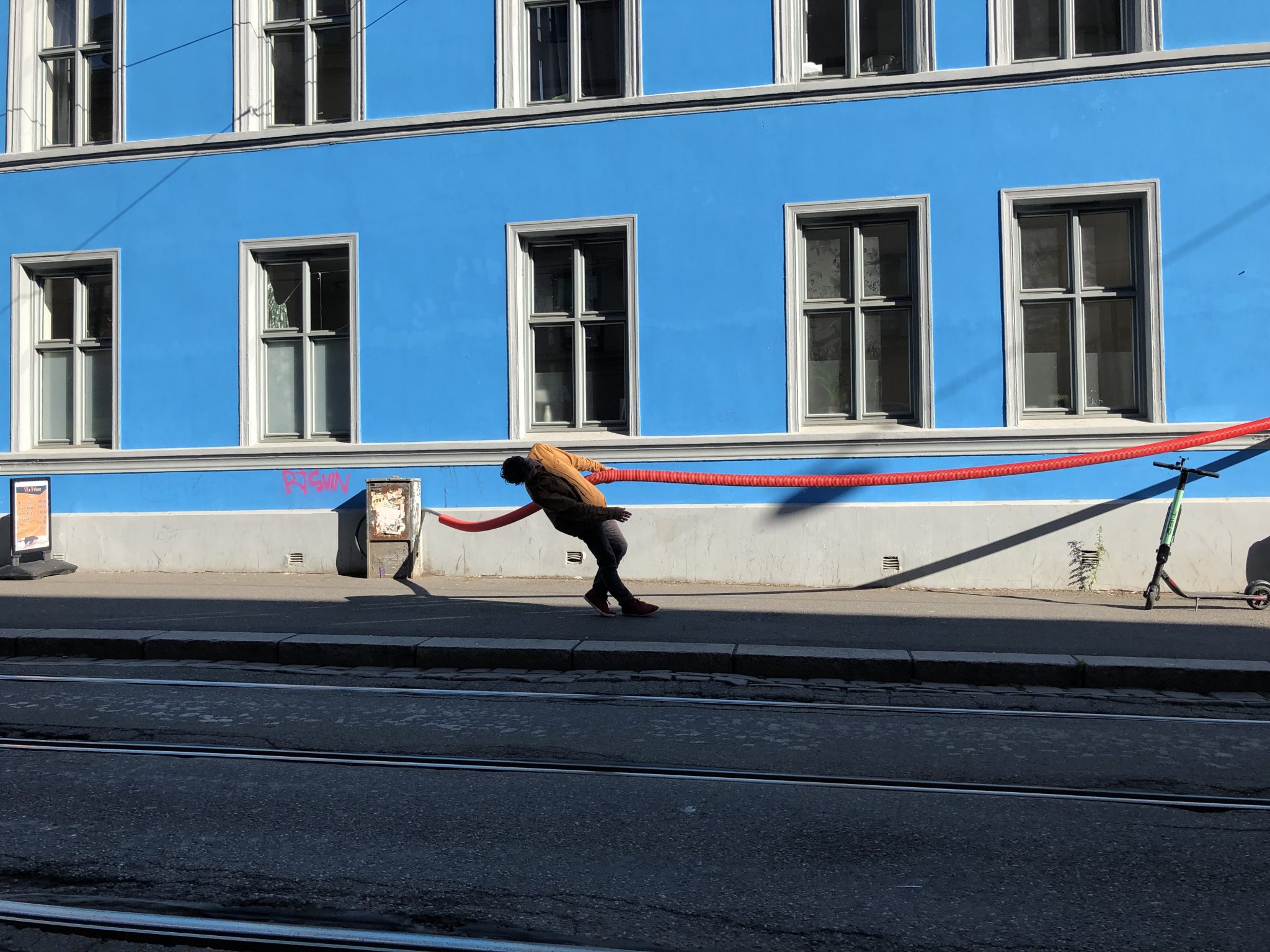 BodyCartography's TOGETHERING brings audiences into the heart of dance, exposing other ways of knowing through radical practices of togethering. The dances, one-on-one experiences and group scores unfold in public space, a city square, municipal building, public library or community arts center for example. This project invites us to practice "audiencing" as we play with how we perceive ourselves, others and our surroundings, both consciously and unconsciously. TOGETHERING creates a space for movement, social gathering, conversation and refraction in embodied practice, behavior, relational intelligence, and intimacy in public space.
"They take you and your perceptions on a transcendent journey that simply must be experienced to understand! Highest Recommendation!" – Ina Johannesen Dibley & Dr. Michael B. Dibley
TOGETHERING was originally commissioned and curated by Linn Cecilie Ulvin for Kulturetaten's SAMMENomGATA and took place at Schous Plass September 12-22, 2019. Choreographers/directors/Large scale video installation: Olive Bieringa and Otto Ramstad Scenography: Camilla Wexels Riser Performers: Venke Marie Sortland, Oliver Connew, Olivia McGregor, Loan Ha, Sigrid Marie Kittelsaa Vesaas, Otto Ramstad and Olive Bieringa. Guest performers: Marielle Kalldal, Astrid Ødegård, Ane Smørås, Andrea Winsnes, Carl Joseph Aquilizan, Mina Weider, Maria Lothe, Mari Bygnes, Rebecca Holm, Mahsa Rahmani, Linn Christin Aagedal, & Marte Øslebø and everyone who appeared in our video. Front of house: Stine Solvang, Mina Weider & Lisa Bysheim. Interviewer: Sidsel Pape. Special thanks: Kenneth Korstad, Paal Bjelke Andersen, Odvar Thorsen and all of the staff at Diechman Grünerløkka, Nora Peterson and Jan Robert Johnsen. Partners included Sporveien AS, Bymiljøetaten, Bydel Grünerløkka, Deichman Grünerløkka, Atelier Nord og Oslo Kulturskole, Oslo Kulturnatt 2019 and Oslo Kommune.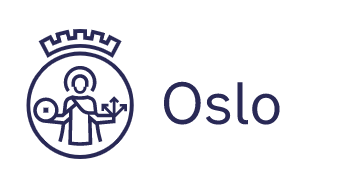 More technical information, video and audio documentation can be found at the bottom of the page.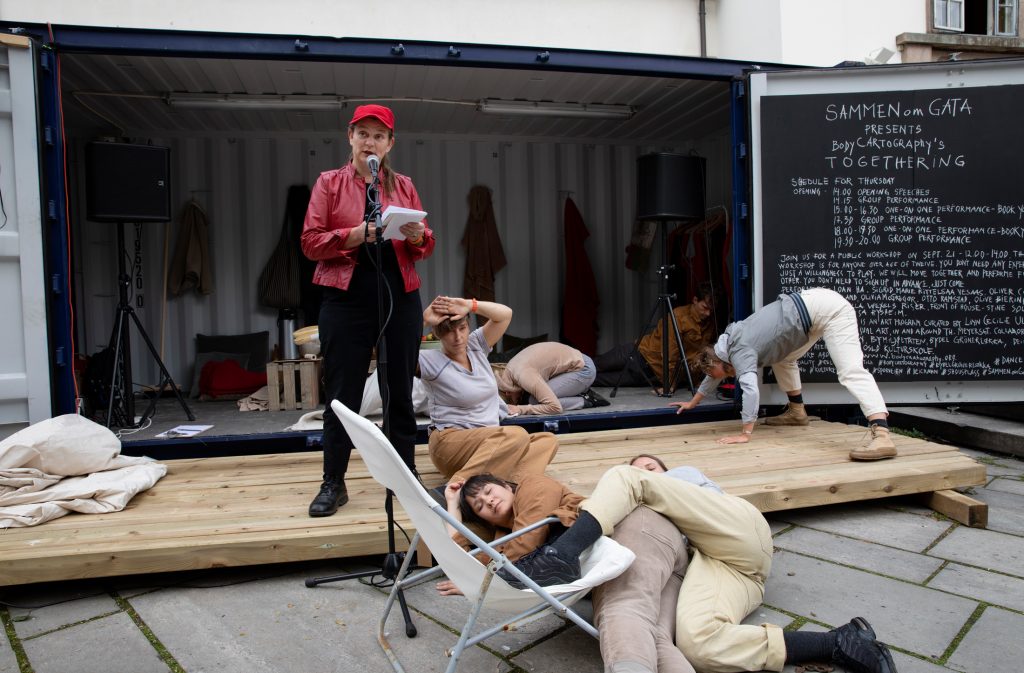 Photo: Trond Isaksen

photo: Sean Smuda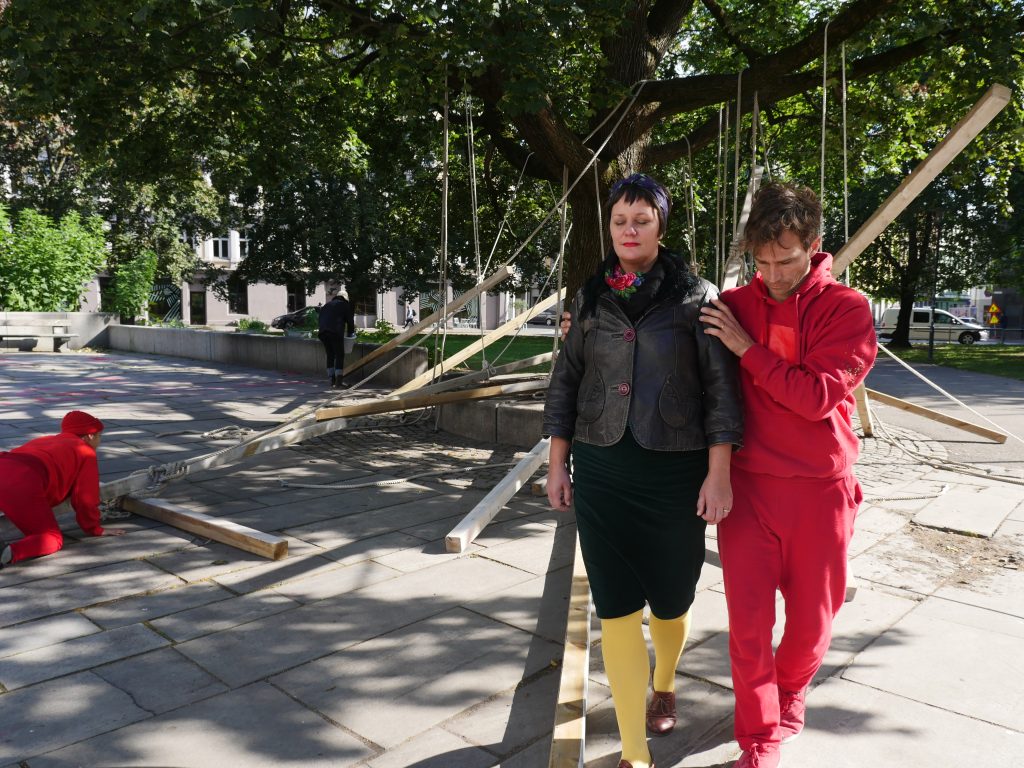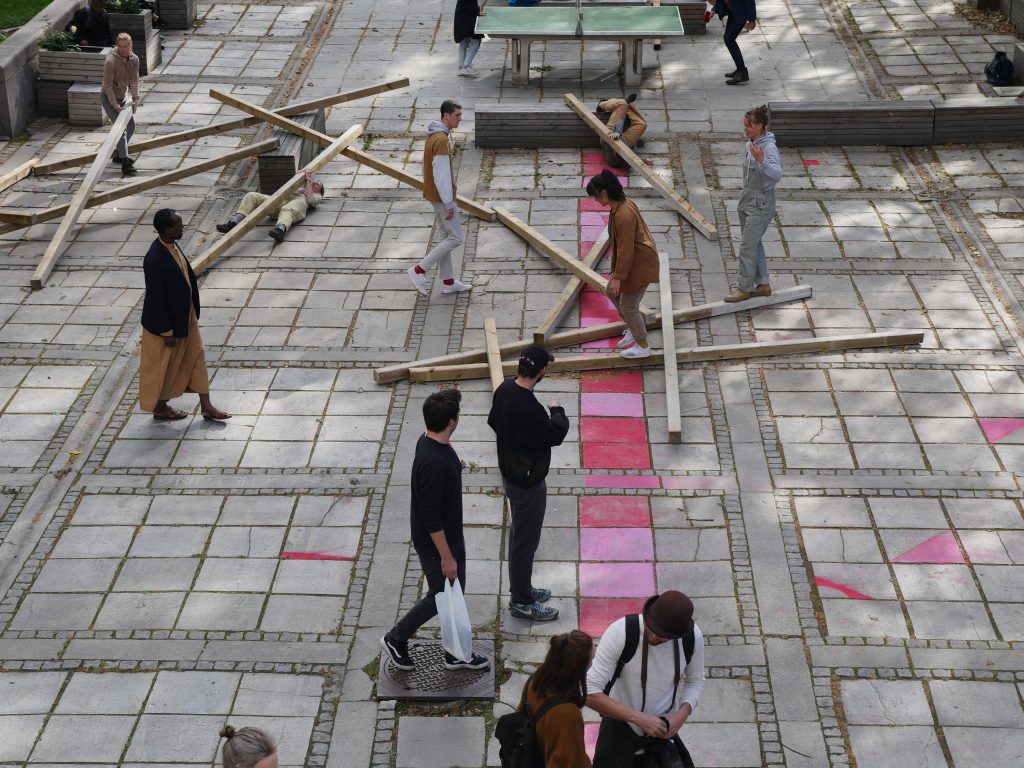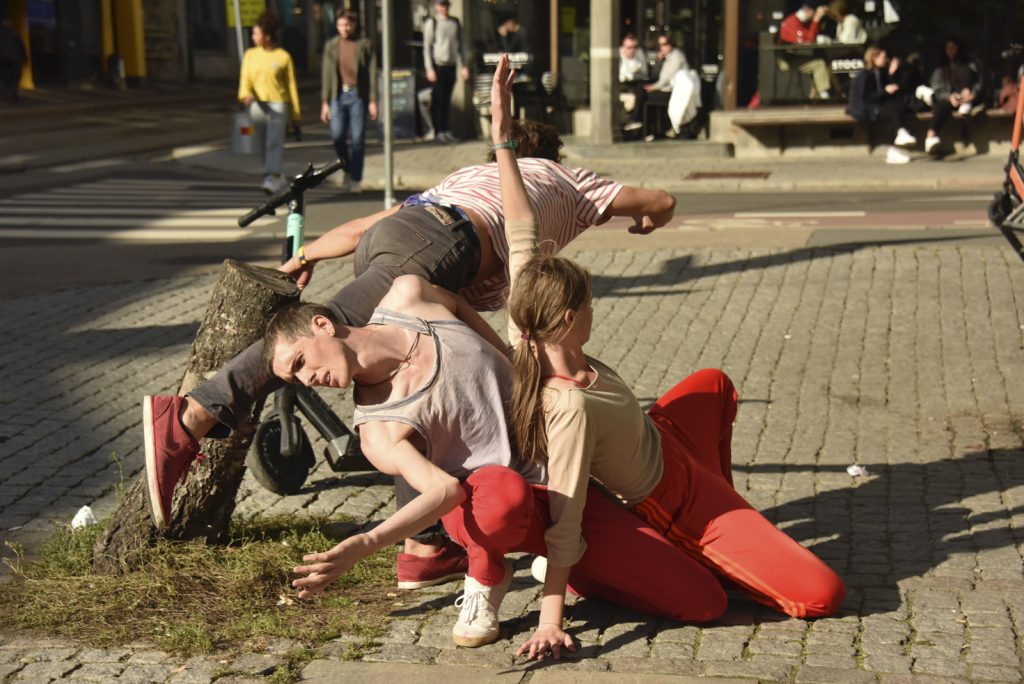 photo: Nancy Bundt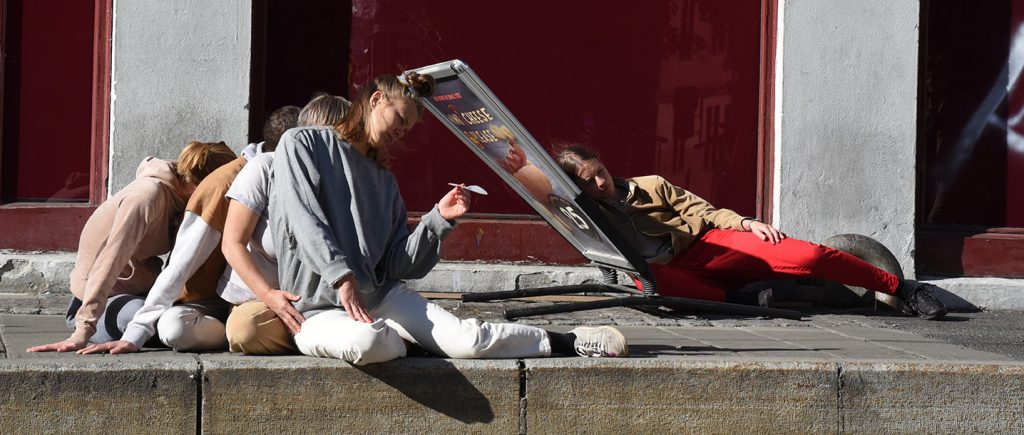 photo: Sean Smuda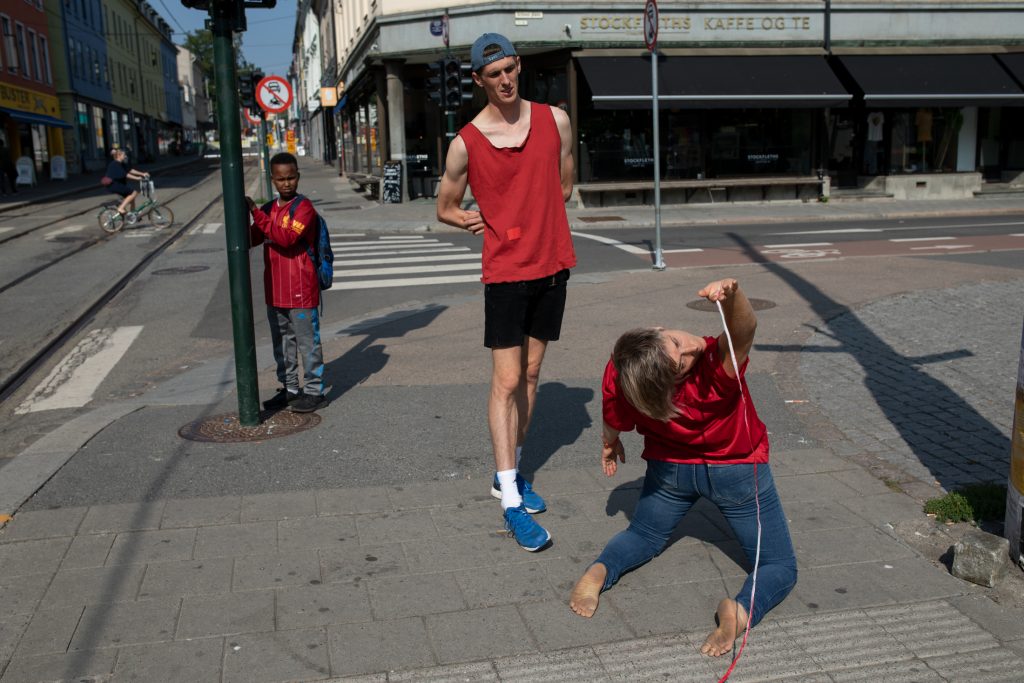 Photo: Trond Isaksen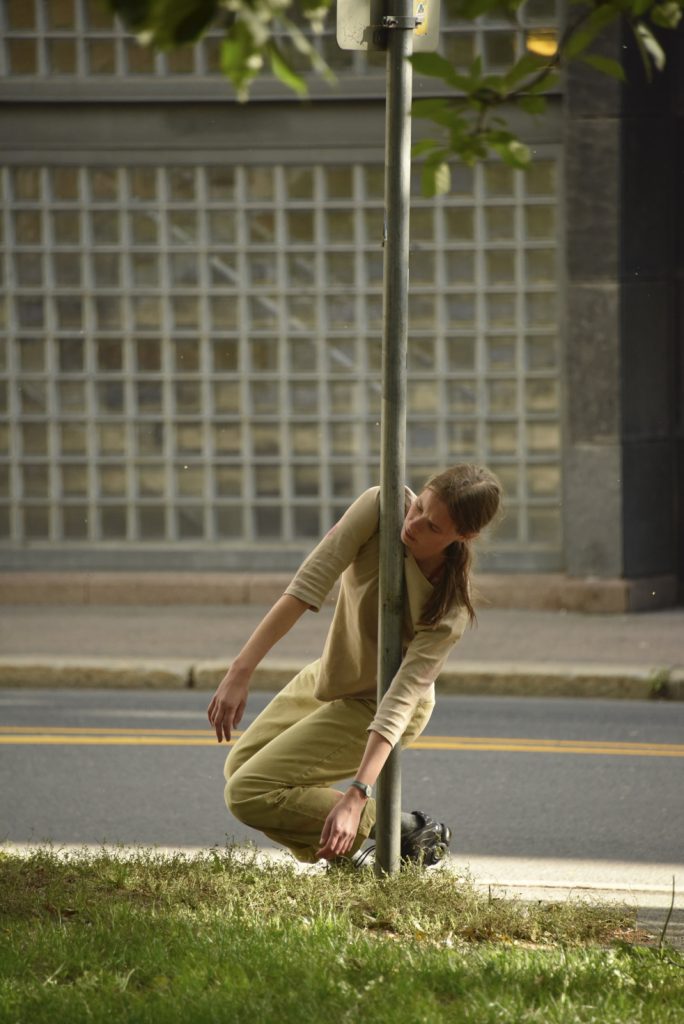 photo:Nancy Bundt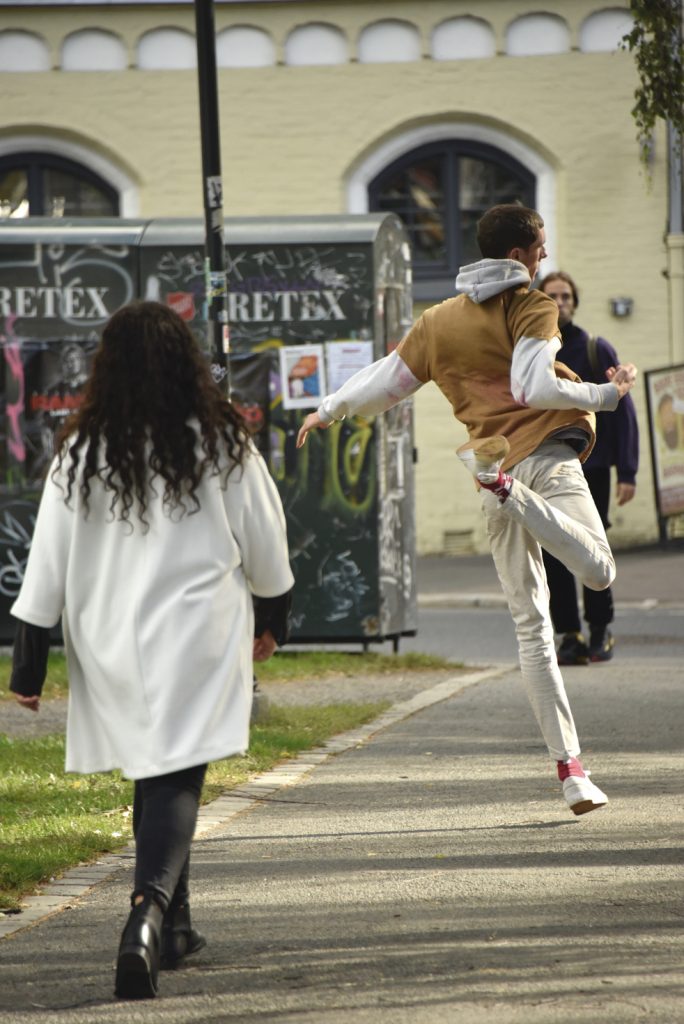 Photo: Trond Isaksen
"Philosopher Alva Noë wrote that experience is not something we have—it is something we do. For the BodyCartography Project this is not an abstract philosophical concept but an operational principle."  Boris Oicherman, Weisman Art Museum website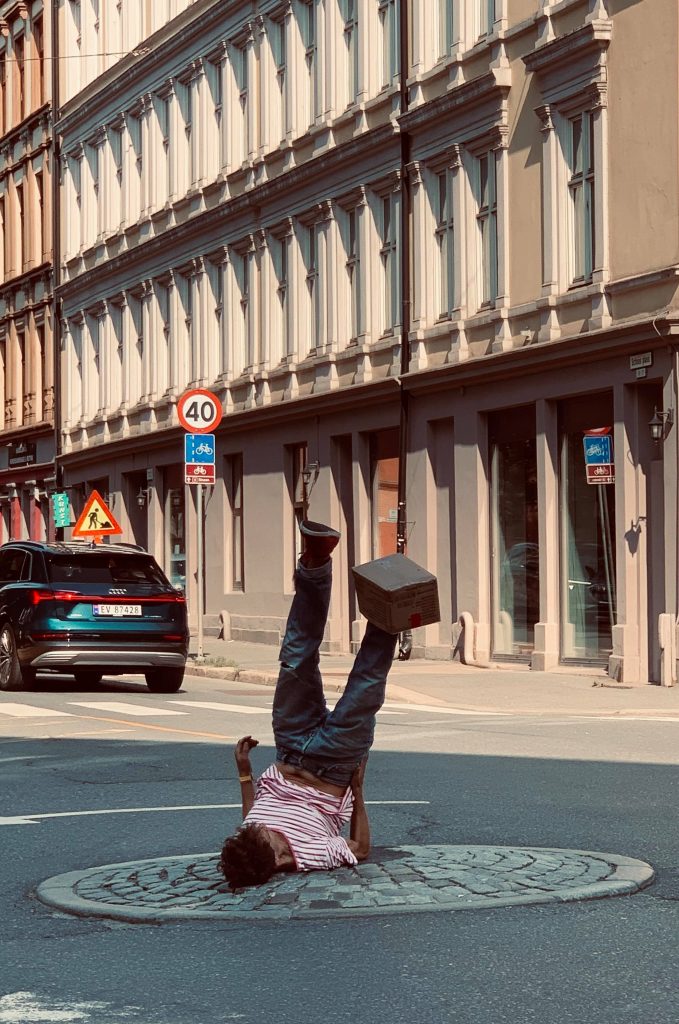 Photo: Camilla Wexel Riser
"They can always be counted on to keep us guessing and eagerly anticipating their next moves"
Dance Company of the Year, City Pages, 2013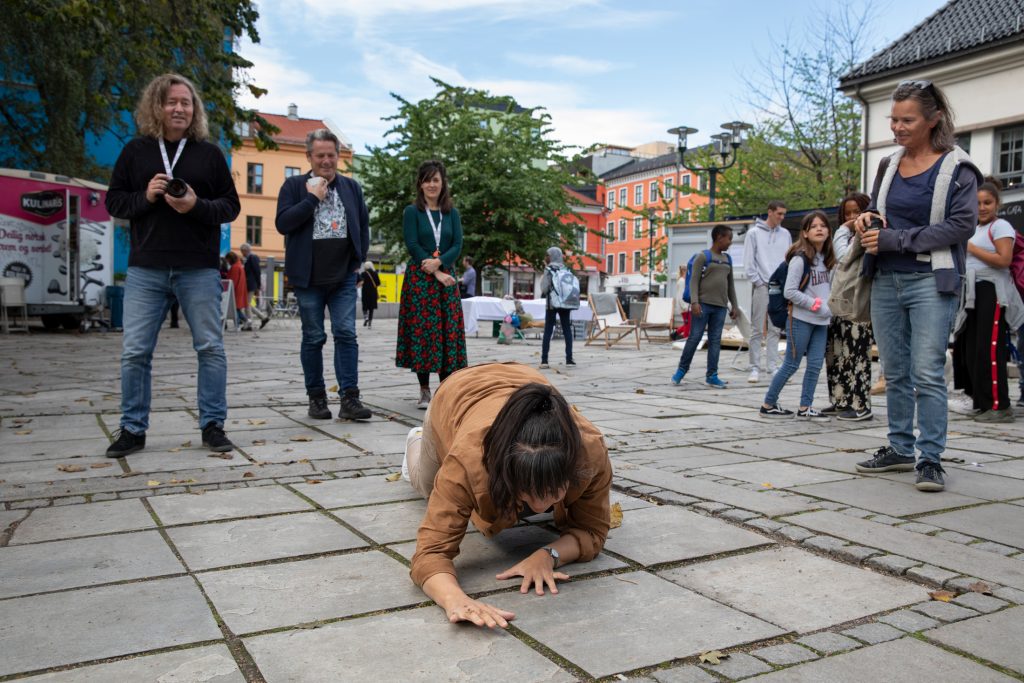 Photo: Trond Isaksen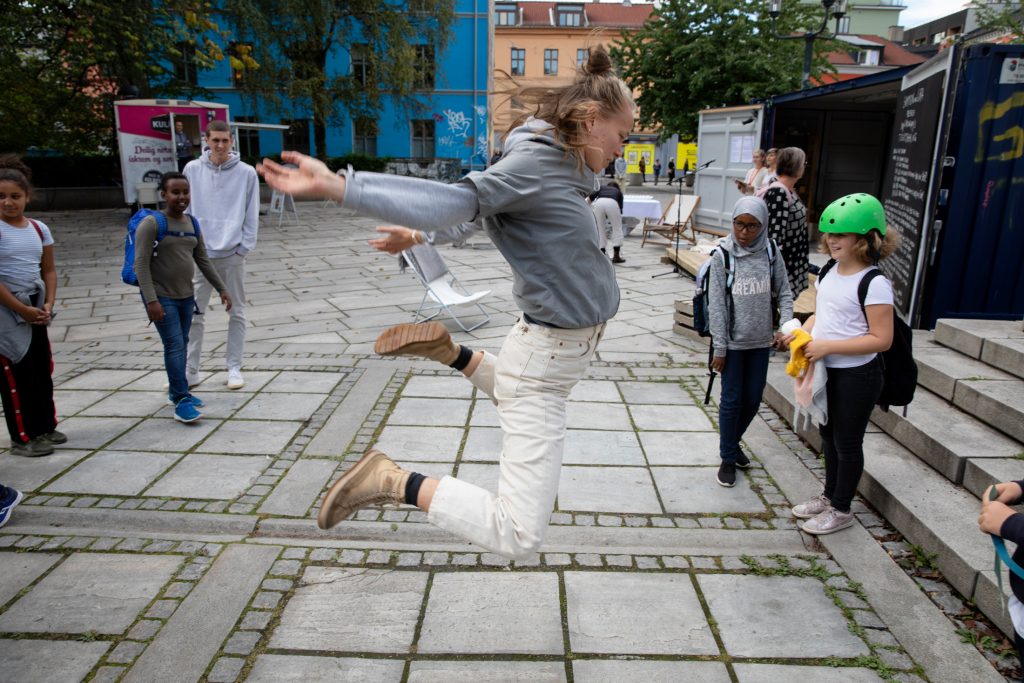 Photo: Trond Isaksen
"I could have watched these amorphous beings creating strange and beautiful shapes for hours." cherryandspoon.com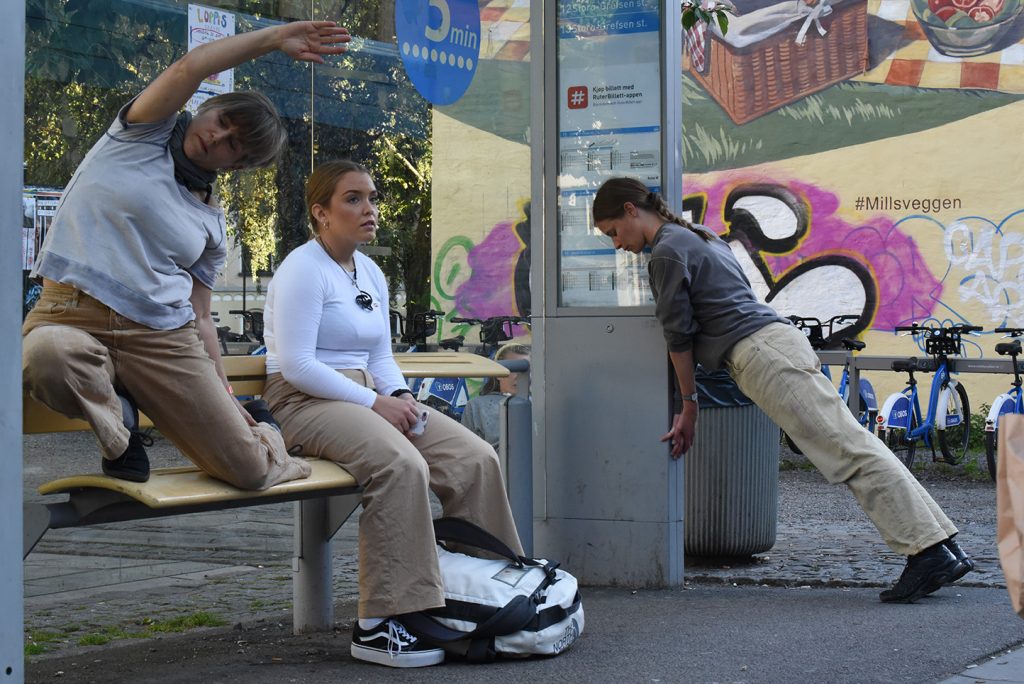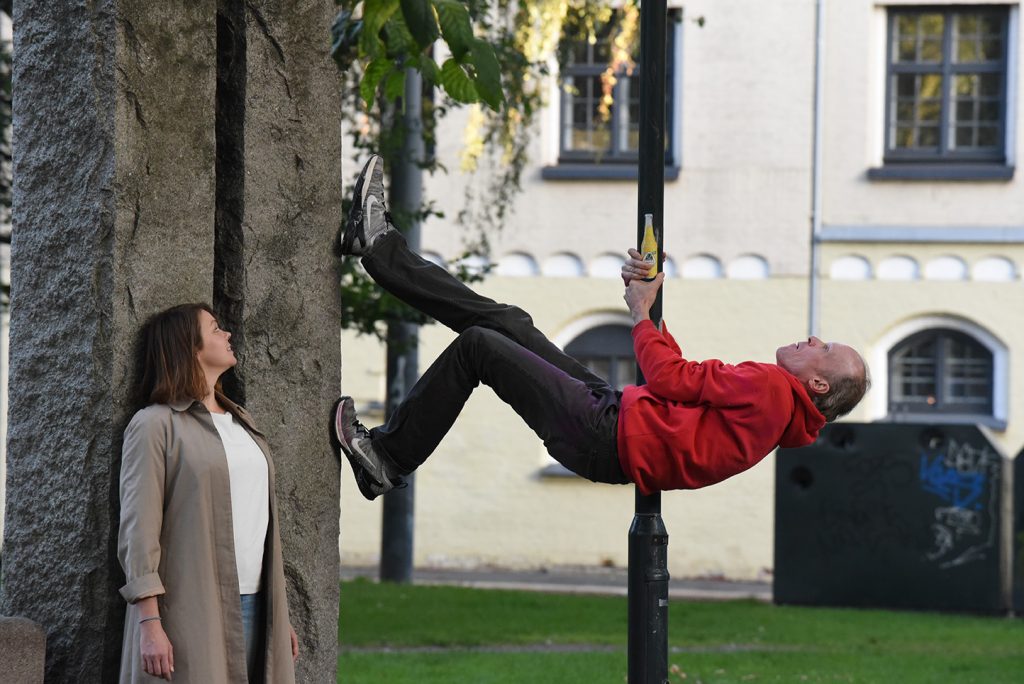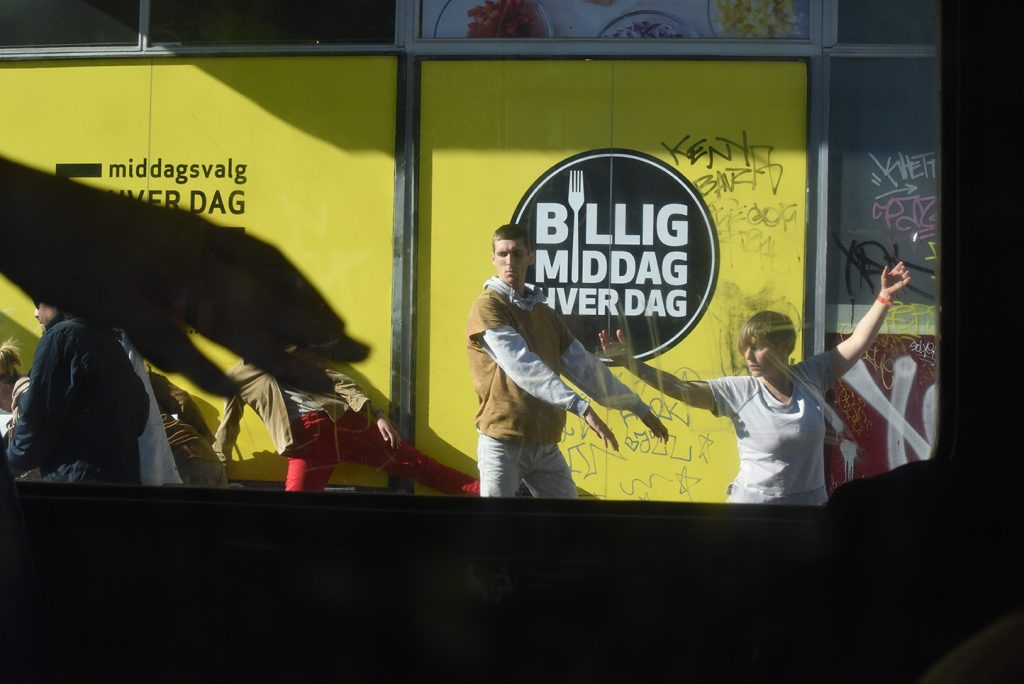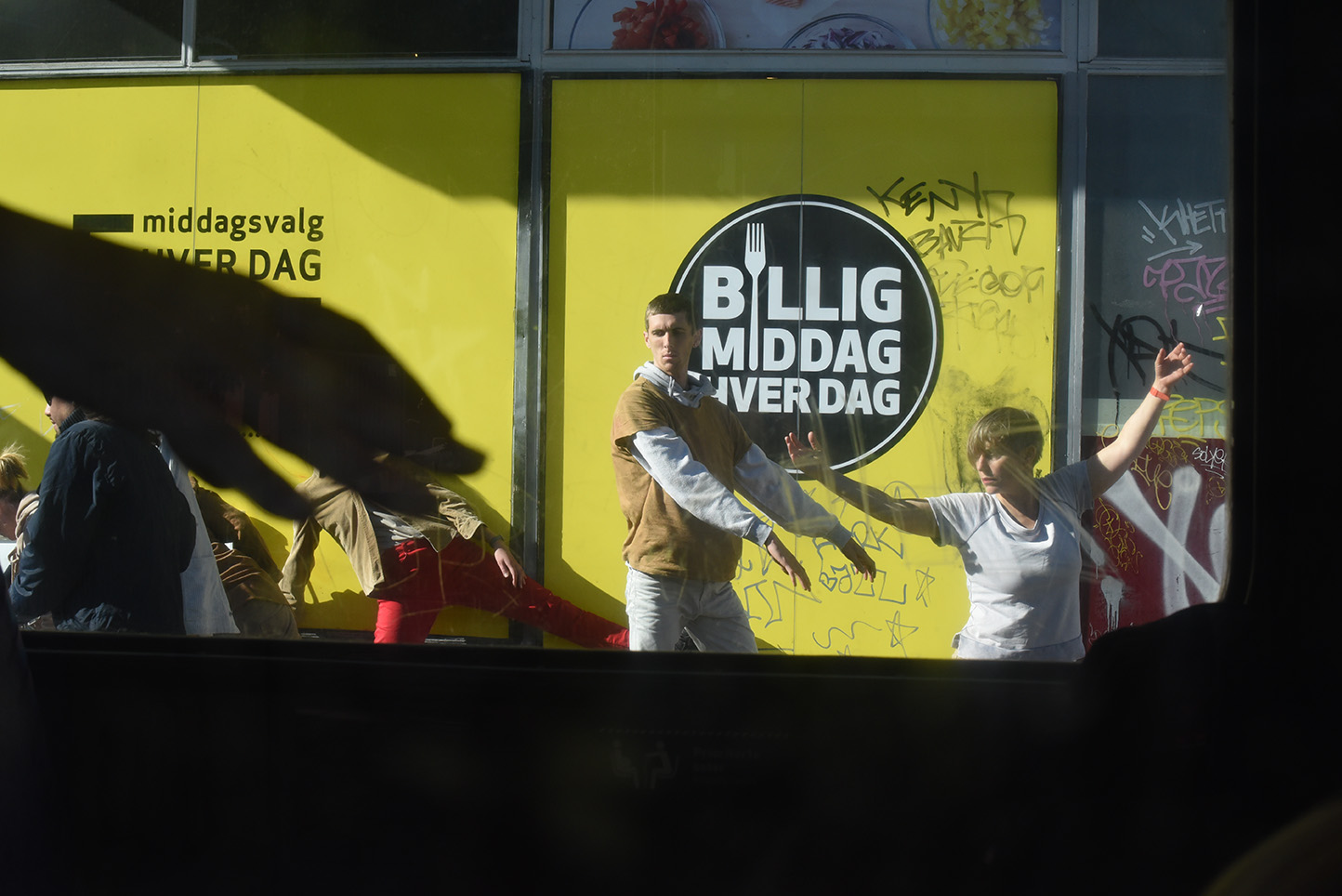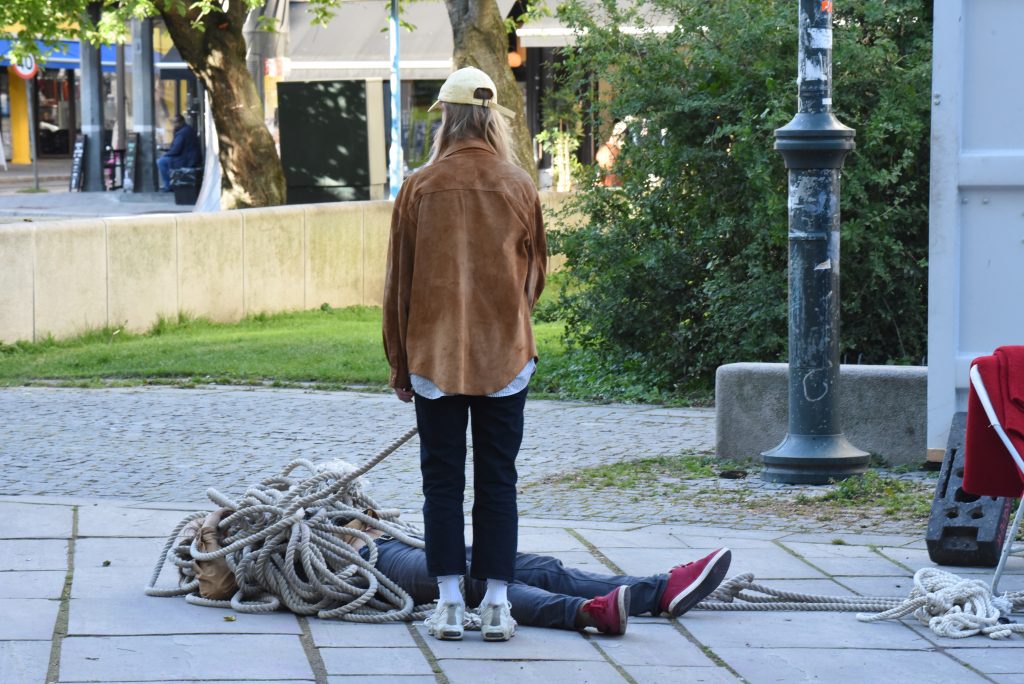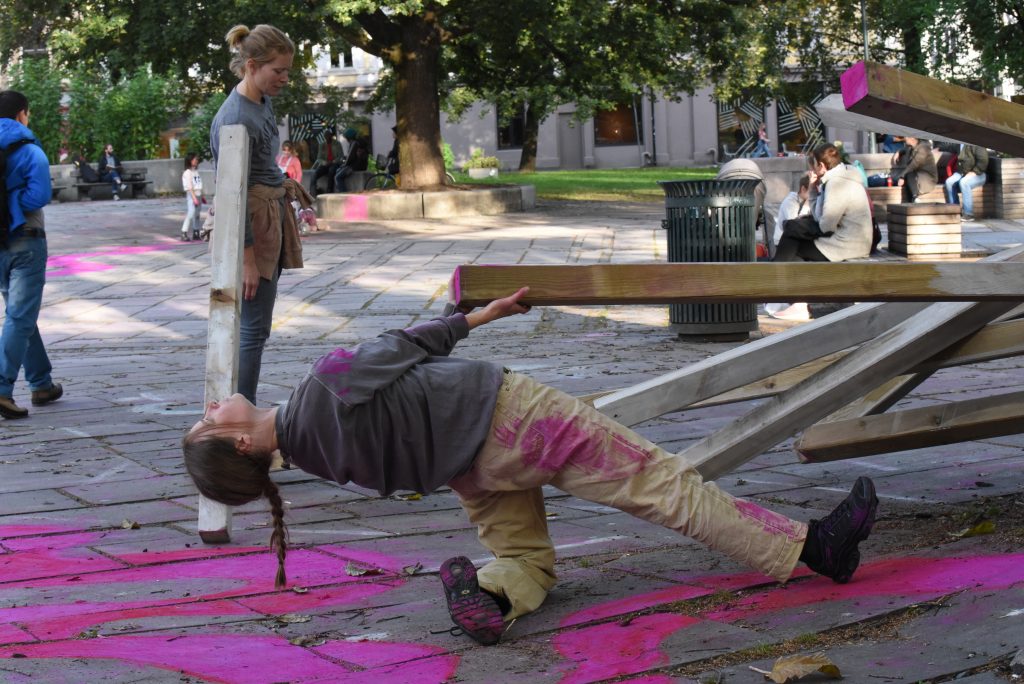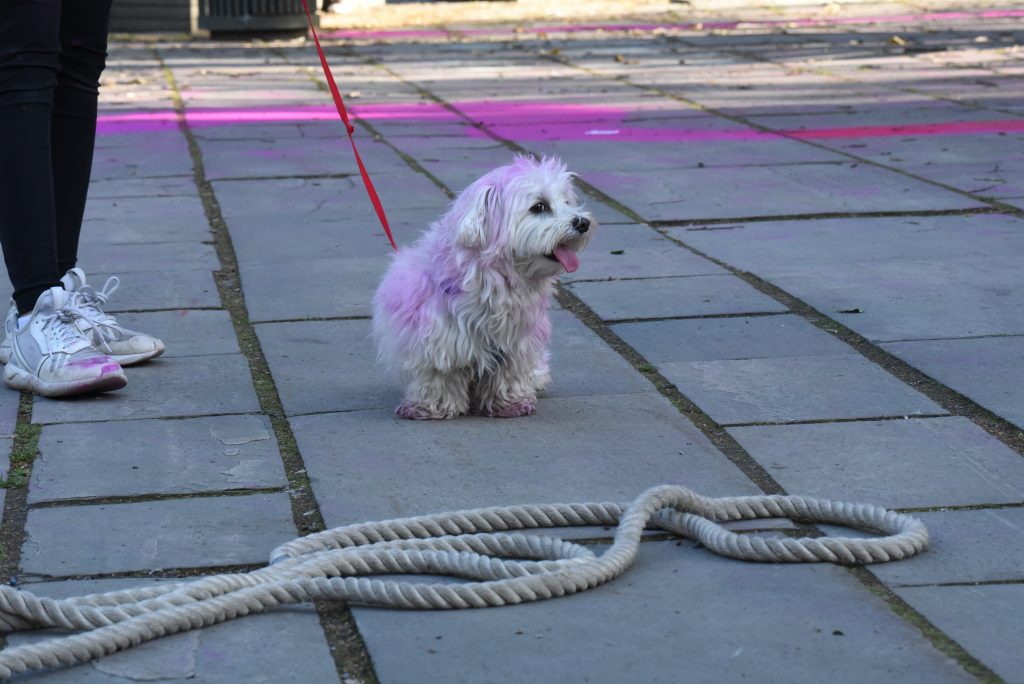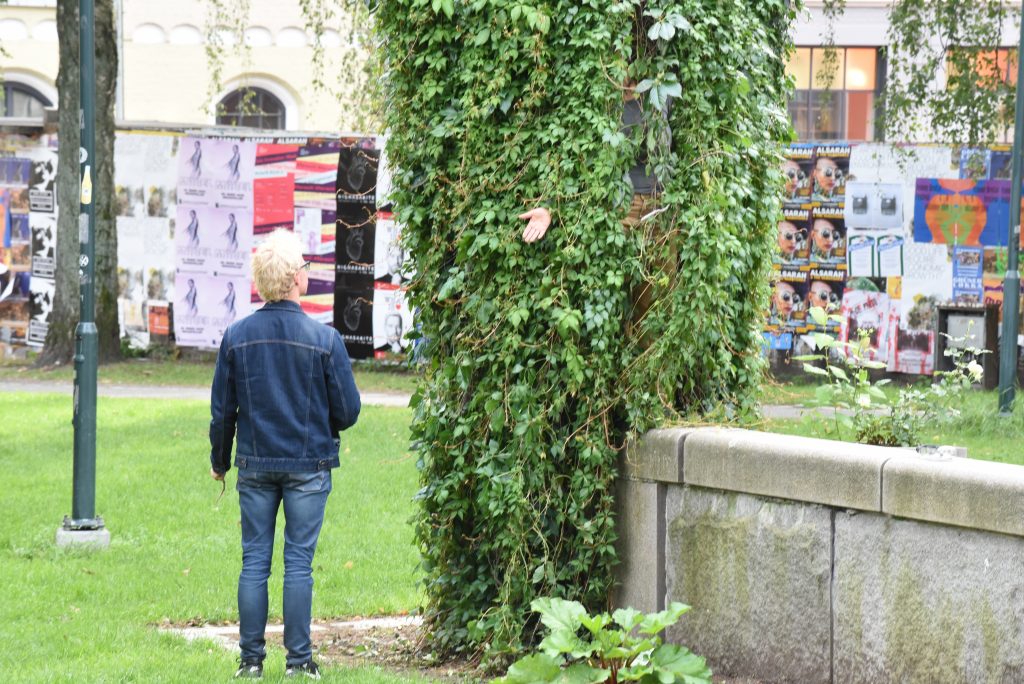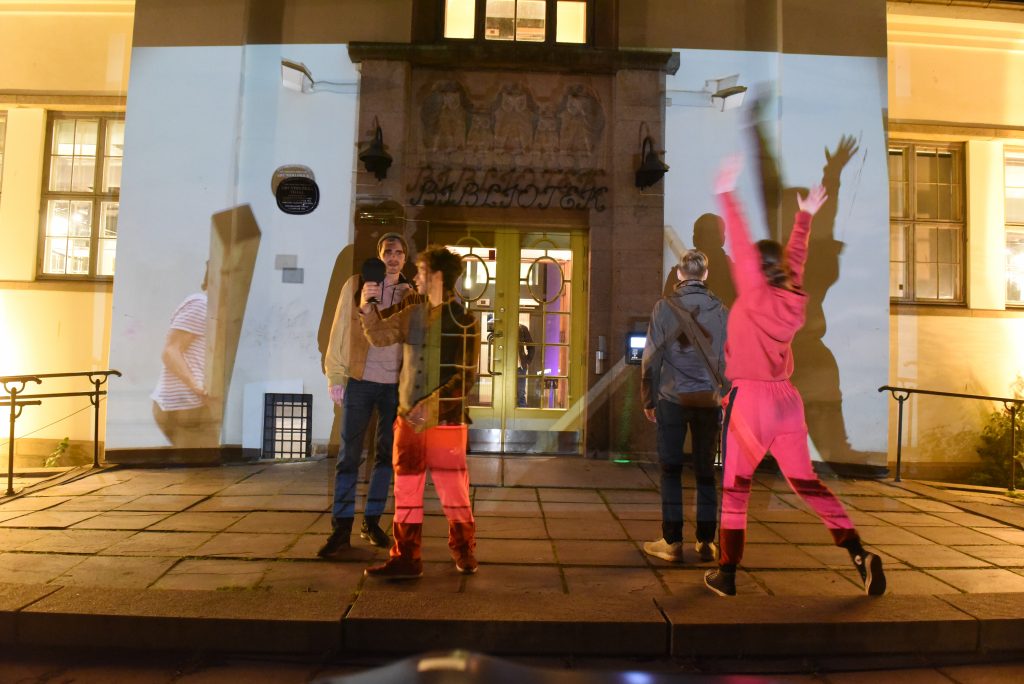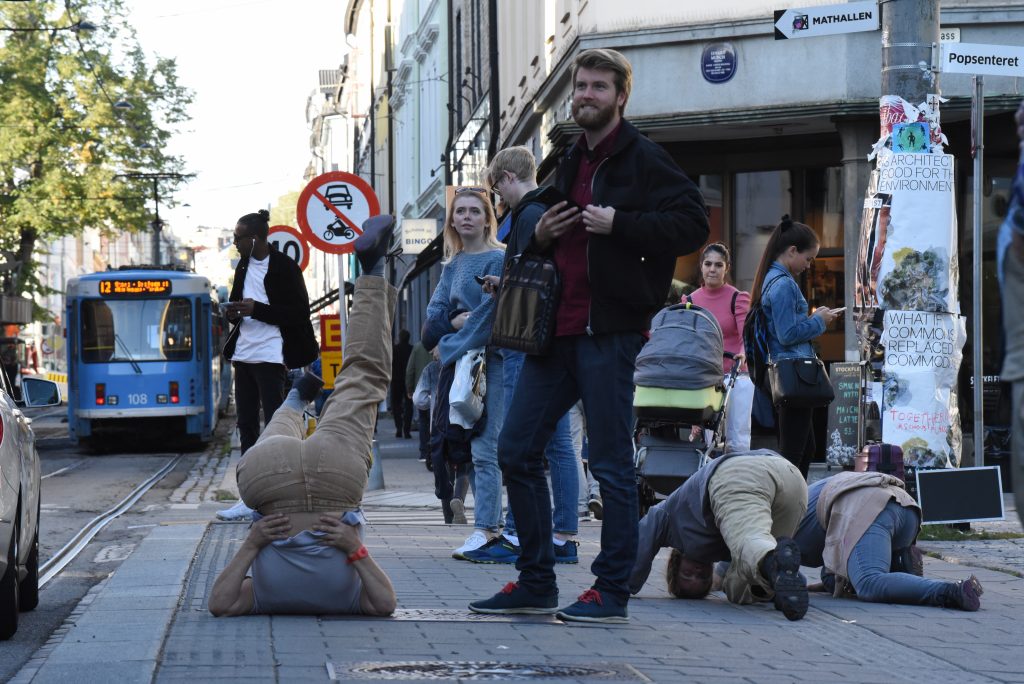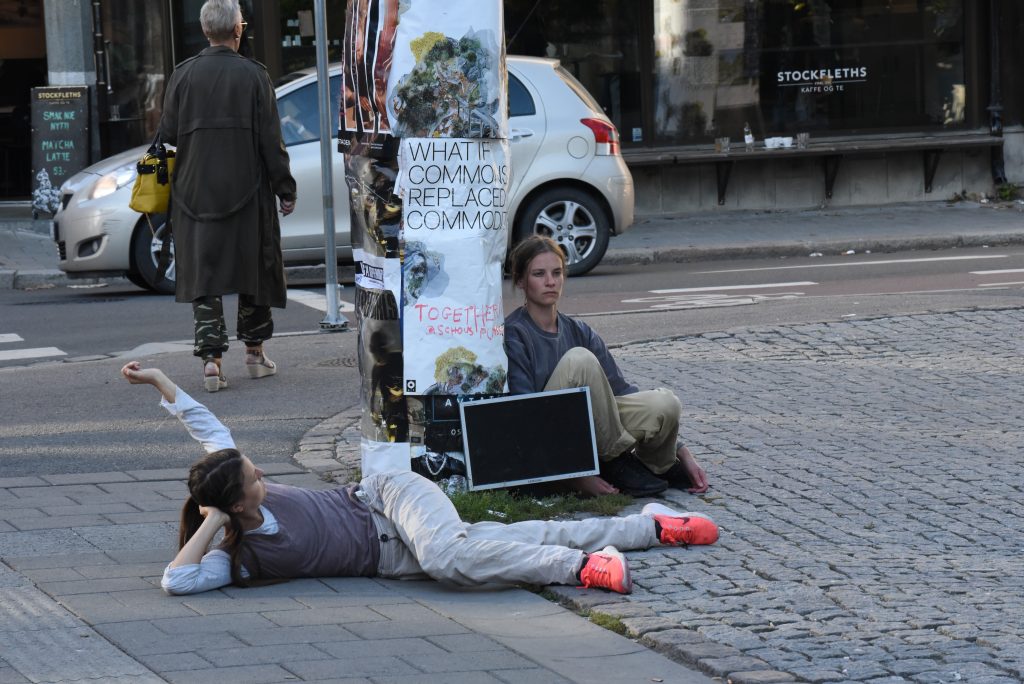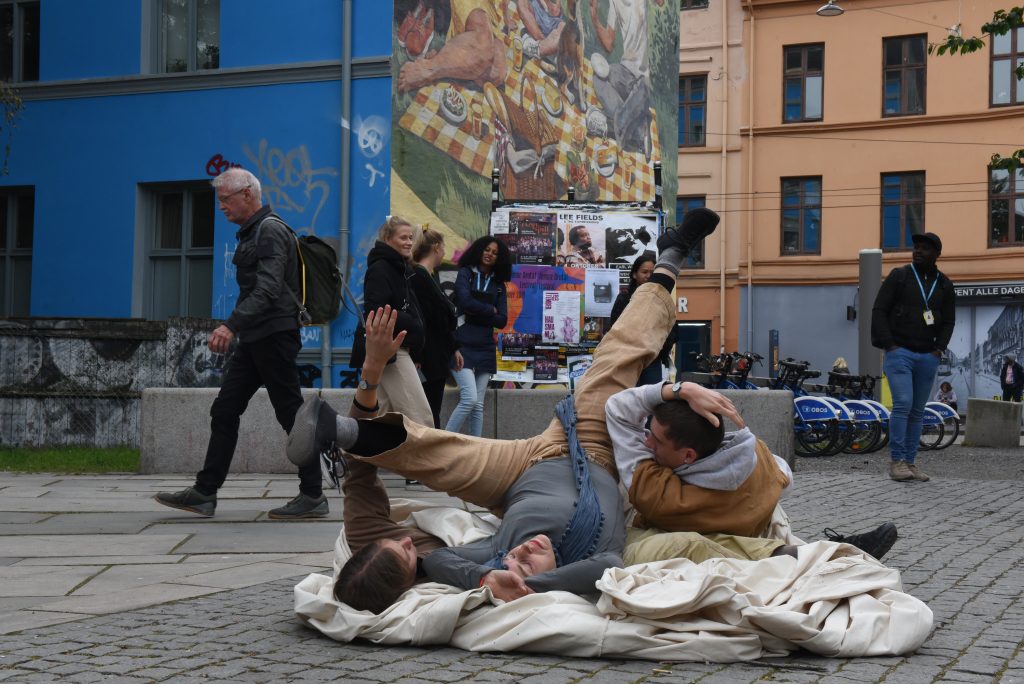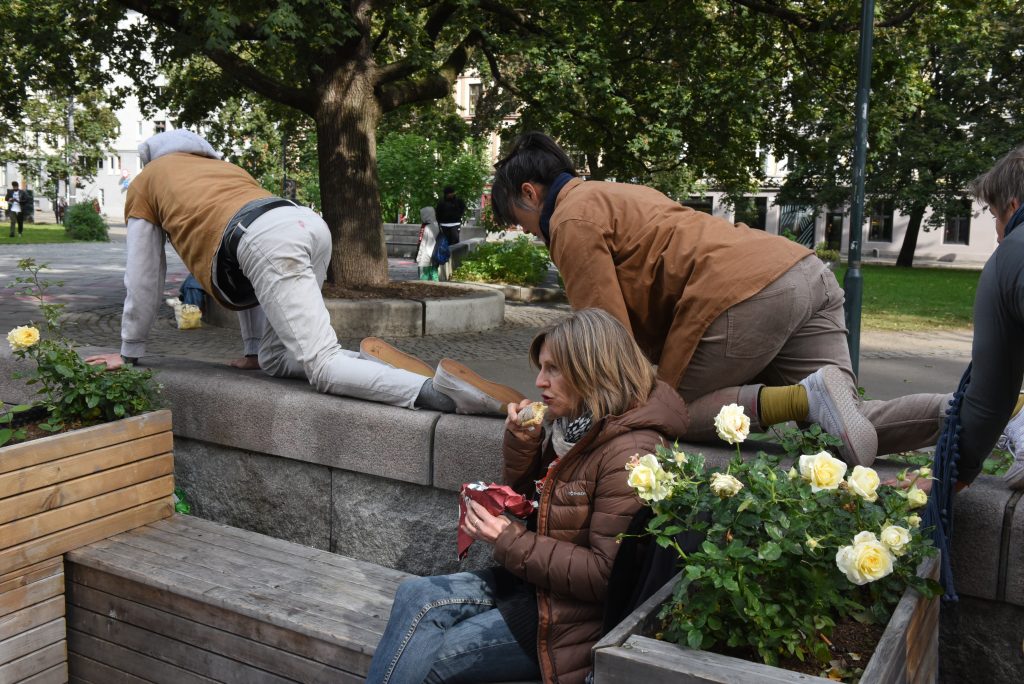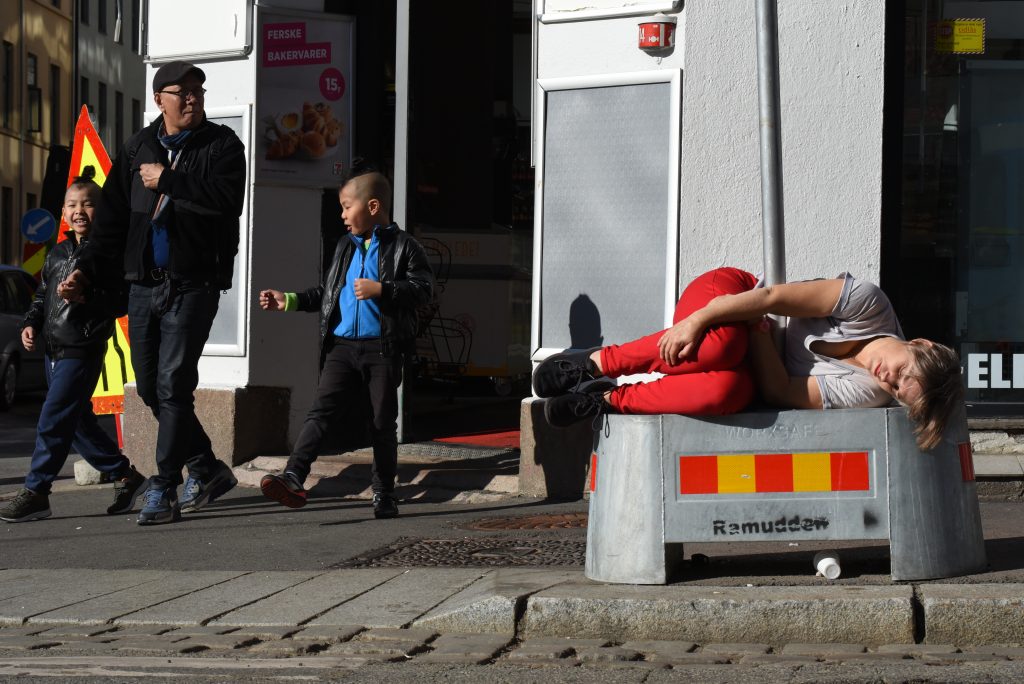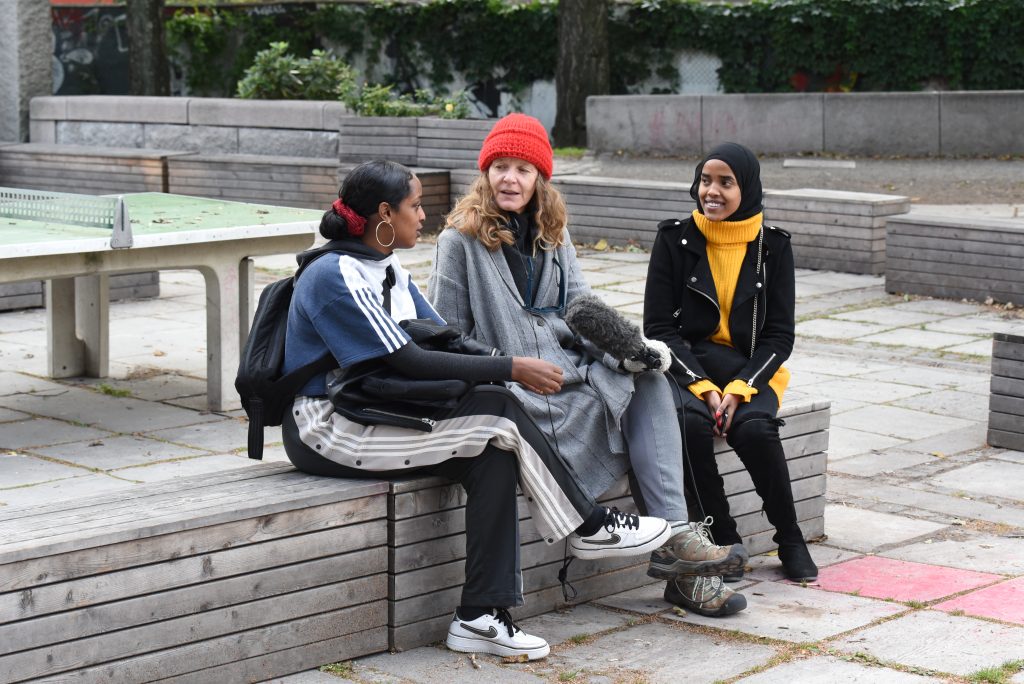 photos: Sean Smuda
Practices have been drawn from performance works from BodyCartography's twenty years of creating dance in public spaces internationally. List of references: Lisa Nelson, Valie Export, Bonnie Bainbridge Cohen, and Steve Paxton.  These no tech works can be performed in a variety of public spaces such as municipal buildlings, cultural centers, public libraries and city plazas and parks.
TOGETHERING menu includes:
action movie is a one-on-one performance practice designed to activate our sensing bodies to connect fully with the places we are.  A practice in which the imagination is given space to transform our understanding of the everyday. A practice in making magic through the simple act of walking and opening and closing our eyes as we travel through the environment. Video coming soon…
GO investigates the ecological entanglement of self, other, and environment. A dancer begins in a circle of audience. The audience are invited to say "yes" out loud whenever they feel moved by the dancer in anyway, to mark any feeling of change that occurs in themselves. The dancer works the social space of the circle eventually expanding beyond it to work throughout physical space of the site.  Audience members follow the performer, getting close or witnessing from a distance.
closer(solo) is a traveling one-on-one dance performance which lays bare the power of physicality and presence. Together we play with how the meeting between performer and audience generates the possibility for something new. Audiences are invited to play with proximity and distance to shift their point of view. 
Tuning Scores offers tools and a framework for communication and a model of collaboration that is constructed by the players in the act of doing. As a practice of real-time editing and instant replay, Tuning is an aesthetic game and a self-balancing system that uncovers its intention each time anew. Lisa Nelson's Tuning Score is an improvisational composition practice and performance research format that is a performance in itself. 
Accumulation is a work for a group of performers and an audience of any size that travels slowly through public space.
More video from TOGETHERING coming soon. 
Audio interviews from our audience and performers will be edited into a publishable format in the coming few months.