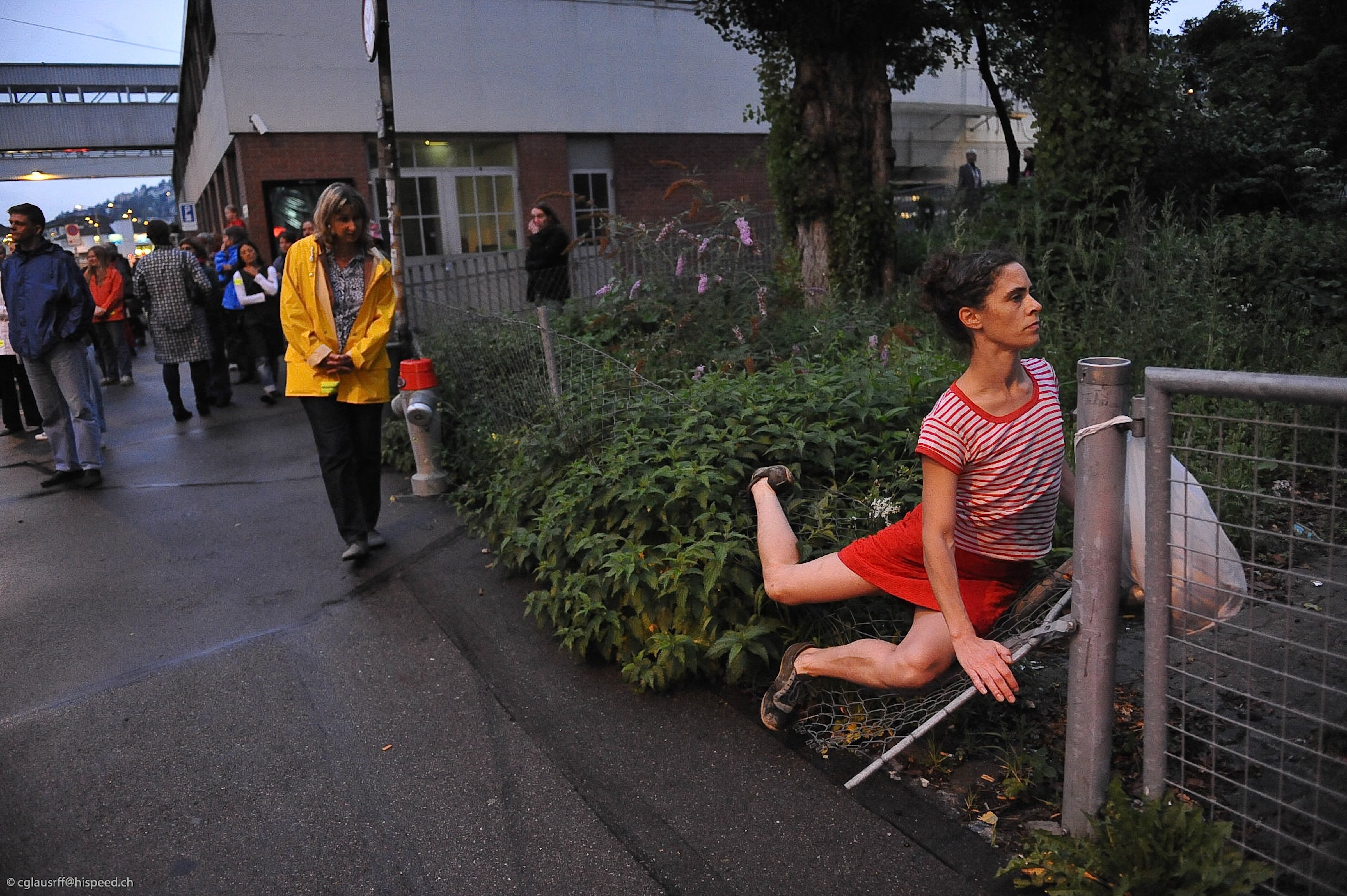 photo Kristin Van Loon performs GO at Stromereien Festival, Zurich
TOGETHERING
TOGETHERING is series of site-responsive performances that bring audiences into the heart of dance, exposing other ways of knowing.  This project invites us to practice audiencing as we play with how we perceive ourselves, others and our surroundings, both consciously and unconsciously. Some of these performances are intimate one-on-one experiences while others happen collectively. 
These no tech works can be performed in many contexts;  festivals, arts venues, public spaces, communities halls, or public parks. Each work runs between 15 – 30 minutes and can be organized together in any combination over multiple days.  When possible we will incorporate local performers. 

These practices have been drawn from performance and pedagogical scores from BodyCartography's twenty years of creating dance in public spaces internationally. TOGETHERING will create a space for social gathering, conversation and reflection around embodied practice and public space.
Performance menu includes:
closer(solo) is a traveling one-on-one dance performance which lays bare the power of physicality and presence. Together we play with how the meeting between performer and audience generates the possibility for something new. Audiences are invited to play with proximity and distance to shift their point of view.

action movie

 is a one-on-one performance practice designed to activate our sensing bodies to connect fully with the places we are.  A practice in which the imagination is given space to transform our understanding of the everyday. A practice in making magic through the simple act of walking and opening and closing our eyes as we travel through the environment.

GO  investigates the ecological entanglement of self, other, and environment. A solo performer travels through the landscape, down the street, working with materiality of the site and social context they pass through. GO is ideally performed with three solos taking place at once. Audience members walk alone, following the performer of their choice, getting close or witnessing from a distance.

YES is a solo for an audience of under thirty who circle up around the performer. As a dancer moves the audience are invited to say out loud "yes" whenever they feel moved by the dancer in anyway, to mark any feeling of change that occurs in themselves. The dancer works the social space of the circle eventually expanding beyond it to work throughout physical space of the site.

T

uning Scores

 offers tools and a framework for communication and a model of collaboration that is constructed by the players in the act of doing. As a practice of real-time editing and instant replay, Tuning is an aesthetic game and a self-balancing system that uncovers its intention each time anew. Lisa Nelson's Tuning Score is an improvisational composition practice and performance research format that is a performance in itself.

accumulation is a work for 5 performers and an audience of any size that travels slowly through public space.
"Philosopher Alva Noë wrote that experience is not something we have—it is something we do. For the BodyCartography Project this is not an abstract philosophical concept but an operational principle." Boris Oicherman, Weisman Art Museum website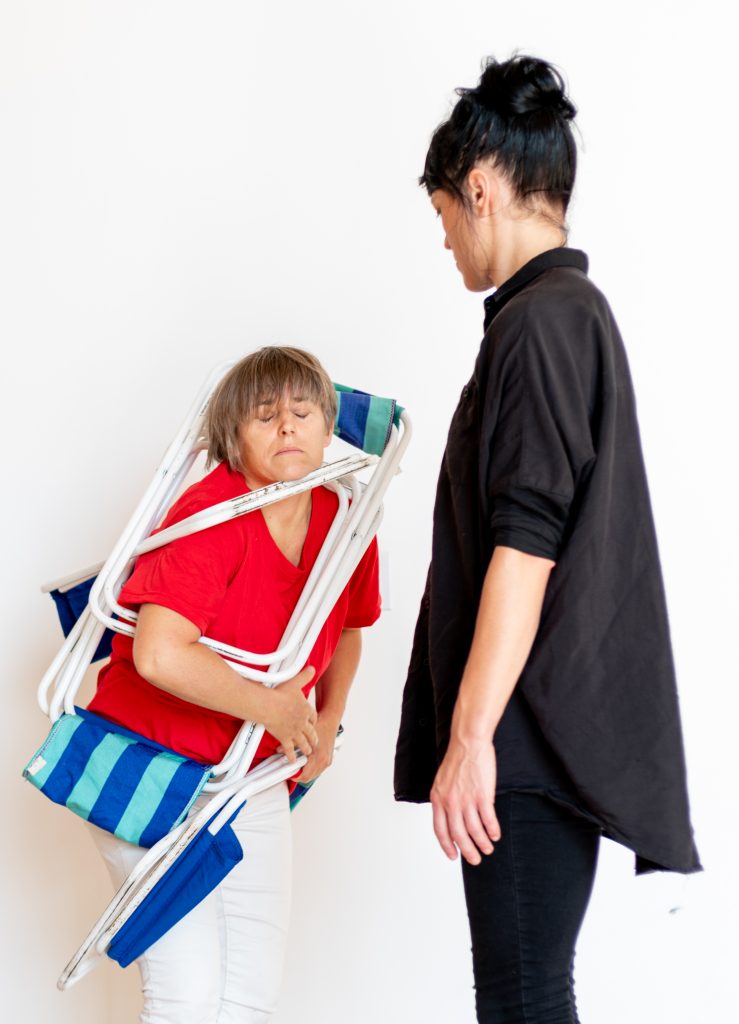 Olive Bieringa performs action movie, Weisman Art Museum, 2018
"Very few performances make the present so vivid and felt as Olive Bieringa's action movie. A simple proposal of being guided with your eyes closed became a profound experience of my body and senses, located and dislocated in a sensuous, outdoor municipal adventure."   Judith Howard, Culturebot.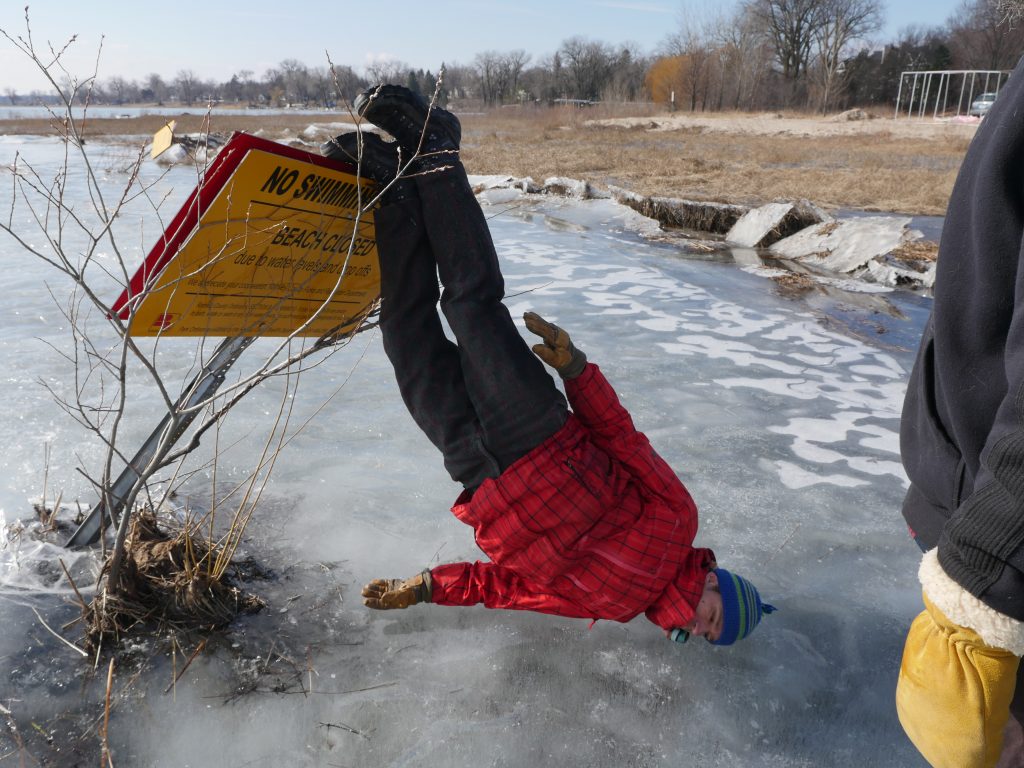 Otto Ramstad performs action movie, White Bear Lake, Minnesota
"I initially thought I would be editing together a series of dance sequences—a walking montage with the visual experience at the foreground, and the eyes-closed bits the less important, waiting time. What I learned was that eyes-closed moments were the primary material, allowing the audience member to quickly engage in a non-visual feeling state, attention spreading down and sideways, with smell, temperature, and sound becoming the primary compositional material, which I took great pleasure in choreographing. The visual sequences (eyes-open) were then moments for surprise, rest, connection, re-entry, attenuation, and then, eyes closed, dive back into the under-senses for something more real, more connected, more human." Justin Jones, action movie performer, excerpt from Under Seeing, Contact Quarterly 2019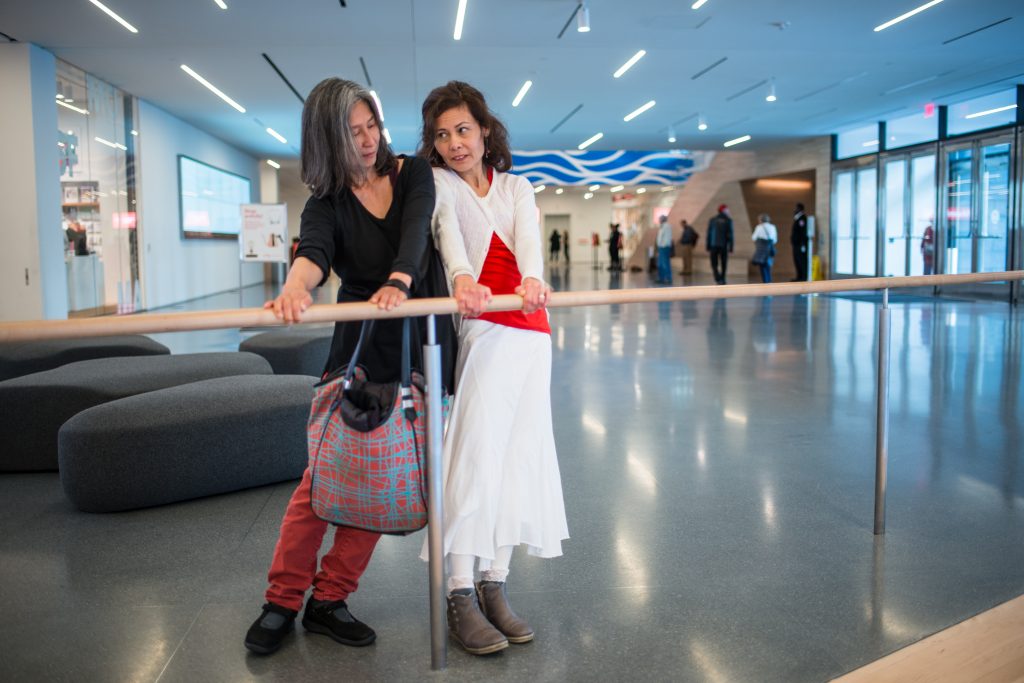 Diana Lara performs action movie at San Francisco Museum of Modern Art, 2018
"It takes a kind of courage to participate in action movie—to be facilitated "blindly" by someone one has never met. Some people feel emboldened to run and move and experience the space with a sense of play because they have "permission," because their actions were framed as art. " Margit Galanter, Under Seeing, Contact Quarterly
"They can always be counted on to keep us guessing and eagerly anticipating their next moves"
Dance Company of the Year, City Pages, 2013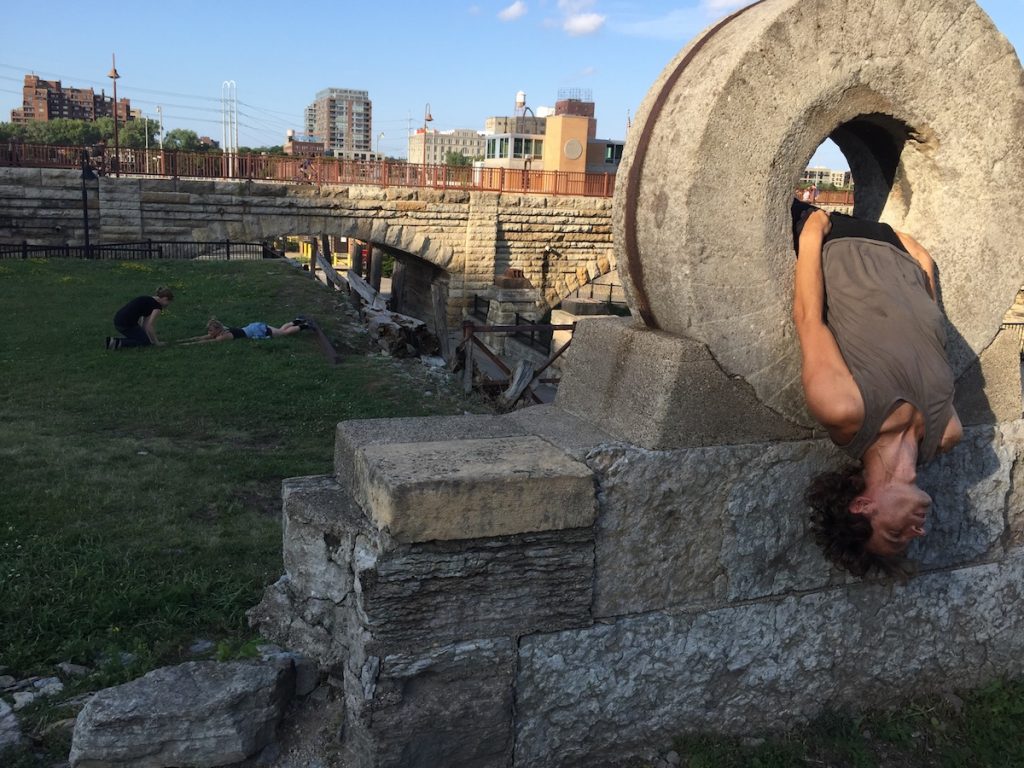 closer(solo) with Otto Ramstad and Anna Marie Shogren
"closer animated our whole festival space with the frenetic act of spectatorship and performance. The surfaces of Wellington Waterfront came alive with the playfulness of this interaction, blurring distinctions between the works and the passers by and altogether enhancing the spirit of our event in dimensions not yet seen before. closer is an unusual and surprising work that changes dance and changes space." Sam Trubridge, director of the Performance Arcade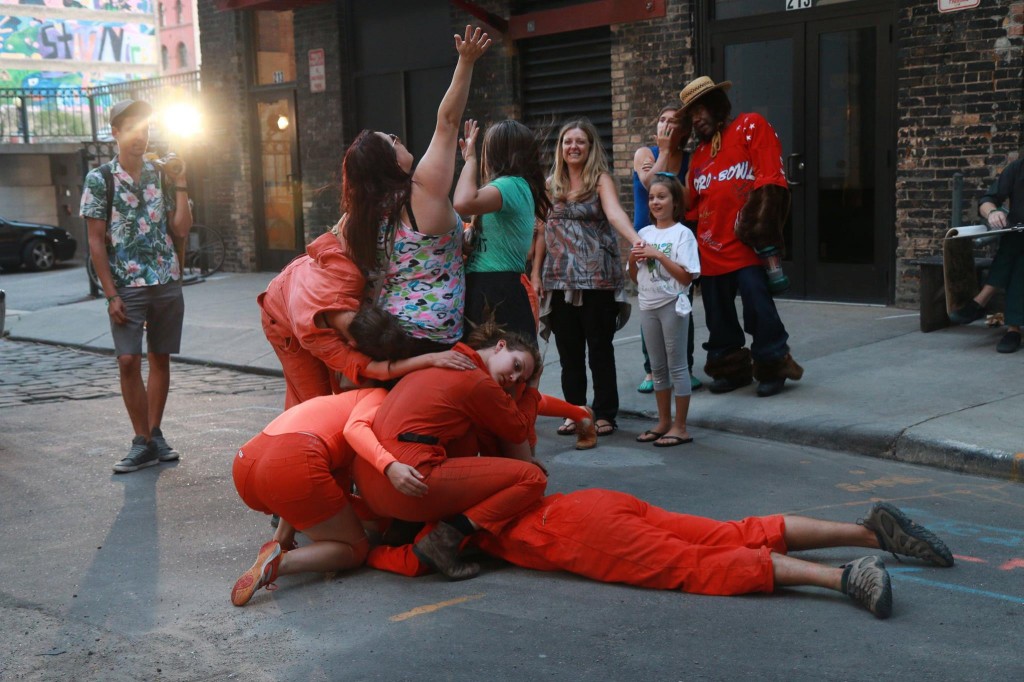 Accumulations from Softening the Curves, Big Low Down Festival, Bedlam, St Paul 2016
 "I could have watched these amorphous beings creating strange and beautiful shapes for hours." cherryandspoon.com