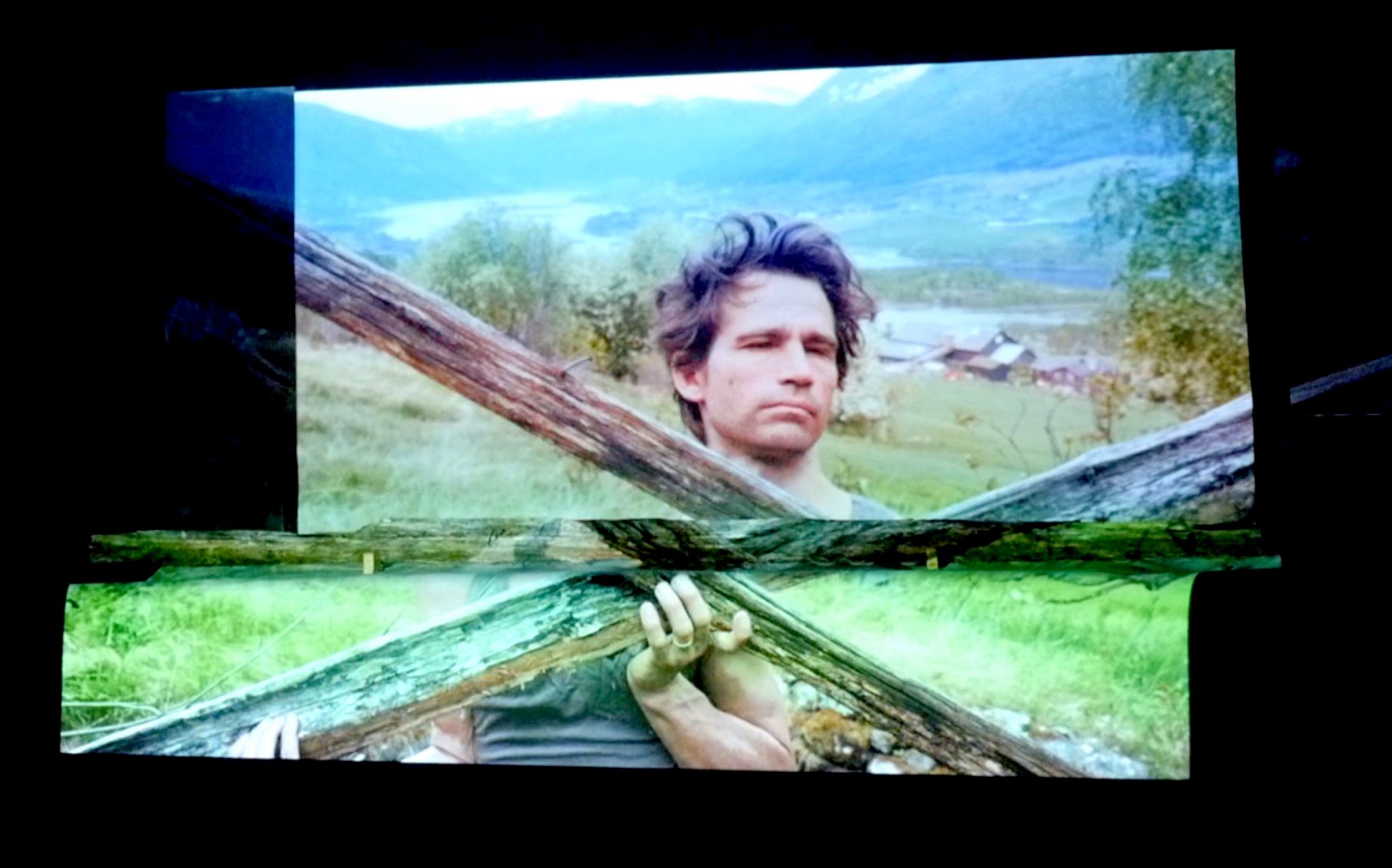 Lineage is a performance combining dance, video and storytelling,  a multichannel video installation. 
Otto Ramstad's Lineage looks at learning and how we learn. It draws lines between: the learning practices of experimental dance and somatic work, and 'artistic genealogy': a creative interaction with his Norwegian ancestors and the ways that their lives have been recorded, to learn about his Norwegian cultural heritage, which has been previously invisible to him. Lineage strings together these seemingly separate ways of gaining knowledge to think about what it was like to live in a body in rural Norway 100 years ago and ask how this effects how we are living in our bodies now. How have our embodied relationships to the ideas of 'land' and 'nature' been transformed in this time?
Otto's great grandfather John Fredrikson Ramstad, a metal worker, was born in Skjåk, Norway in 1890 on Ramstadtrædet husmann farm. He immigrated to Minnesota in 1911. He died in 1984 when Otto was 9 years old. In May 2016 Otto came to Norway for the first time. He found the farm where his great grandfather was born and went there. Otto was the first family member to visit the farm since John visited the farm in 1948. Using his knowledge of experimental dance, Otto made a series of dances and videos on the farm and in the surrounding mountains as a way to build a relationship with the places and to process and learn from the information that he was collecting. This research has led him to immigrate to Norway as a way to experience the cultural learning, which his great grandfather experienced in 1911.
Lineage is cultivating a practice for the care and preservation of intangible cultural knowledge. Family genealogies are preserved in national archives and created in family stories. The dance and somatic practices of Lisa Nelson's Tuning Scores, Steve Paxton's Material for the Spine, and Bonnie Bainbridge Cohen's Body-Mind Centering are archived in, and transmitted through the bodies of dance practitioners.
Concept/video/scenography/text/dance: Otto Ramstad
Composer/live sound: Andrea Parkins
Lighting design: Agnethe Tellefsen
Scenography dramaturgy: Carle Lange
KHiO Advisors: Snelle Hall and Amanda Steggell
External Advisor: Chrysa Parkinson
Dance practice collaborators: Olive Bieringa, Maura Gahan, Margit Galanter, Kristin Van Loon with Lin van Kaam, Natanya Helena Kjølås, Vivian Pakkanen
Video Documentation: Olive Bieringa
Contributing researcher and dramaturgy: Sidsel Pape
Contributing genealogy researcher: Sylfest Lykre
Production assistance in Skjåk: Live Visdal
The project is made possible with support from KHiO, NORAM Fellowship, Oppland Fylkeskommune, Headlands Center for the Arts, Foundation for Contemporary Art, & the US Embassy in Oslo. Special thanks to Eric Ramstad, Josie Winship, Emmett Ramstad, Gry Ramstad, Odd Ramstad, Gudrunn Ramstad, Per Roar, Torunn Helene Robstad, Bojana Cvejic, Katarina Skår Lisa, Thomas Prestø, Kyuja Bae, Suzanne River, Bonnie Bainbridge Cohen, Steve Paxton and Lisa Nelson.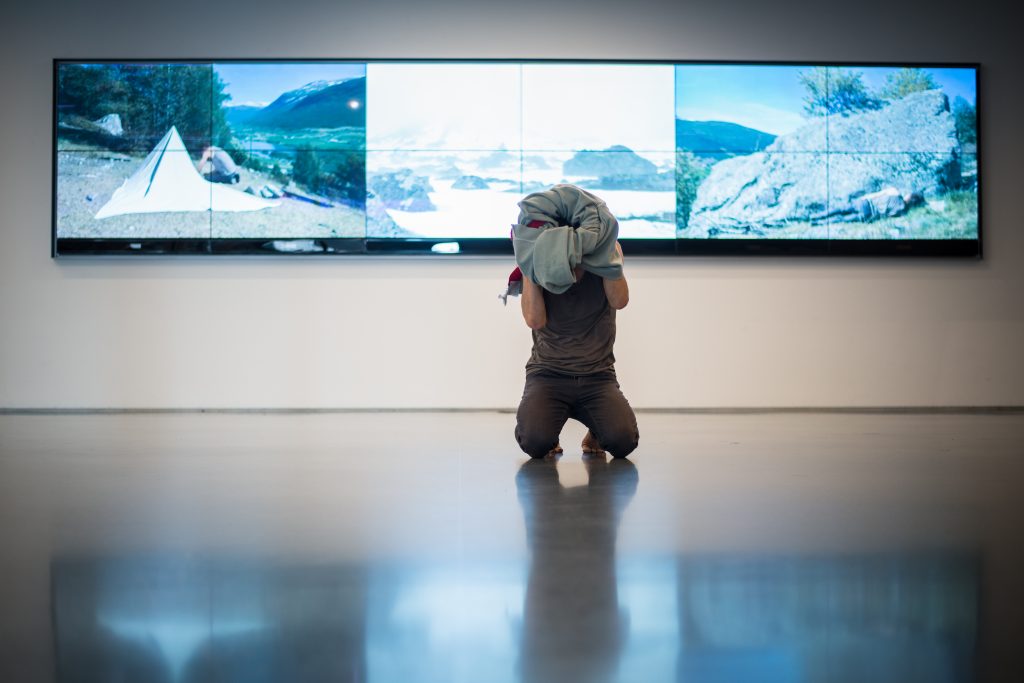 Photo by Charles Villyard for SFMOMA
"Going back to the lineage and the land is in a sense a cautionary act –a revaluation of origins as consciousness and technology expand "beyond" threatening to decenter us." Sean Smuda, artist
"what has been
Otto moved through identities, which were origins, and senses, which became forays into memory
what will be
what has been
a blanket first burdened then embellished him into feathered cloaks, teeth gilded into gold, his arm a horn and on him ears that hear the grass grow
what will be
what has been
reforming light into looping displays of the body, which seem to flicker between authoritarian regimes of nature and the creation and coronation of gods. His body rotating, through cyclical movements as if caught in a surf, from driftwood into a man and back
what will be"
from James Fleming's Notebook – BodyCartography on Openspace.
Read a review of an early version of Lineage here from Vital Matters Dance Festival in 2016.
Performances
2020
Oslo Internasjonale Teaterfestival & Riksscenen, 11.03.20
2019
Oslo National Academy of the Arts, Norway
Research week, Oslo National Academy of the Arts, Norway
2018
Skjåk, Norway
Weisman Art Museum, Minneapolis
San Francisco Museum of Modern Art
2017
Carleton College, Northfield, Minnesota
Art Shanty Projects on White Bear Lake in Minnesota Sunday February 5 & 19, 2017 at 3.30pm
2016
Riff Talks, School for Contemporary Dance and Thought, Northampton
Headlands Center for the Arts in Marin
Praxis Festivalen, Dansenhuset, Oslo
Vital Matters Dance Festival, Southern Theater, Minneapolis
TILT, Fargernes, Norway
Dance for Syria benefit, Phoenix Theater, Minneapolis
This project is a Vital Matters festival commission and has been supported by Headlands Center for the Arts and the Foundation for Contemporary Arts and is made possible by funding from Oppland Fylkeskommune, Foundation for Contemporary Art, New York, Marin Headlands Center for the Arts, a scholarship from The Norway-America Association, United States Embassy in Oslo and Kunsthøgskolen i Oslo.