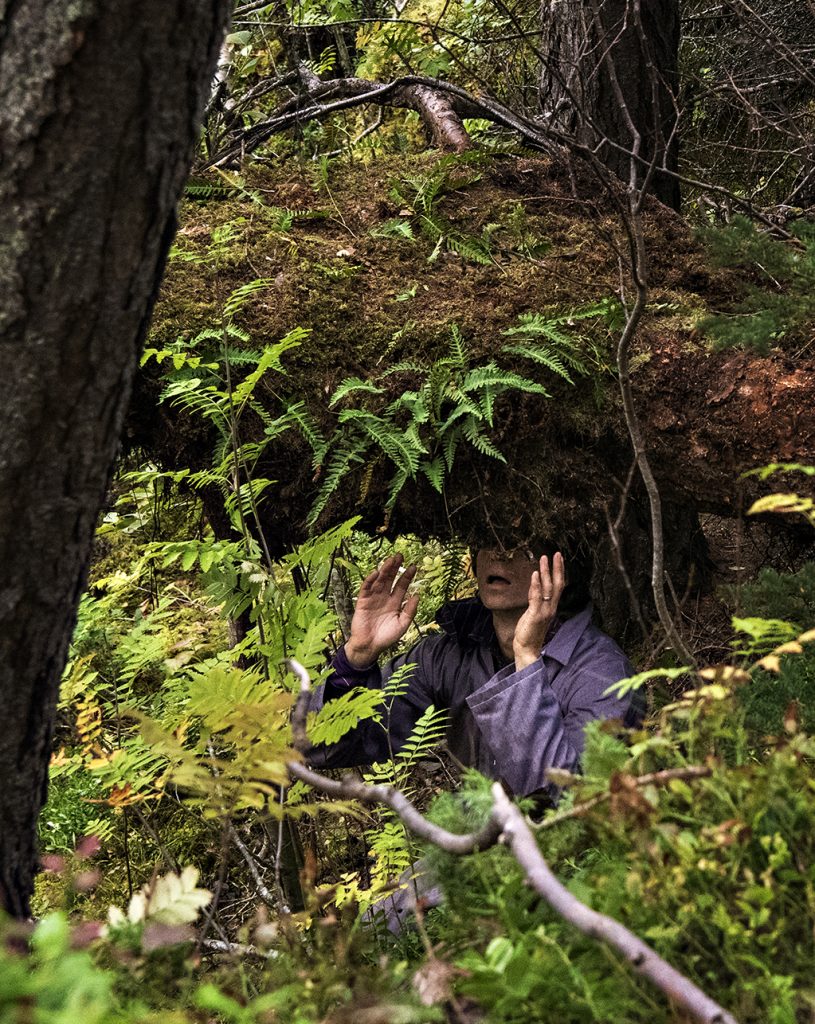 Resisting Extinction offers practices for living and dying together on a damaged earth.
Resisting Extinction invites us to not only look forward but to look around and notice what we are losing. This ecological crisis is an identity crisis. Everything is shifting. Recognizing grief as a legitimate response to this multi-species mass extinction is a vital step to expand our understanding of what it means to be alive in this swiftly transforming moment. We can't rely on models that perpetuate this crisis. We need to practice embodied knowing to repair our relational field. We must hone our skills. to improvise, to play, to experiment, to be receptive, to be in the unknown and trust we have the resources in our bodies to negotiate, survive, and thrive.
Below you will find full length documentation of the entire work which unfolds in three sections:
weather walks
the missing
dying & decomposing meditations
weather walk
weather walk is a one-on-one performance journey that unfolds over 30-45 minutes.
"I loved the way the weather walks (with their sensorial components) make more concrete and personal issues that would be otherwise abstract and remote." Christina Archetti, Professor in Political Communication and Journalism, University of Oslo
the missing
the missing is an invisible performance that flickers on the periphery of our consciousness where critically endangered multi-species beings haunt the landscape. The audience is guided by a host who gives a brief description of some of endangered species in this specific landscape. The audience is invited to wander the landscape. To explore and follow their curiosity. To spend time with what is seen, unseen, present and missing. The experience highlights a relational field rather than a single spectacular figure/dancer/object. Some audiences explore, some take a rest in one place and listen, some spend time talking with the fungi and foxes. It runs for around 30 minutes depending on location.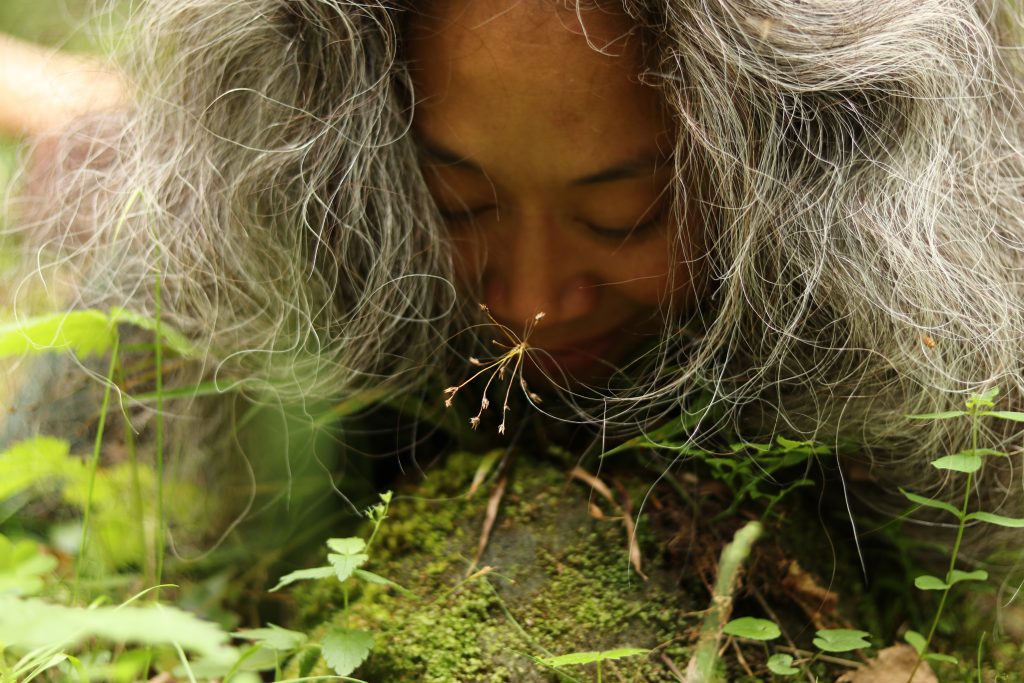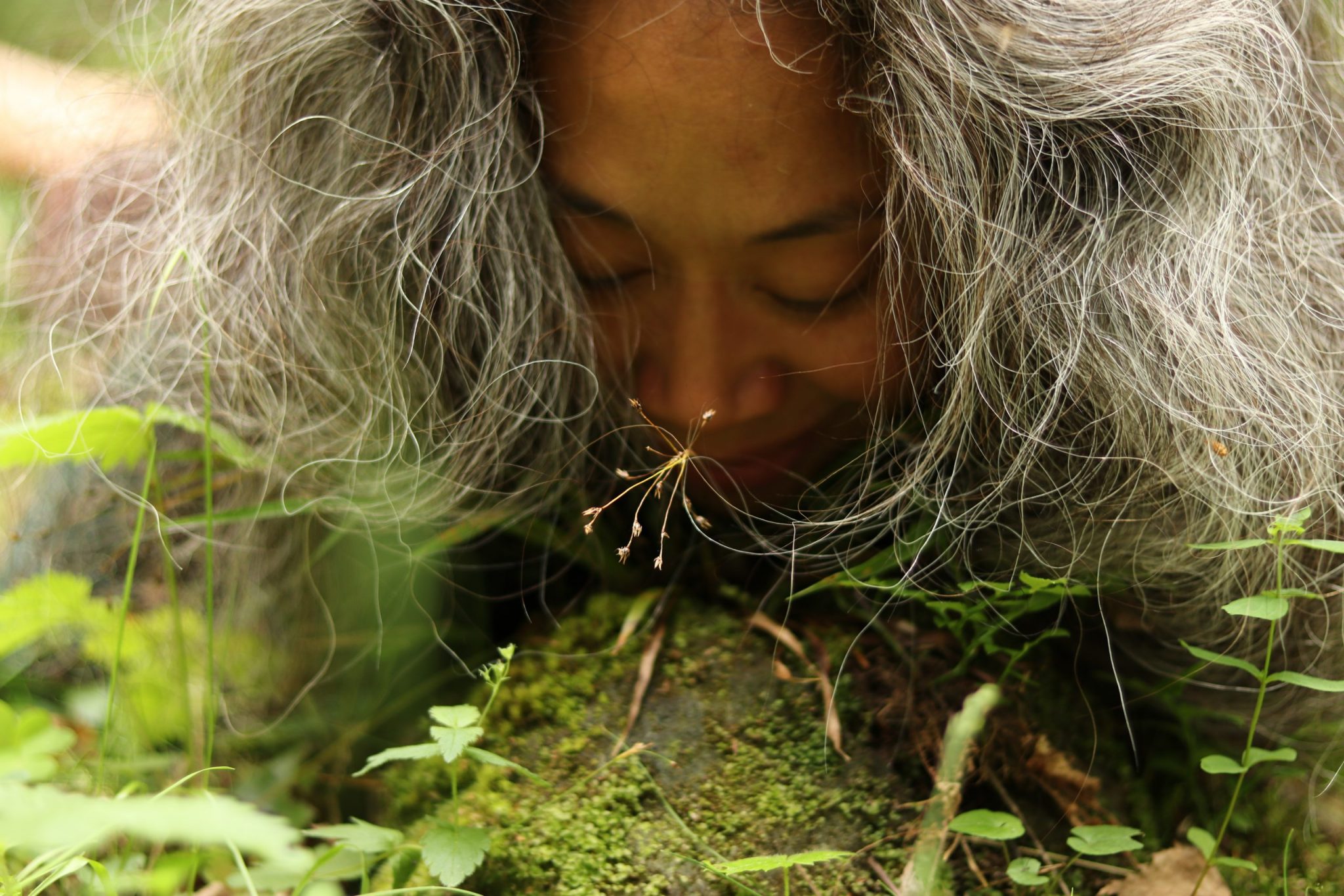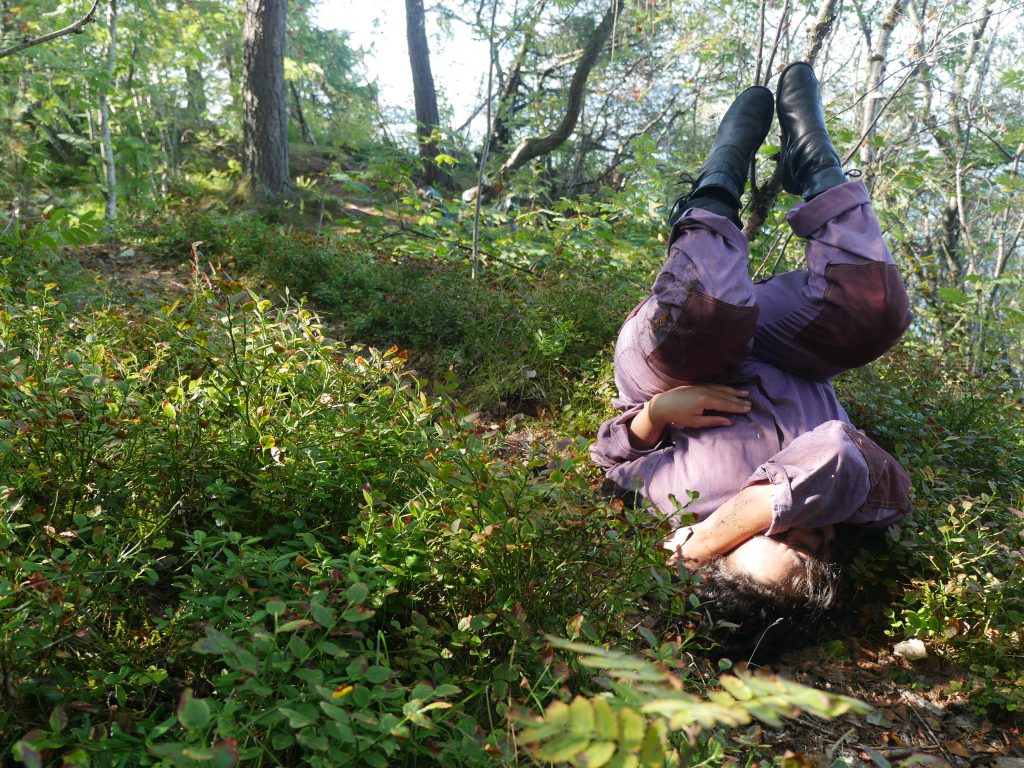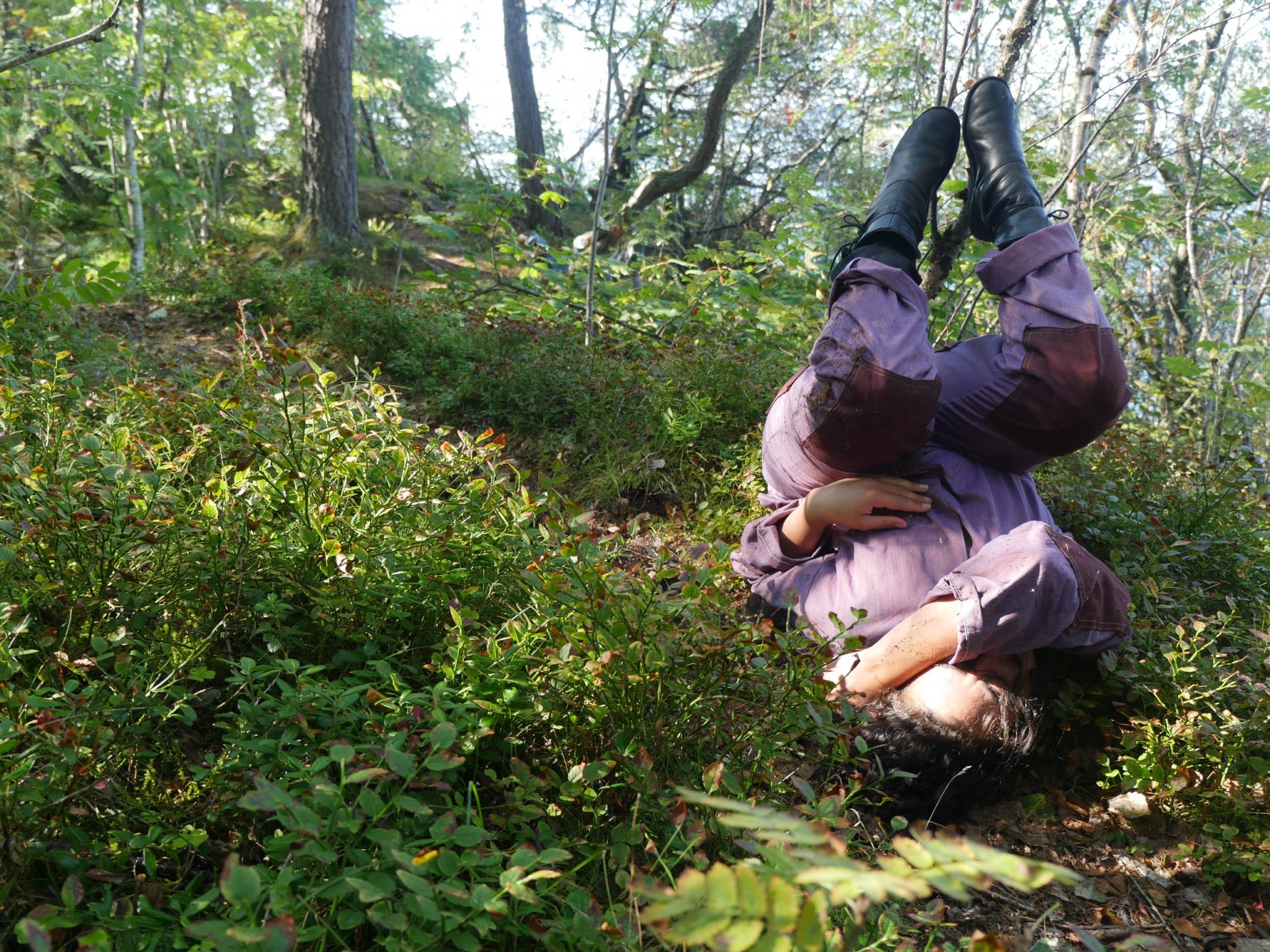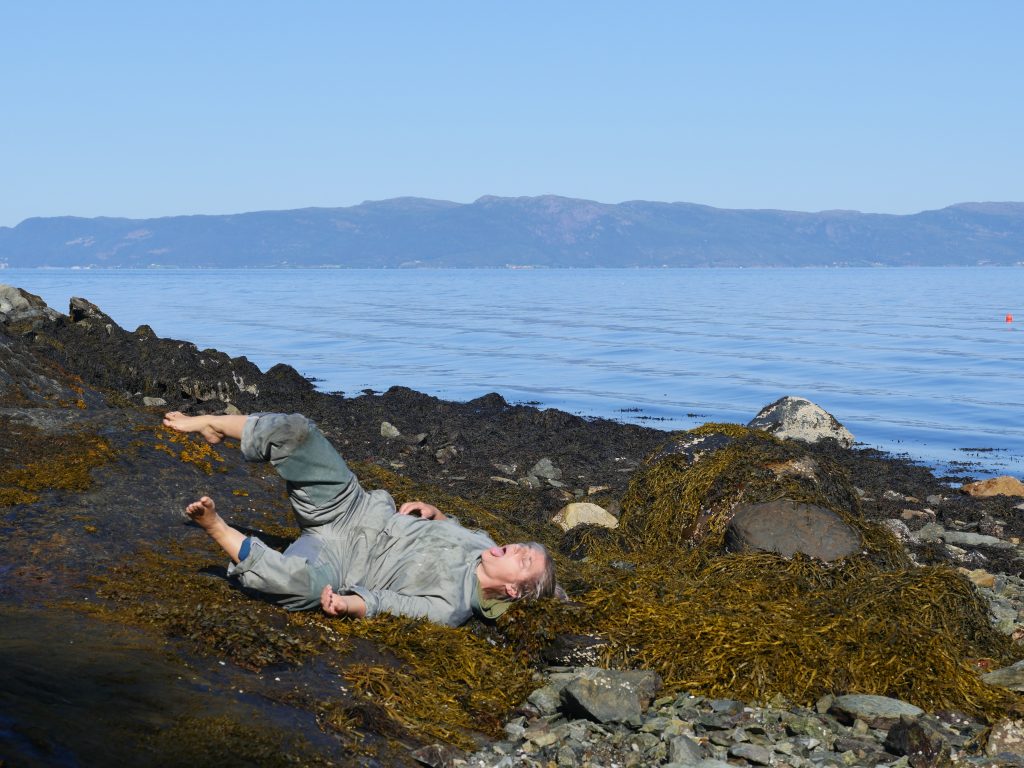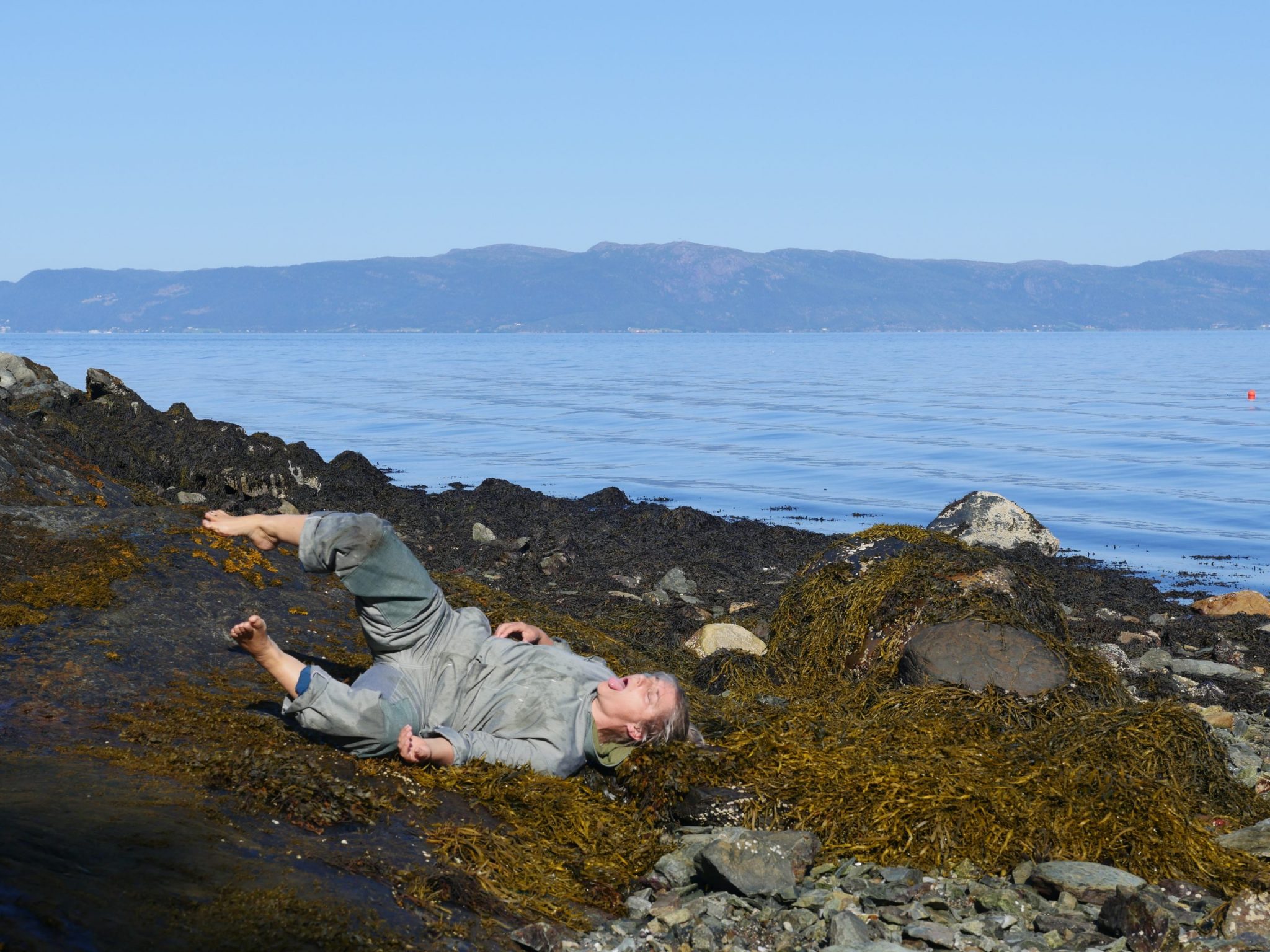 Video sample of the missing
Dying and decomposing practices
"We dont know exactly what is going to happen but we can invent scenarios to practice with".  Together as a group the audience is invited to decide how they would like to practice dying; of thirst due to a lack of clean water, freezing to death with no access to warm shelter, or drowning in a flood or storm surge. Once decided they are guided through a somaticization, a physiological journey of dying and decomposing into the land or sea. Can and should we grieve our own potential extinction? Run time 45 minutes. 
"During the experience I was confronted, invited to see, feel, listen and reflect. I became curious, I felt relief and I got scared. I faced myself and I turned my face to earth. I apologized to earth, for not taking better care of it, for not being it's true friend and companion… I realized that first of all I have to change my intentions. I got stricken by the power of art." Resisting Extinction audience at Bygdøy, Oslo
Credits
Concept: Olive Bieringa
Directors: Olive Bieringa & Otto Ramstad
Co-creating performers: Maria Lothe, Sigrid Marie Kittelsaa Vesaas, Ornilia Ubisse, Hanna Filomen Mjåvatn, Kristina Gjems, Otto Ramstad, Olive Bieringa, Nina Wollny, Uma Ramstad, Oliver Connew, Daniel Perrson
Costume design: Kristine Gjems
Scenography: Carle Lange
Funders and partners: Oslo Municipality, Kulturrådet, KORO – Public Art Norway, the Nordic residency at SITE in Farsta, Sweden, Klimahuset, Natural History Museum, University of Oslo, Norskfolkemuseum, Bygdø Kongsgard, Oslo Kulturnatt, DansIT, University of the Arts Helsinki.
Photo credits: Arne Haug, Maria Lothe, Otto Ramstad
Upcoming performances: Bygdøy, Oslo, Bærum Kulturhus. SITE Festival, Sweden, Performance Arcade, New Zealand, Tallin, Estonia
Past performances: DanseFestival Barents, DansiT and Rosendal Theater in Trondheim and Bygdøy, Oslo in September 2021. Grieving practices have been installed as audio installations or delivered live for the Field and Stream exhibit ArtStart, Rhinelander, Wisconsin, USA, 2021 the Embodiment Conference 2020, The Body-Mind Centering Conference 2020, Body, IQ at the Somatics Academy, Berlin and for the online publication Love in the Time of Covid.