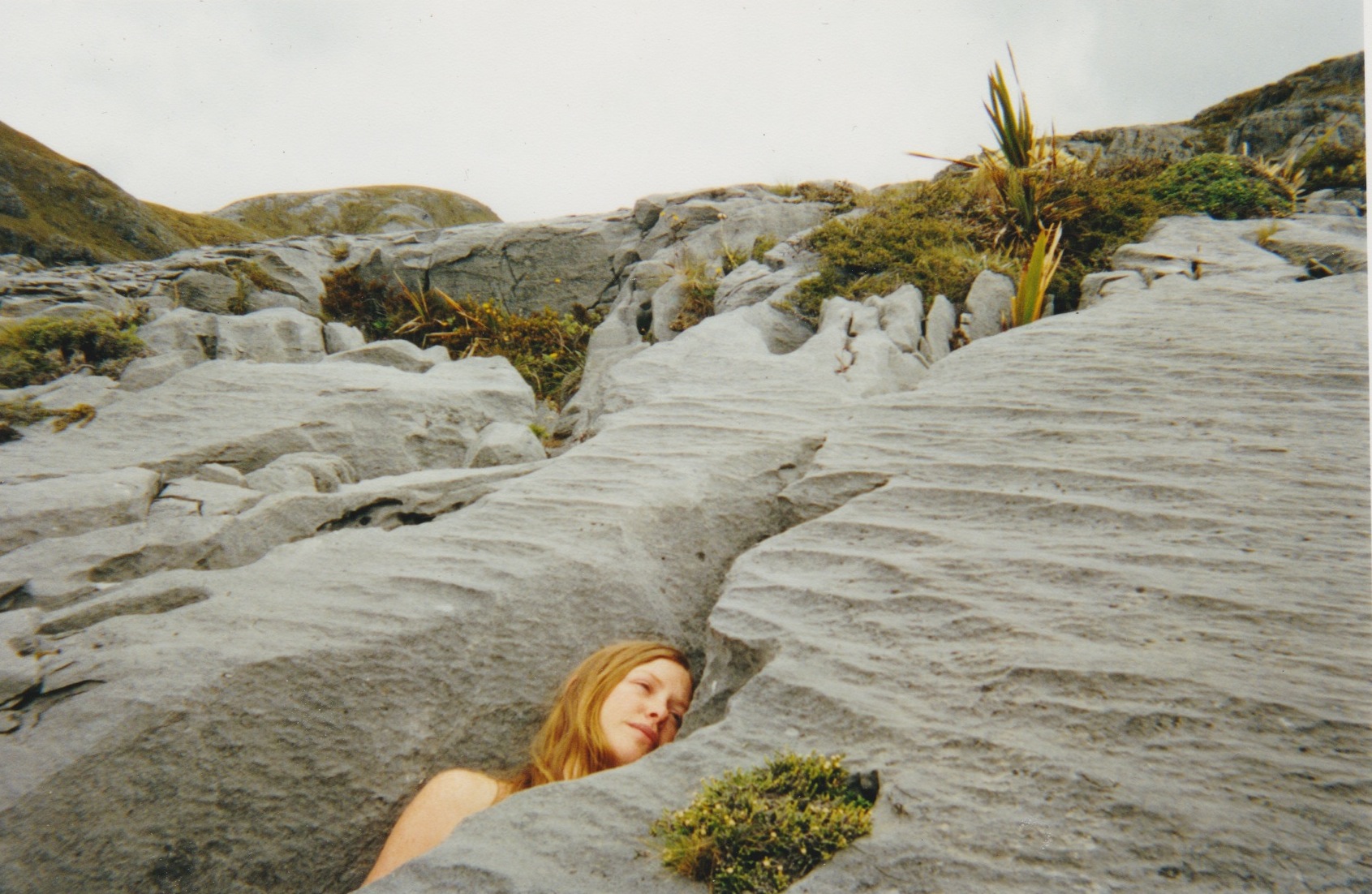 Video
30 minutes
2003
NZ
The BodyCartography Project's dance film work created and shot in the stunning wilderness of Kahurangi National Park, New Zealand. The choreography was developed and shot during an eight-day period in the unique landscape of limestone kaarst rockscape, sinkholes, wind, bush, snow and grasslands. New Zealand, Australian and US performers collaborated on the work which takes the viewer on a physical and aural journey of eight different locations across and into the mountain, that are at once poetic, painterly, bold, humorous and charged. Described as a sensorial tour of the landscape, the dancers are at once animal and everyday people, becoming the mountain's weather, transforming each crevice, tussock, tarn and boulder. Dance creation and shooting on Wharepapa took place January 18- 27th, with the Tasman regional tour taking place with workshops, performances and screenings from March 17-30th.
Performers included Alyx Duncan, Fiona Gillespie, Gabby Deighton, Jade Dewi Tyas Tunggal, Levity Beet, Mike Baker, Olive Bieringa, Otto Ramstad, Wilhemeena Gordon
This film project has been made possible with support from Creative New Zealand, Department of Conservation, Interisland Lines, BWX and (e)-vision.
Screenings
MNTV on public TV in Minnesota
NZ International Film Festival
NY Independant Film & Video Festival
the Kinesthetic Eye (San Diego, Minneapolis, Wellington, NZ)
Kerry Film Festival, Ireland
the Tasman region of NZ
Mostra Audiovisual Dança em Pauta, San Paulo, Brazil
Body Navigation Festival, St Petersburg, Russia
the BodyGlobal Festival, Christchurch, NZ
Capture, Bryant Lake Bowl, Minneapolis
Polish Public Television
Nelson International Arts Festival, NZ
Embodied Variations exhibition, Athica, Athens, GA
50 CHAIRS, UW-Madison
The Making of Wharepapa
writings from the performers:
Jade Dewi:
Working with The BodyCartography Project on the Kahurangi VideoDance Project gave me the opportunity to live and create in a spectacular environment that provided me with new perspectives of my life from the top of a giant hollow mountain. By sharing the experience with eight other talented, honest and giving artists we were able to explore together the details of one of New Zealand's unique and beautiful ecosystems.
I learnt about power from being affected, inspired and moved by the extreme qualities of the elemental forces on Wharepapa. Each days journey to various locations felt as though the mountain was weathering my vulnerability as a human, and in doing so I desired nothing less than to be moved by my exposure to the wind, rain and sun. Camping and tramping are unfamiliar to me but they provided the ingredients for a wonderful adventure. Noticing the changes in my body-mind from being without heated running water, electricity, radioactivity and radiation guided me towards feeling my spine and its response to my different survival situation. I was often in awe of my notions of freedom as I was surrounded and held by the respected and protected wilderness of a National park.
Unlike Australia I had no fear of creepy crawlies, the only dangers were falling of the mountain, falling down a sink hole, or falling into hypothermia.
It was a wonderful joy to be cultivating daily, the courage to be present to the beauty and danger of Wharepapa's living natural architecture. Then using that fearlessness to be creating dance in the green moss space, from the white daisy space and of the grey rock space – becoming a reflection of a brittle blue sky.
Different summer sensations to home.
Climbing uncertain heights – wearing orange a break in dramatic wind – sky blue clearing busy mind freshly fallen snow and a peeling sunburnt nose feeling alive.
….Surrounded by spectacular spaces. Sublime sensations. Beauty encompassing vast bush fire smoked sunsets. Thrilling exposure to extreme elemental forces, sometimes sensing danger and rushing on fear as I surrender my weight into mysterious vibrations of large hollow rocks. Feeling my insides condense as my breath rushes away with the sheer beauty of snow capped mountains and the tight thrills of being so cold I can't feel my toes. Pushing into strong winds that would fly me off the mountain if I were to yield to them. Letting my intuition lead me off the established track. Courageously falling into a trust in my inner ear complexities to guide me beyond the various directions of control and order. Expanding into my skin and letting life without technology fill me to the tips of my head hair folicles. Sometimes surveying the situation from an outer perspective and laughing at the irony that a digital video camera is validating my special and profoundly wonderful wilderness experience.
Fiona Gillespie:
Arrival Day.
Walk up was beautiful and short. Tough briefly. Good to be here.
Tasty miso, wandering up to the cairn. I have a feeling of slowly discovering things. undressing the land. Daisies everywhere. Robin bobbin. Long Views. Half seen. Clouds talking, whispering across the volcanic water formed rock. Musical hollows within the bones of the mountain. Trees speaking silent, heavy, huge tiny alpine plants clinging determinedly. Sadness finds me here, yet there is peace and openness. Quiet dance, stillness, cold with a promise of heat. Difficult terrain peopled with dancers brightly lit with their own illumination and pristine costuming. Kea calls overhead and I remember the legend of how kea stole his colours and beak so was banished to high and desolate places where no other wished to dwell. Beauty plumes. Wanting to soar. Apprehensive as to the how.
Desire to be present and allow movement to emerge, not block or clutter in this pristine and outrageously tasty place. There will be a bigness, a vastness once the clouds move on. There is a silence contained by their wispiness.
geological up thrust into the stream rolling down to the sea.
Climatic climax state where nature cannot change or grow any more.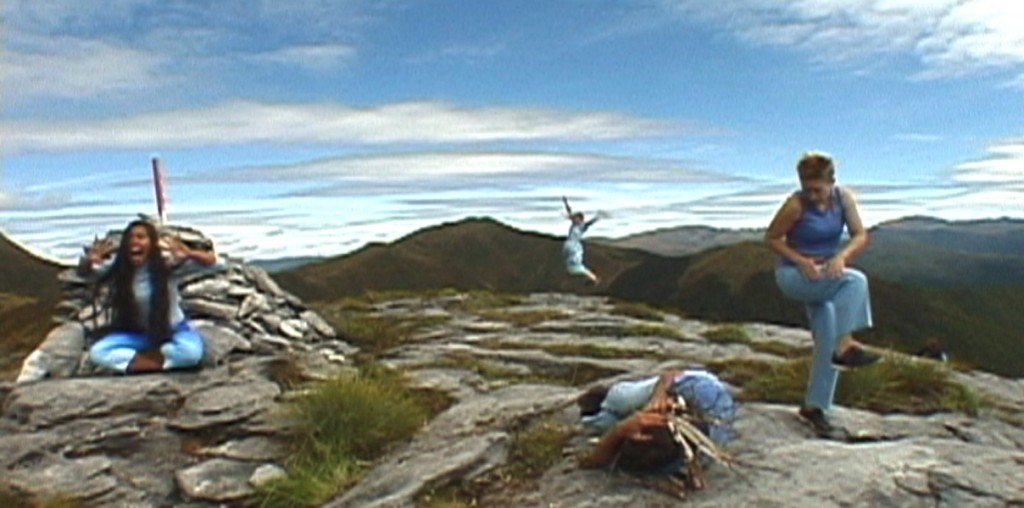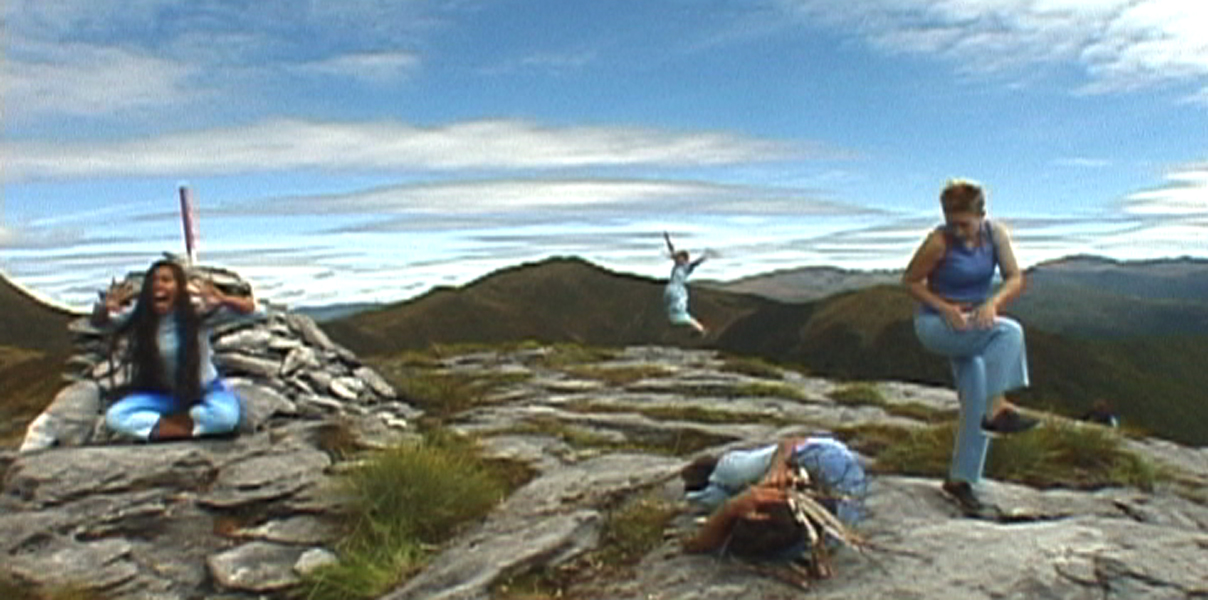 "Wharepapa"
colours familiar
landscape lines
so much like this
my own skin
so well known projected
intimacy almost a blindness<projected
for all
to see
empty this vessel
embodying moment
purge these thoughts
and move
Wharepapa (excerpts) from BodyCartography Project on Vimeo.
Hut life in Kahurangi National Park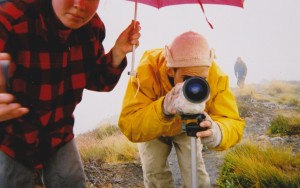 Otto:
We started out all in our own little tent pods surrounding it, but the lure of it was too strong, and only the fiances resisted the attraction of the hut. All the energy of our dreaming and eating together. Along with all of our drying cloths and unwashed bodies gathering and steeping there. From that womb we would spread out into the wide world each day.
Alyx:
Living in the hut together. Feeling a sense of community. Being part of a whole. No washing away of body odors in the last 5 days – too cold. Food tastes amazing. Deep sense of responsibility. It's me behind the camera, for parts of this time. Intense time of capturing the goodies and the juice. So much stuff we are trying to capture. In a way too much.
Otto:
The first day of the shooting we traced a pathway from the hut all the way to the very top of the mountain. The journey there was spent accumulating and absorbing experiences, sensations and images of the mountain. Reaching the top we entered the most extreme environment of the day. A powerful wind pushing a huge cloud over the bare rock summit. This kind of wind invites you to lean into it or be knocked over. After expressing our desire to shoot up there, to a less than cheery reception from the crew huddling behind a rock shelter, Alyx and I set up the shot. We returned to every one determined to do it. Embodying this place filled almost all of my attention just to survive it.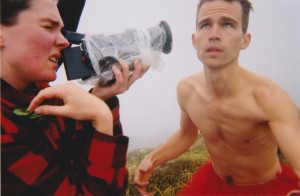 Fiona Gillespie:
Keas flying up to the summit of maunga Wharepapa. Beginning with sadness, pain and tense muscles, toning and away we went. Intensely beautiful. So much bigness wind. Smallmicroscopic gardens.
Hard to be present as I was so sore, headache and menstrual pains. Pushing up through. Excited at first seeing so much possibility. Much fun in the freshness of ideas. Once I began to get hungry though it became a struggle. The group gave me a huge helping of protein which helped to return me to some kind of equilibrium. I discovered my desire to be part of the group no matter what. Even though I was uncomfortable I wanted to be functional. So I struggled on and Mikey stood by me comforting and encouraging. Arriving at the top was a wonderful surprise. The wind was intense and incredible. I adored the sounds of the wind and the way it pushed us around. Elemental tuning score was exceptional. Seeing everyone going wild in the wind. Otto's flight suit looked awesome with the wind flowing through it. Jade's hair was its own being. Invigorating, the wind also cured my headache. Coming down was gentle and explorative. The snow pockets were awesome. The wind picked up more and more which became a insane and fun. Windy, knocking us around. Returning was a flight of balance and playfulness – dancing with the wind. Sensations of falling leaning tasting the wind. Wanting to be free of limitations. Tiredness now binds me. I want to be full of love and surrounded by love.
Orange clad beings emerging from beneath frozen snow climbing up and through the sharp cold slate landscape.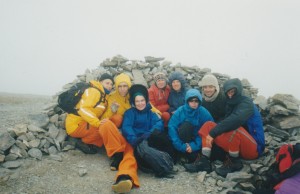 Wilhemeena Gordon:
Walked for 6 hours, up Mt Arthur to the trig and back down again. Stood/danced on the top in howling gale force winds. Lay in snow, naked, until my arms and legs had no feeling. Battled with the wind all the way home. I am exhausted, glowing with heat from wind exposure.
The most beautiful mountain. I feel like I am trekking in Tibet or Nepal. I have my Nepalese hat on. Stood on the edge of fear today. On the edge of my legs. I have dreamed of these places. I feel blessed. I bless my body. I bless my spirit who has flown today. I bless my legs that carried me home. I will not be alone tonight, the tenters are creeping in from the cold. I breathe space into my body. We are eating chipatees. My digestion is finding all this an adventure. My knees are sore. Body ache. I wonder weather I will sleep in the hammock tonight. I long for aloneness. Just stillness, quiet and the swinging of a hammock.
Olive:
The sheer exhilaration and power of wind and the cold on the top of the mountain produced an extreme response in all the dancers. Within the narrow confines of the conducting the elements score, standing and allowing the upper body to move with the wind, sound temperature, visual stimulation as if being conducted by the world. Screaming insured.
Blasting. Everyone winging about the cold and then taking there warm layers, off peeling back to orange and dancing their hearts out, fearless, exhilarated and hot blooded by the end.
Gabby:
The wind (only just warm enough not to be ice) stabbed my skin wrapping my body in a blanket of tiny knives. The sound of it rushed into my ears, filling my skull, my bones with a fury of white cold and goose bumps. A force so strong we had to hold on to each other so as not to be blown off the mountain, down into the valleys below. Still, we went out, screaming into the wind – with gapping mouths and shuttered eyes, the orange lunatics. Frozen fingers longing for warmth and shelter and then the exhilaration of being alive. So alive up there so exposed up there, so old and wise, crazed and scoured up there.
Alyx:
Strange that it appeared so interesting at the time yet feels so confusing within an edit. Excellent details within movement, dirt, costume and bush. Maybe if we edited it now it would come together. That day it was so cold and wet and miserable and we were just pushing it to keep going and be productive. This section was abandoned in the final edit.