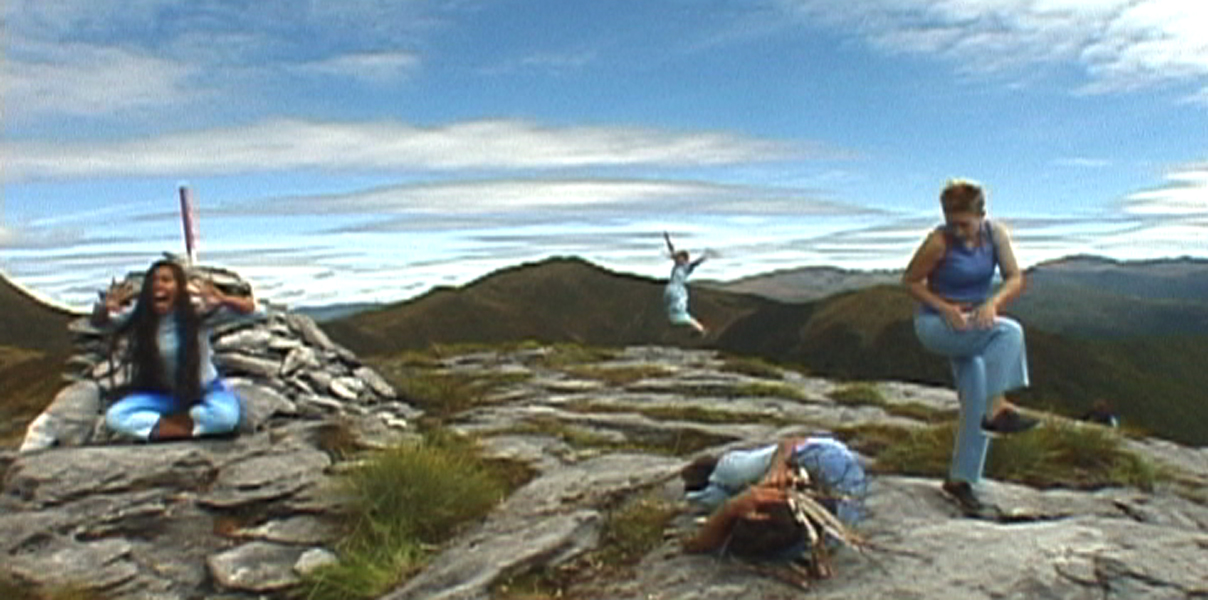 March 17-30th 2003
New Zealand
A performance and teaching tour in the Tasman region of New Zealand sharing our film Wharepapa, performing and teaching to kids and adults of all ages and abilities.
March 27th: Film screening – Hot Mama's Cafe, Motueka
March 28th: Film screening and performance – Wholemeal Cafe, Takaka
March 30th: Film screening – on the outside of the Suter Art Gallery, Nelson
Performers: Alyx Duncan, Fiona Gillespie, Gabby Deighton, Jade Dewi Tyas Tunggal, Levity Beet, Mike Baker, Olive Bieringa, Otto Ramstad
March 17th: Film screening + performance Fishbowl Gallery, Nelson Polytechnic
Jade:
The footage that was shoot and captured on our mountain tramping experience has been edited. Logged, cut, pasted and poured together through various tapes, circuitry, machines, disks, tapes and computers. The strength and power of the chilling winds has survived its technological journey, but whispers static and without articulation at the mercy of the poor quality of the projector and sound system. All seemed a bit rough, cold, hard and detached, not raw, real and breathing deep with precarious life. The concrete encasing emptiness of the Fishbowl Gallery, deeply contrasted my memories of being held up high and with comfort by the grass covered rocks between spiky Spaniards. Our initial intention for the project was to dance in the wilderness without the influence of human designed and built architecture. Exploring and dancing in wild and complex ecosystems. Now we show the video in a space designed to be versatile and open. It is a sterile concrete box. Empty with fluorescent lights and power outlets. The outside walls are guarded by functional sculptures. We dance live and share a tuning score and the audience became engaged and forgave us for the poor quality of the screening. Shyly stuttering questions came from over stimulated (by our crazy busy dance) audience. We have so much to offer but no comfy cushions, not even uncomfortable chairs.
Otto:
First night. Arriving in Nelson, trying to print the final copy of the video, changing computers and working it all out. Meeting the projectionist for the first time and dealing with getting up the image on a projector that was halfway broken. Bringing the group into dancing together. In a somewhat scattered space. All of these challenging elements in the space of only a few hours. Never the less a crowd came. They sat down on the cold concrete floor and looked at a poor quality image, watched a crazy improvisation, some people even stayed to have a discussion and give feedback afterwards. And by the way, they liked it. Got some nice images of people viewing the film from outside. Heard tell that someone watched their friend watching the film from their third floor apartment across the street even, the ultimate in viewing layers.
March 21st : Film screening + performance – YAZZA Cafe Nelson
Jade:
We are trying to make dance accessible to a broader community by presenting dance as on film. We have advertised and put the word out. Where are all the people? Are they watching hollywood movies in the cinema, eating in restaurants, meeting friends in bars and clubs, or at home recovering from a hard week at work? Not to soon was my concerned theorising quietened as all the chairs were filled and people standing to get a clear view appeared like surprises by 9:10pm. It felt like a small audience, with small gold coinage generosity. People want things for free, or make you feel like you should pay them for coming to see your work. Are they the cutting edge/on the pulse of contemporary trends people in this town? Something frustrated and yearning inside me wishes to be the next fresh exciting thing not to miss hyped up art. Perhaps we need more hype in our publicity? More specific information about BodyCartography and BMC? More bare breasts. Wharepapa is this audience's backyard. I noticed that some engage in drinking coffee or nibbling treats to assist their viewing. Does this help their digestion of an experience comfortable, consistent and unthreatening, but so out of the norm? You don't get these cafe luxuries when you're tramping up a mountain. Do they relate to our presence as humans on the mountain? Can they relate to our efforts to bring big sky spaces and enormous hollow rocks into a small colourful meeting place of civilised chats and friendly debates? Are the viewers inventing stories or interpreting images of what they are seeing, or are they just numbed and lulled by the beauty of the ease in witnessing dance in the environment through a two dimensional magic window? Next the orange people danced live. We interacted with the environment outside the cafe and the animals of the Nelson urban ecosystem come to join us. A group of drunk lads, and a nervous female driver in a small white hatch back. All the organised chaos of our spontaneous composition experience rolled off the mountain, via the car park and into their empty cups and sauces.
Fiona Gillespie:
I had an interesting moment of memory during performing, unintentionally embodying a memory so fully I was stunned to find myself dancing in a car park and then Jade smiled at me. So much feed back after. Overloaded with information. Everything from comments on my own personal movement (appearing as though I was moving through jelly or amniotic fluid) to comments on differences between live and filmed performances and also technical stuff. Wholesome fun had by all. I love the connectedness felt between us all out there. The dancing after the performance was such a great tension release for me. Letting go of everything I had been carrying. Anxiety about the whole gig.
Otto's:
This screening/performance was much more integrated as a whole compaired to the fishbowl opening performance. The projected image and sound were of vastly superior quality, which for me added a lot of clarity to start with. Then transferring into the performance the audience quickly mobilized to view. We treated the performance as it's own thing and did not do a solo replay of the film. But we did add the moving orange line before beginning dancing just as if it were between sections in the film. This was a huge bridge between the two aspects of the show. The car park was a very contrasting to the mountain. What was similar is that we used the environment as it came. Notably using a group of rowdy drunken boys that had just come from climbing on roof tops on the other side of the car park. As they walked towards the performance they were loudly talking and wondering what was going on. I knew that we could not compete with them so I just ran up to them and met their energy, yelling and shouting 'about what the heck is going on here?' I then got them to come in and repeat an action of climbing over a car (a car we thought we knew the owner of) that had already happened in the performance and then ran with them getting them to exit. This immediately engaged the audience. Another instance of car interaction and involving people from the environment is people coming around the corner in their car to see people rolling on the pavement in front of them. Not wanting to run anyone over and confused about what was happening, they stopped their car. We snuck up behind them and pushed them down the road in front of the audience, scattering out other performers on the concrete. After they had passed the audience they threw it in gear and sped off.