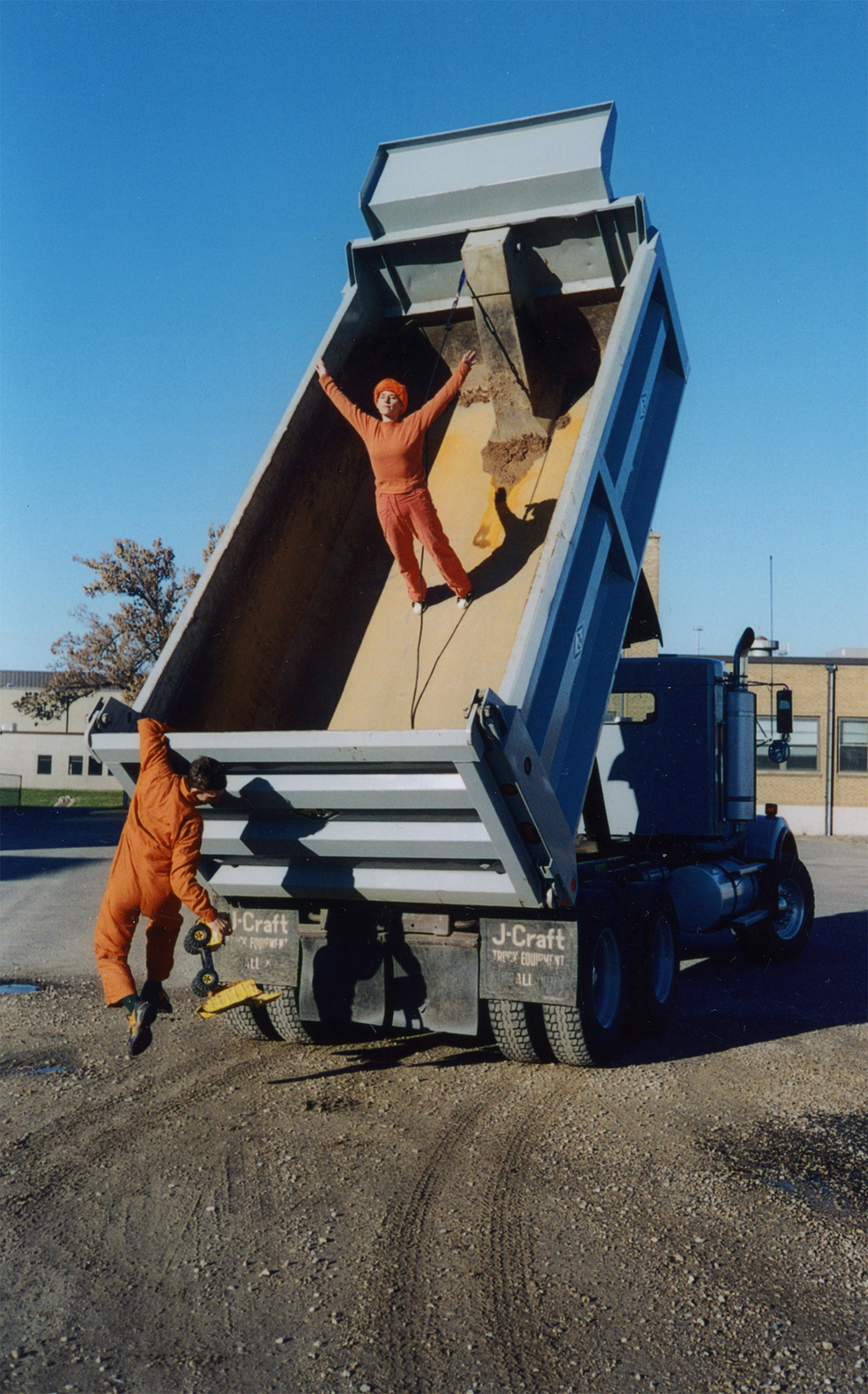 Originally performed at the Target store parking lot on Lake St, Minneapolis in 2000 and presented by the Seward Art Crawl at Mathews Park, Minneapolis from 2000-2003
This evolving piece has included a percussion gang led by  Alan Ernst playing live on the truck and Boogie Woogie piano player Andrew Kolsted and the talented flying ten year old from Idaho, Owen Winship. Rehearsing in the chilly dark November night, inhaling the fumes of diesel exhaust and instilling the softness through our muscles as we climb, slide, jump and fly on vibrating steel and cement.
Otto begins the piece with a toy dump truck which he uses as a skateboard, soccer ball and balance beam as the audience gathers. The real truck appears around the corner, pulls into the parking lot, Eric and Owen in the cab. 
Everyone, even older people, wanted to know what we had in the bed of the truck. The kids who threw rocks at us on Friday night came back on Saturday to see it, after Andrew had chased them down and befriended them.
A man with a daughter said he "really appreciated the work we were doing."
A woman said she "really enjoyed it. I haven't laughed so much in a long time."
"Lots of people thanked me, which I always find so unusual and refreshing. No one ever thanks you for performing on a stage. You have to thank them for coming to see you." – performer Brinsley Davis
The piece developed into a blend of human puppet show of appearing and disappearing from the walls of the dump truck and physical survival of dance on an ever more inclining surface of the truck bed raising from flat to forty five degrees. It is probably the only BodyCartography piece that could be considered a kids show and over the years developed a large following of the short pants variety.  
2000 performers: Arwen Wilder, Colin Rusch, David Wick, Eric Ramstad, Josie Winship, Margit Galanter, Olive Bieringa, Otto Ramstad
2001 performers: Otto Ramstad, Eric Ramstad, Morgan Thorson, Arwen Wilder, Kristen Van Loon, Dannel Dever, Colin Rusch and Olive Bieringa
2002 performers: Brinsley Davis, Danelle Dever, David Wick, Eric Ramstad, Jamie Garner, Megan Flood, Miriam Colvin, Olive Bieringa, Otto Ramstad, Owen Winship
2003 performers: Alan Ernst, Andrew Lafkas, Brinsley Davis, Bryce Beverlin II, Clare Tallon Ruen, David Wick, Elizabeth Draper, Eric Ramstad, Jamie Garner, Megan Flood, Olive Bieringa, Otto Ramstad, Peter Podulke, Sherry Saterstrom
Thanks Josie, Eric, Andrew, Roy and all the dancers for your contribution.