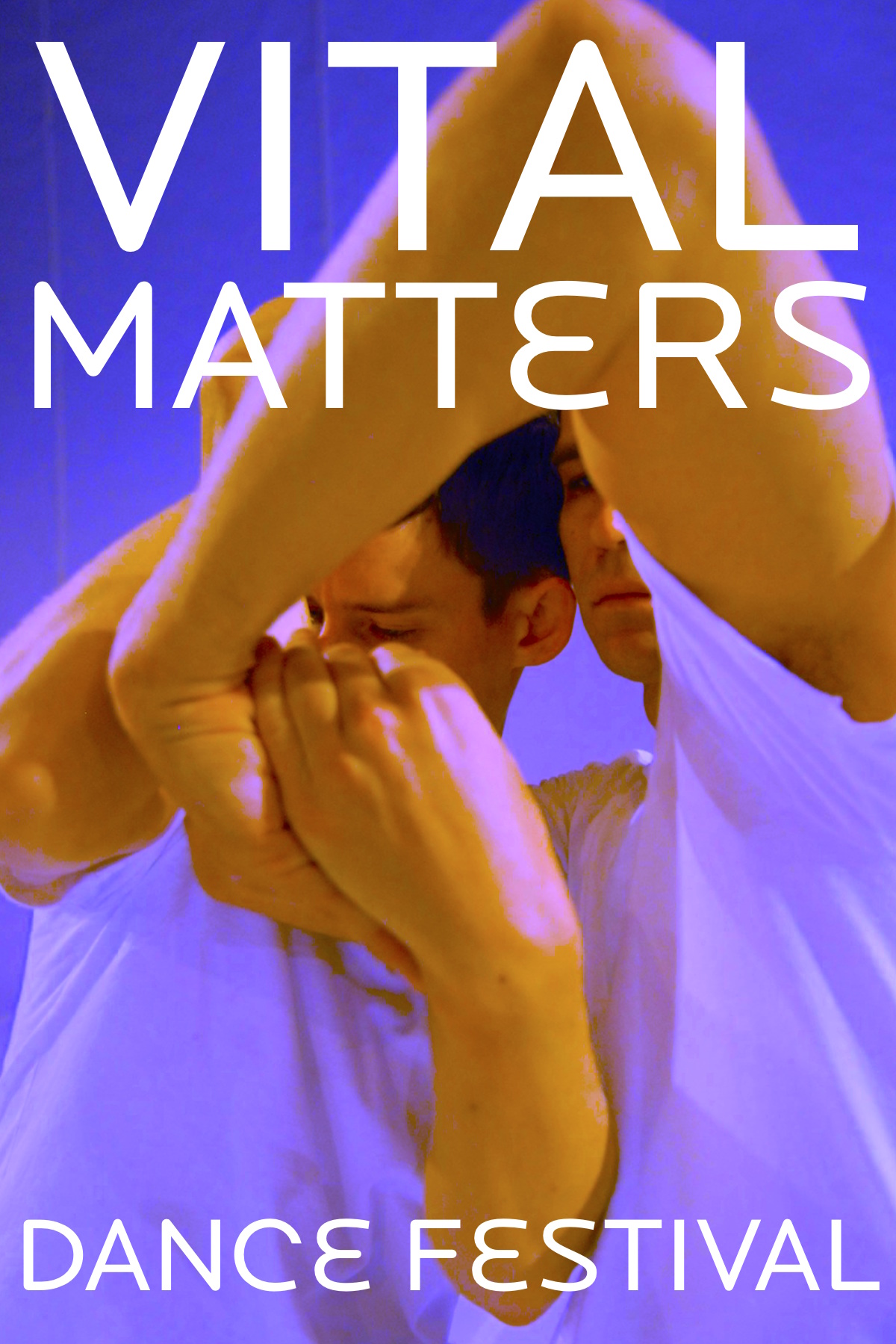 10 workshops, 4 evenings of performance, 2 parties, 1 evening of artist conversations  
Southern Theater 
BodyCartography presents Vital Matters, a new festival of  dance and performance for Minneapolis.  Vital Matters will highlight contemporary makers in our community recognizing new aesthetic, somatic and performative practices. New works by Anna Marie Shogren, Dolo McComb, Otto Ramstad, Olive Bieringa, Justin Jones, Pramila Vasudevan, Sam Johnson, Vie Boheme, Katelyn Skelley, HIJACK, Young Dance, Paige Tighe and other special guests. Workshops for all bodies and all levels experience will be lead by Katie Burgess, Emily Gastineau, Dustin Haug, and other festival artists. 
Vital Matters will engage with the vital materiality of our bodies – our guts, our minds, our matter, body to body, a festival of embodied performance. Together we will offer multiple entry points into the experience of dance. Join us.
7pm VIP party for Vital Matters donors
8pm Opening Night Performances
Opening night dance party with live DJ details TBA
7.30pm preshow tuning observatory
Post show artist talk details TBA
Dance party with live DJ details TBA
1.30pm preshow tuning observatory
Our generous Vital Matters donors who are bringing our 2016 festival to life:
Adam Naughton, Addy Free, Alan Knuth, Alanna Morris-Van Tassel, Alex Iantaffi , Alexandra Bodnarchuk , Alexis Weisbrod , Alice Connew , Allie Hankins, Amy Wasielewski, Anat Shinar, Andrea Haenggi, Anita Chikkatur, Anna Thompson, Annika Hansen, Antonio Ramos, April Sellers, Aren Aizura, Ben Winship, Berit Ahlgren, Beth Viner, Biba Bell, Billy Keefe, Scott Pakudaitis , Bob Eisen, Bryce Beverlin II, Cara Anna Krippner , Carl Flink, Carolyn Mellis, Carrie Girstantas, Charisse Ponder, Charles Campbell, Chloë Lum, Chris Schlichting, Chris Martin, Christine Podas Larson, Clarinda Mac Low, Crissy Tolson, Dana Michel, Dannell Shu, Daria Fain, Dave and Leni Moore, David O'Fallon, David Thompson, Dean Kloker, Deneane Richburg, Denise Gagner, Dennis Yelkin, Diane Hellekson, Eben Kowler, Edward Vogel, Edward Zappa JR. Tim Cameron, Elayna Waxse, Elena White, Elizabeth McKinnon, Ella Let, Gabriel Anderson, Ellen Carr Owens, Emily Ban, Emma Barber, Emmett Ramstad, Eric Larson, Eric Ramstad, Eric Walters, Erin Kelly, Rachel Moritz, Evy Muench, Felicia Glidden, Gary Canino, Greg Tromiczak, Hannah Kramer, Helen Julie Nathanielsz, Humphrey Bower, James Turnbull, Jan Bieringa, Jared Taylor Williams, Jean Butler, Jeff Wallace, Jenny Larsson, Jeremy Bensussan, Jes Nelson, Jesse Matthew Petersen, JJ Bogoiesvski, Jo Wells, Joanna Furnans, Jon Dahl, Jon Morris, Jordan Lee Thompson , Jos McKain, Josh Sugnet, Kelley Meister, Judith Howard, Jules Beckman, Julie Kouneski, June Thiemann, K.j. Holmes, Karen Quisenberry, Katherine Pan, Katherine Stafford Butler, Katie Burgess, Kayleen Jacobson, Kendel Ratley Shore, Kim Sargent-Wishart, Kris Bieringa, Kristin Rinker Kowler, Laressa Dickey, Larissa Babij, Larry Winship, Laura Grant, Laurel Atwell, Leslie O'Neill, Linda Shapiro, Lindsay Forsythe, Luc Hale, Lynette Lamb, Maggie Zepp, Maja Lund Løkkegaard, Malina Rodriguez, Mandy Herrick, Manjunan Gnanaratnam, Margaret Raymond, Margaret Winship, Margit Galanter, Martha Bird, Marty Wetherall, Mary Ellen Childs, Mary V. Pidot, Mathew Janczewki, Matthew Shyka, Max Moran, Max Wirsing, Megan Mayer, Meryem Alaouli, Michele Steinwald, Mina Nishimura, MN Artists, Molly Margaret, Nate Gebhard, Nicholas Skrowaczewski, Nor Hall, Ori Flomin, Patrick Riley & Jennifer Arave, Peter Miller, Pramila Vasudevan, Rachael Dichter, Rachel Jendrzejewski, Rebecca Haseltine, Rebecca Strauchon, Rene Meyer-Grimberg, Richard Aindow, Rick & Linda Jones, Robin Shaw, Romina Takimoto, Rosy Simas Danse, Roxanne Markoff, Ryan Pusch, Sarah Baumert, Becky Heist, Sara Nash, Sarah Peters, Sara Vogeler, Sean Kelley-Pegg, Shana Kaplow, Shanai Matteson & Colin Kloeker, Shannon Stewart, Sharon Mansur, Sharon Picasso, Sherry Saterstrom, Sophia Bogle, Sophie Levine, Stephanie Johnson, Steve Dietz, Taja Will, Tamin Totzke, Tera Kilbride, Tere O'Connor, Theresa Madaus, Therese Mageau, Thomas Benjamin Snapp Pryor, Timmy Wagner, Travis Brace, Tristan Emanuel Koepke, Valerie Olivero, Vallejo Gantner, Victoria Rogers, Virginia Kennard, Wendy Ruble, Winship Family, Yumi Inomata 
We want to engage you in the creation of this Vital Matters from the ground up. It's a dance and performance festival for the Twin Cities! It's a celebration of our bodies. Please join us!