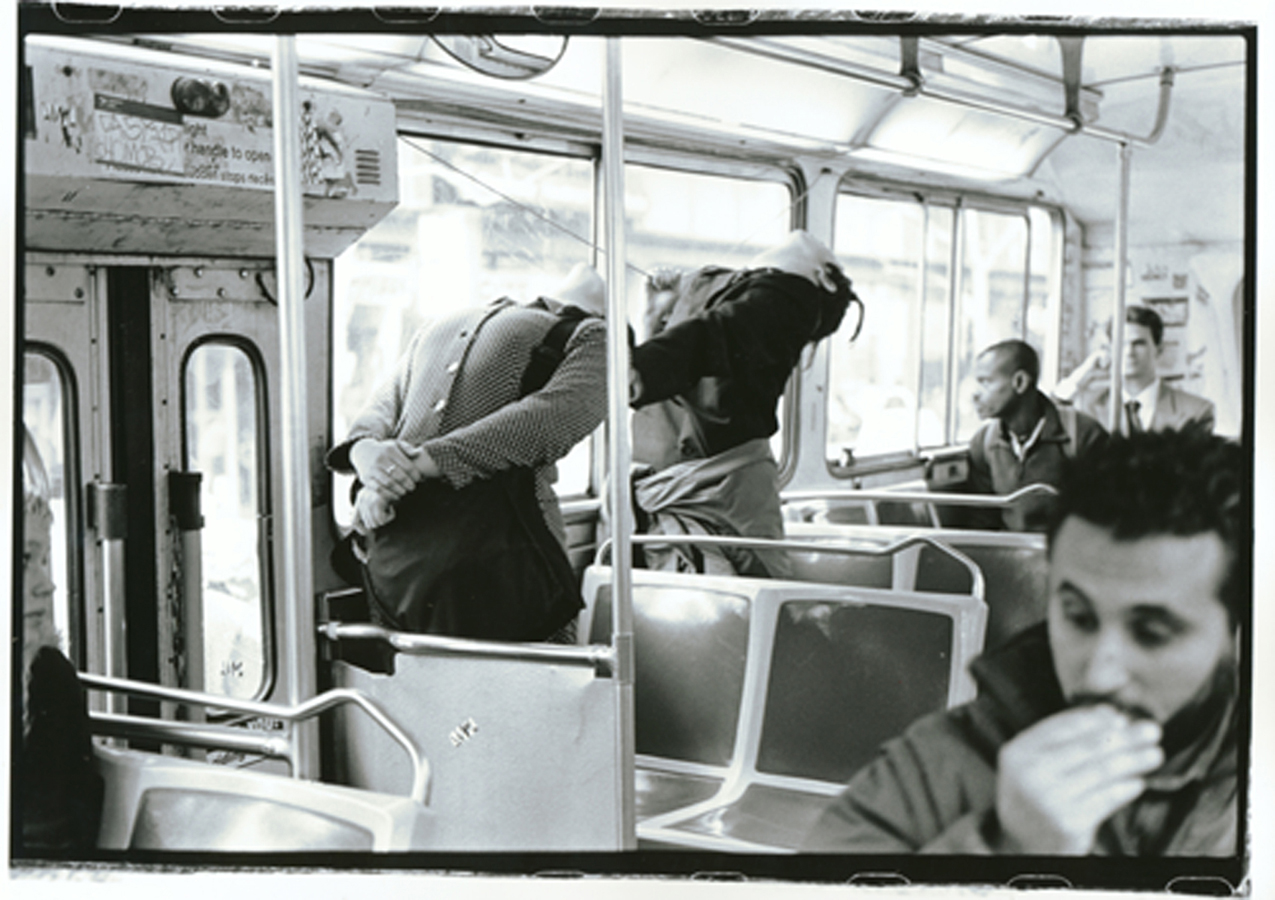 buses and trams and ferries
San Francisco, Bay Area
Our first attempt with a round robin duet on one single bus up Market st all the way to the Castro. What resulted was a lot of confusion and some wonderful improvising and public interaction that occured all the way up and down Market street as people waited for the "right" bus. Riccardo and Tracy entertained public at their stop by offering them a seat on Riccardo's back and explaining that they were working for MUNI. A public relations effort in which MUNI was employing local artists to make public transit more fun. Bus drivers would pass messages on to us from other orange dancers up the street. It became an ongoing event that spanned time as people travelled along the Market St.
The second part of the day was consumed by a ride on the Tibron ferry during commute time. We danced to the seagulls and the tossing of the harbors wake . The sun blazing down as we passed Alcatraz suspended in a small dance to the lulling hum of the engine.
Perfromers: Kate Gibson, Lawrenzo Share, Lea Bender, Olive Bieringa, Otto Ramstad, Riccardo Morrison, Samantha Beers, Sarah Bly, Shelly Smith, Tracy Vogel
February 17th 2000
Market St public transit round robin dressed in business suits.  A duet with continually changing partners on the buses and trams travelling up and down market street as new participants exited and entered at each stop. On our return journey we acculmulated getting on one bus stop at a time all on to one bus.
Performers: Kate Gibson, Otto Ramstad, Olive Bieringa, Eric Fink, Meirav, Lawreno Share, Shelly Smith, Kate Gibson, Lawrenzo Share
We began with our public transit round robin score. An ongoing duet with new partners entering the bus or tram at each bus stop and old ones exiting. The twist was this time everyone was dressed as different characters…not just in business attire. Shelly was the hooker who received more than one offer waiting at the tram stop. Sam and Alex the girlfriends. Laura the UC student. Louise was euro trash. Lawrenzo played the the tourist who inevitably got lost and was never seen again on route.
Performers:

Alex Zaphiris, Emmett Ramstad, Eric Fink, Heather Pierce, Heike Wrede, Jared Kaplan, Kyla Wetherall, Laura Podowski, Lawrenzo Share, Lea Bender, Louisa Bertleson, Olive Bieringa, Otto Ramstad, Samantha Beers, Shelly Smith