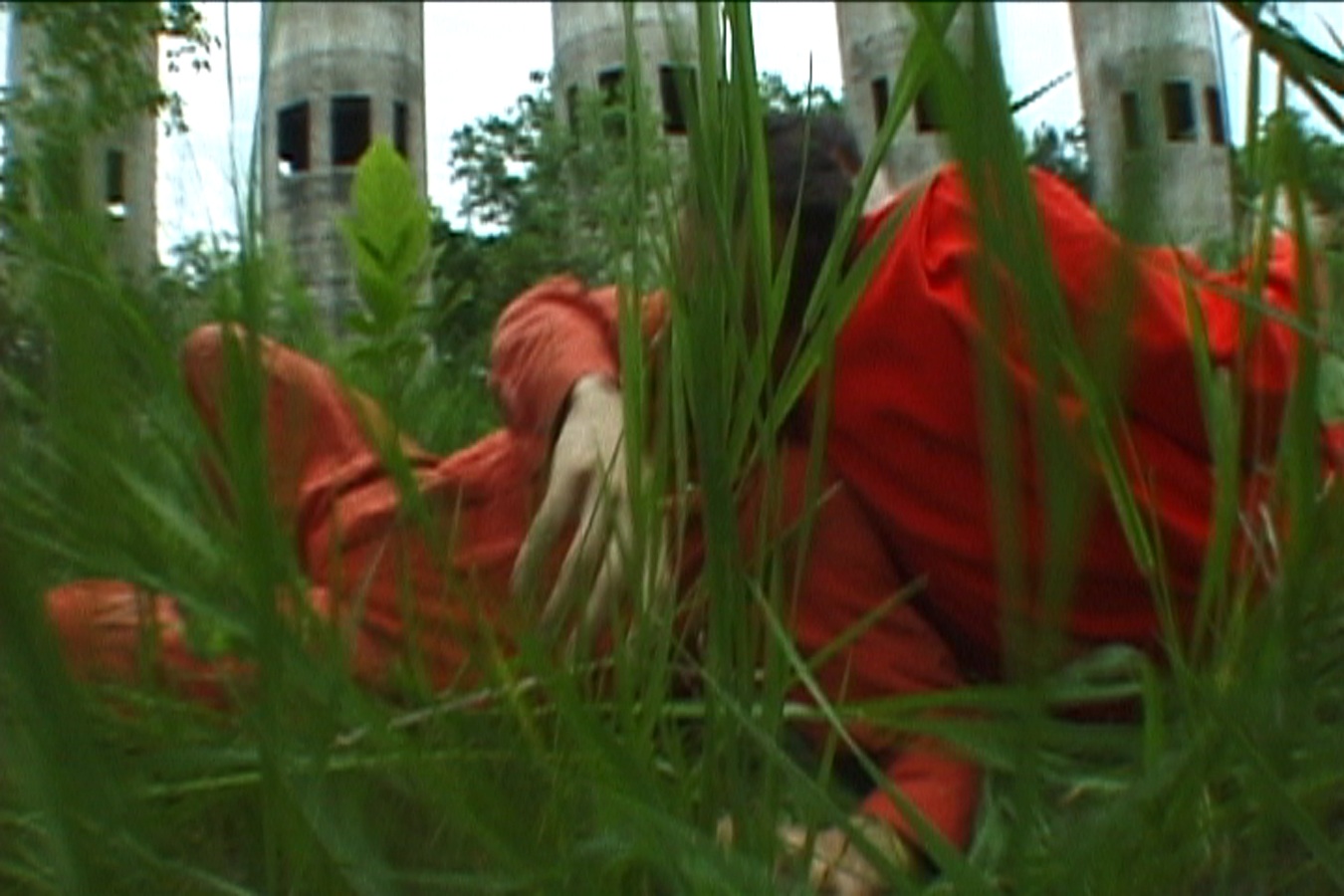 Video
10 min
2007
plant demonstrates our hybrid investigations between the languages of choreography, site work, video art, film and sound composition. Like an alternative music video where the music consists of a bullet rolling across broken cement, three men engage in acts of quiet violence and noisy interaction. plant engages us in a visceral hallucination amidst the ruins of an abandoned munitions factory in Minnesota.
Having developed several works in spectacular wilderness landscapes we have also been drawn to ordinary, broken or forgotten spaces, where nature is reclaiming the cement. As opposed to traditional narrative structures my work investigates the sensorial experience these places conjure in our bodies and imaginations. This abandoned military facility was designed to manufacture smokeless gunpowder and propellant in 1945. It was in operation for three months before the war came to an end.
The cast includes Otto Ramstad, Colin Rusch, and Bryce Beverlin, all men of military age. Our working process was fluid and intuitive, a counter to the history of the site, an unfolding of images and experiences provoked by it. The conscious of a country at war on others territory became an unconscious aspect of our process. It is difficult to imagine what it is like to fight a war if you don't have direct experience. A space like this engages this question, which at once compels and repulses. Images emerged of men working together, seeking companionship, finding humor, struggling, broken, dying, men with secrets, erupting nightmares, forgotten soldiers, prisoners of war.
We shot the film in 2004 on mini DV. As a camera person I consider myself inside the action, inside the dance as it is taking place. I too am dancing with my attention, with the lens of the camera. The acoustic qualities of the space were incredible. We shot a long improvisation with Beverlin traveling through the site playing sound with and on objects he found along the way.
As an editor it took me a long period of time to embrace the rawness of this footage and find a structure for the edit. Eventually I realized it was not about pristine images, but a gritty and dynamic ones like a war documentary or action film. From this perspective I completed the edit in 2007. I began by cutting a sound track from the onsite sound improvisations. It was the first time I have included dialogue in a dance film work and am very interested in how the words engage the consciousness of the viewer in a different way and transform the reading of the visual image.
Olive Bieringa, Cameraperson + Editor
Screenings
Wallpaper Dance, Trieste, Italy
MNTV, Minnesota Public Television
Dance on Camera Festival, NYC + touring roster
Mediated Bodies, Ireland
Dança em Foco, Brazil
Polish Public Television
London International Dance Film Festival
Yokohama International Dance Film Festival, Japan
Edit Festival, Budapest, Hungary
Dance for the Camera, Chicago
On the Wall, Berlin
Flowing Body Studio, Kyoto
Minnesota Dance Film Festival
Moving Image Minnesota, Bryant Lake Bowl