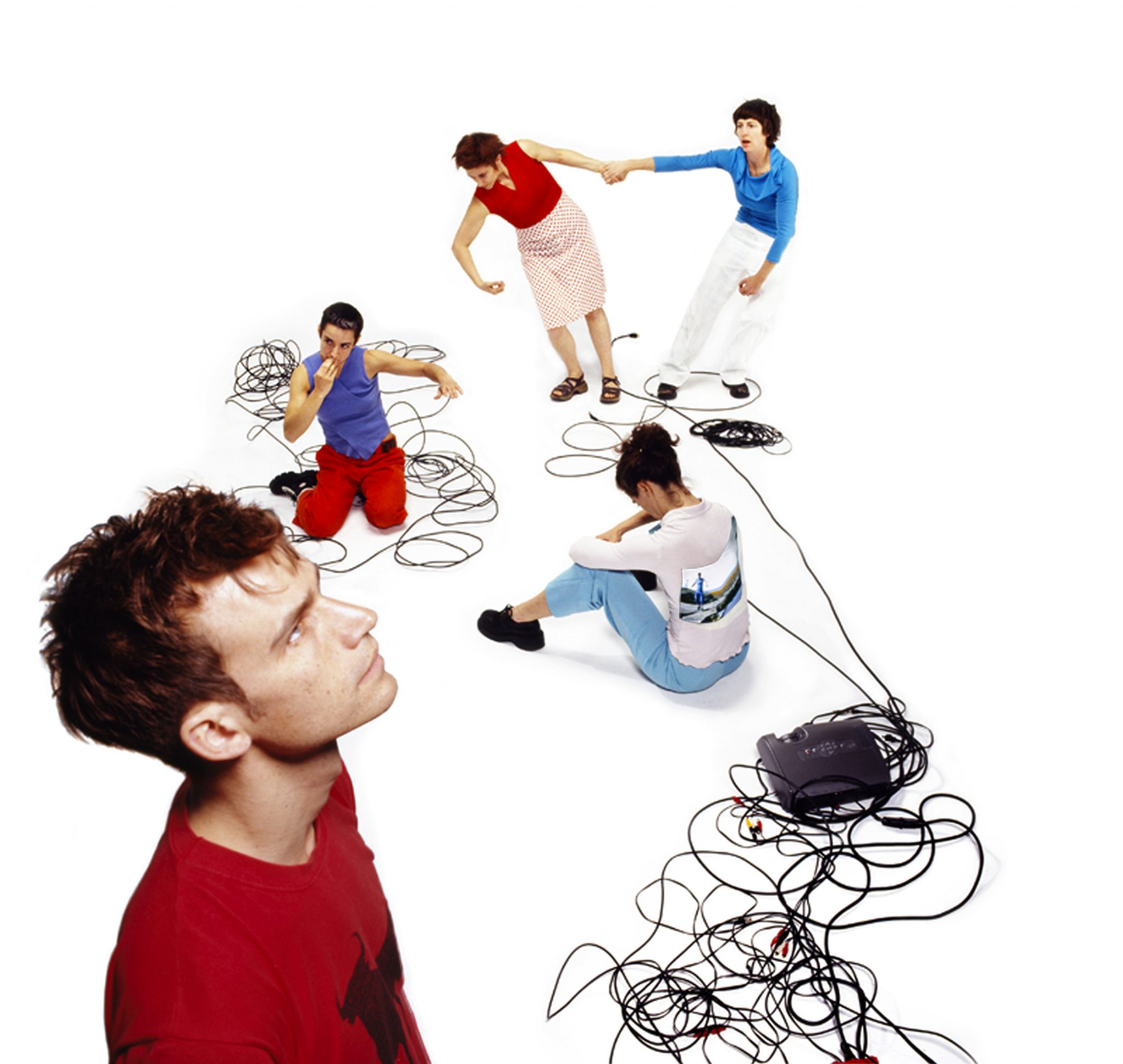 Walker Art Center Momentum Commission for the  Southern Theater, Minneapolis
Winner of the People's Choice Award at the 2006 Minnesota Sage Dance Awards
On holiday the normal sequence of time unravels, regular activities, chores and spatial awareness of ordinary places are deconstructed or completely altered, perception bends. Reality shifts. Stuck at home, on holiday, an adventure unfolds pitching the performers all over the stage, under furniture, over each other and tilting precariously from bicycles.
A mash up of home as creation of intentional family, experiences with your "actual" family, the families you saw on television, and the home videos that form your memories. Holiday House alloys the most theatrical elements of video and the most filmic elements of dance, pushing that amalgam through the pressurized lens of the theater, to create a sparkling composite.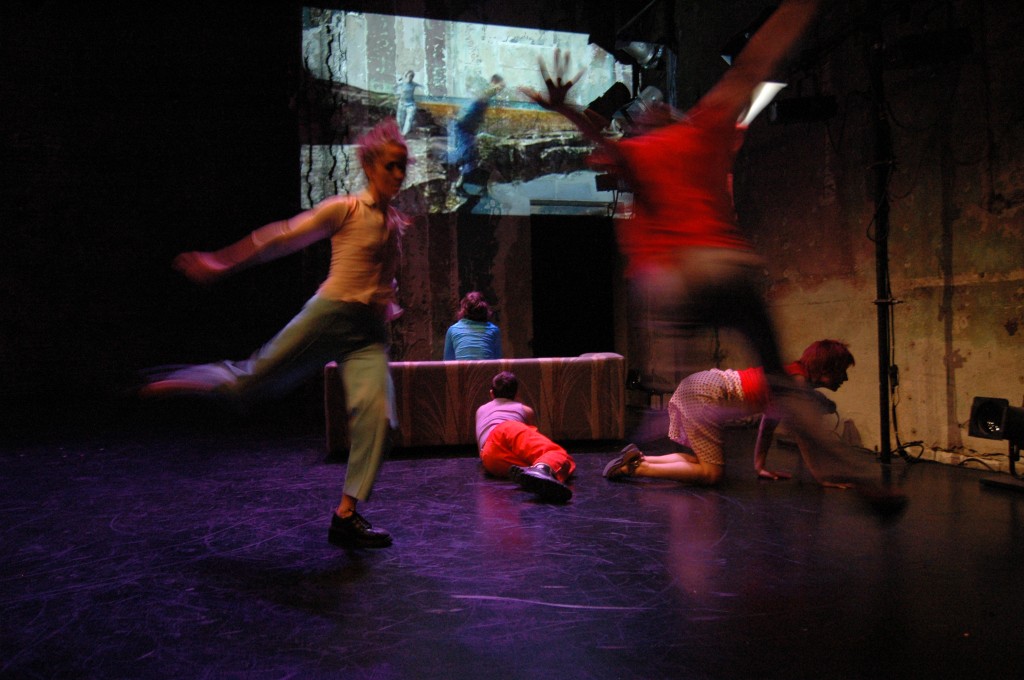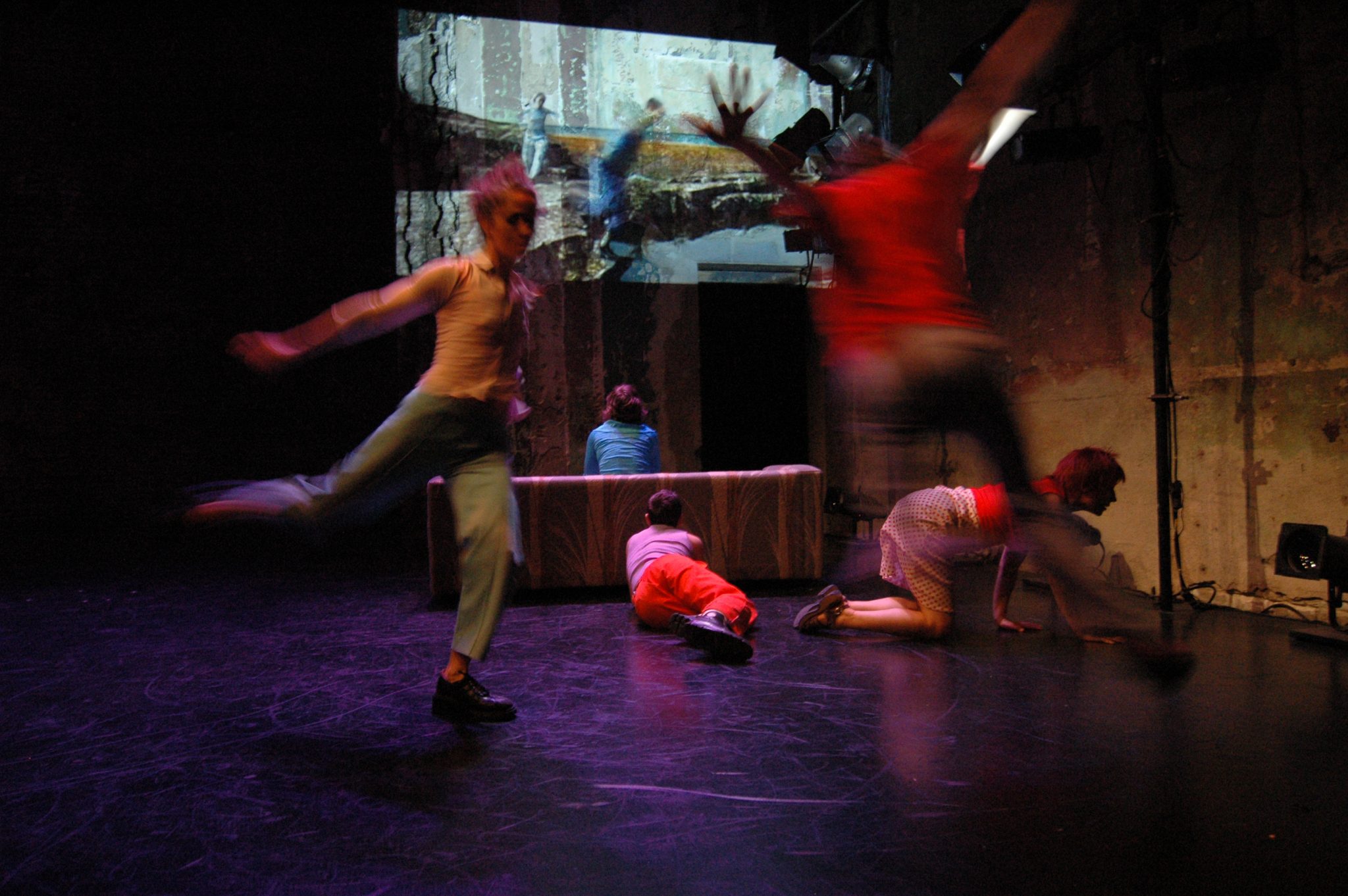 In the original film and site version of Holiday House we choose to work in our house as a way to literally work at home, in Minneapolis and produce something in an everyday and private space. The house has its own agency in the work, constantly generating and framing the bodies of the performers and informing and transforming the sound score. A metaphysical blurring of past and present occurs within this old architecture. Video is used to geographically locate the piece, move us in time to other locations and provide live feed of hidden moments. Life sized video portraits become dance partners. Events loop and bodies duplicate creating perceptual shifts in time and action. We investigate how, as the VHS generation, video plays a key role in creating our memories, recording our histories and building intentional family.
We are reinserting the perceptual modes and kinesthetic intelligence gained from this dance video hybrid back into live dance. Injecting this into the Southern Theater, we are watching where it seeps into the cracks and sticks to the surfaces. Transposing, deconstructing, reconstructing, transforming, combining grossly and subtly different formal geographies and media as they bleed into each other of their own accord. How does an immediate experience, sometimes a more subtle manifestation of internal life and imagination, manifest literally, abstractly or metaphorically to create real time interactions or critique to feed the whole work as it's happening? 
"It's always nice when ….you've acquired some concentrated sense of emotional truth.
"Holiday House" works by a gradual accumulation of apparently arbitrary activities and by its strange air of drugged calm."
"Otto Ramstad and Olive Bieringa make clever use of the doubling power of video…"
– Roslyn Suclas, NY Times
"We are treated to unobstructed views of a cast of extraordinary movers. Quicksilver Olive Bieringa attacks space with power and agility. Dustin Haug's virtuoso duet with a red bicycle is reason enough to leave home on a cold night: frantically twisting the front wheel, Haug balances on the seat and jerks at the handlebars, then repeatedly crashes into the set while remaining upright."
– Mary Hodges, The Brooklyn Rail
  "the show transcended a rational place and became an experience where we were completely watching as excited children."
– choreographer Chris Schilichting

Performances
2006
Walker art Center Momentum Commission, Southern Theater, Minneapolis
2009
Coil Festival, Performance Space 122 , NYC
Credits
Direction Otto Ramstad and Olive Bieringa
Choreography Otto Ramstad and Olive Bieringa with the performers
Performers/Original cast: Kristin Van Loon, Morgan Thorson, Karen Sherman, Bryce Bererlin II, Otto Ramstad, Olive Bieringa
NYC Performers: Emily Johnson, Dustin Haug, Tamin Totzke, Olive Bieringa, Otto Ramstad, Bryce Beverlin II
Video Direction and Editing Otto Ramstad and Olive Bieringa
Videography Otto Ramstad, Olive Bieringa, and Josie Winship
Music Bryce Beverlin II, Alan Ernst, Jonathan Zorn, Tim Glenn
Sound Designer Tim Glenn
Technician Elliot Durko Lynch
Stylist Emmett Ramstad
Understudies: Brinsley Davis and Jamey Carol Garner
Holiday House was originally commissioned by the Walker Art Center for the Momentum Series with additional support from the Jerome Foundation, the Archibald Bush Foundation, and Forecast Public Artworks.
Watch the full length version here