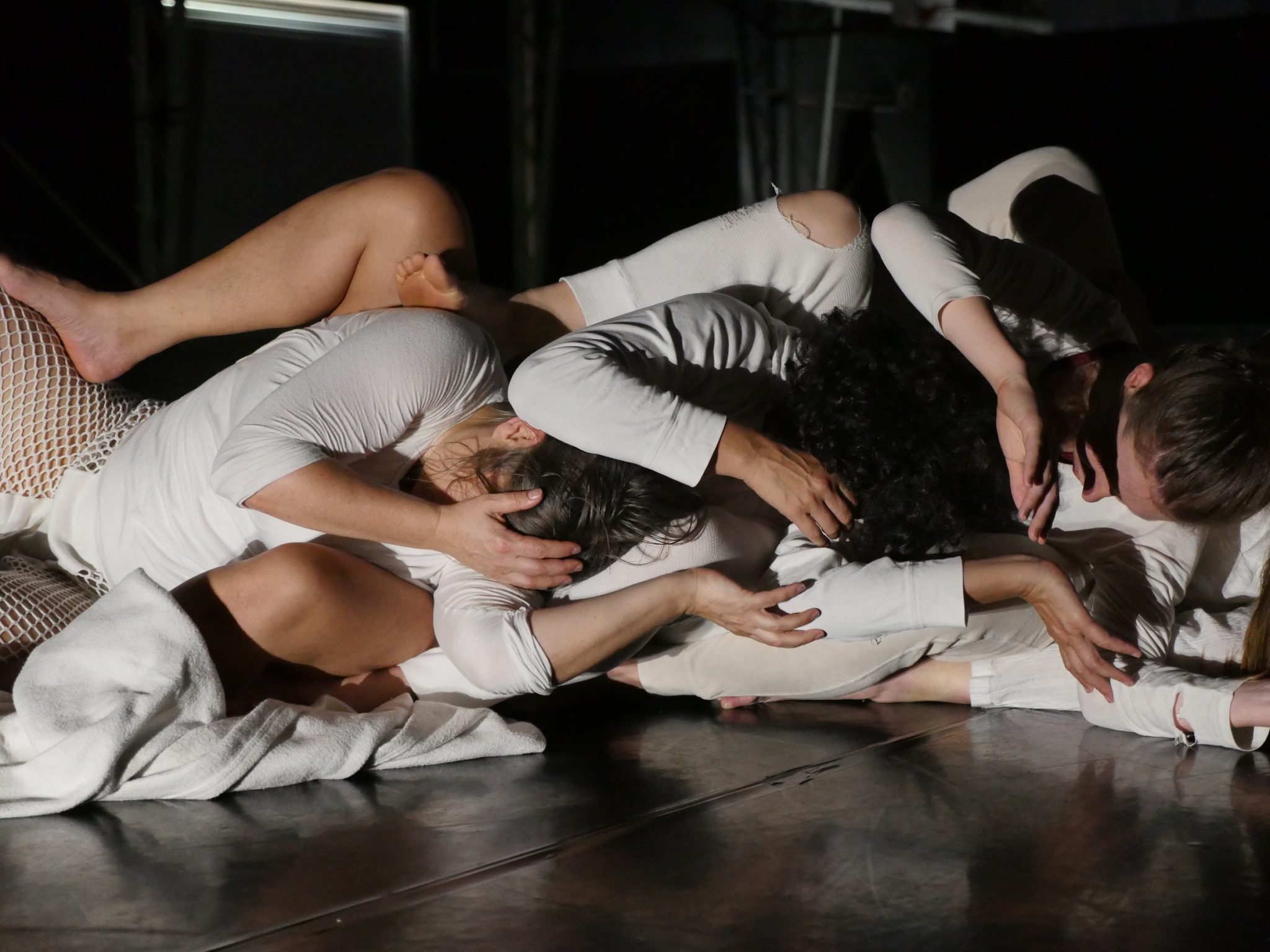 felt room is an immersive performance installation designed to conjure imagination, speculation and perception, engaging viewers in a practice of vibrant potentiality. In the darkness of felt room viewers are offered an escape from a world of constant illumination. Unfolding somatic landscapes move into and out of the darkness, transforming our perceptual field. In felt room we can practice other ways of knowing. Like human animals moving into the night, the darkness can be a cloak of protection, as the dance slowly reveals itself to us.
Through its visual absence the dance becomes heightened in our imagination. There are no handles in the dark and no ways to mark time. In its intimacy we are both hidden and vulnerable. Together we share fluid time, a space for napping, lucid dreaming, visioning, and collective imagining. 
"Whether they are moving as one or separated throughout the space, the dancers' connection to each other is remarkable to watch"  Sheila Regan Star Tribune's BodyCartography Project's 'Felt Room' flickers with substance and light,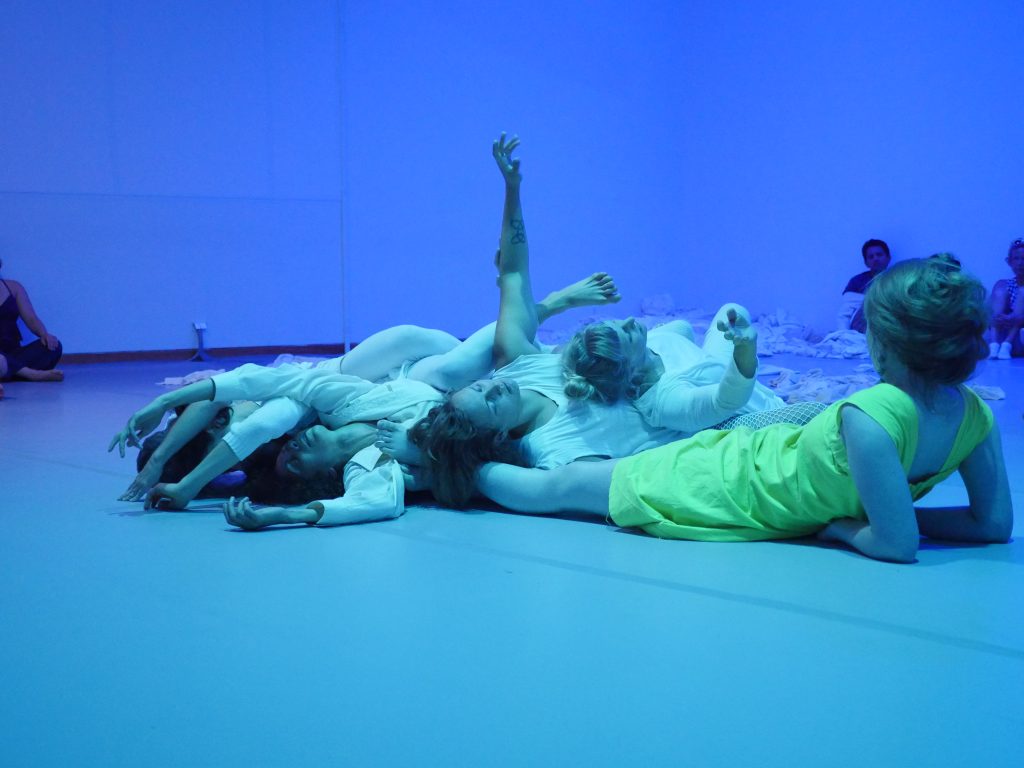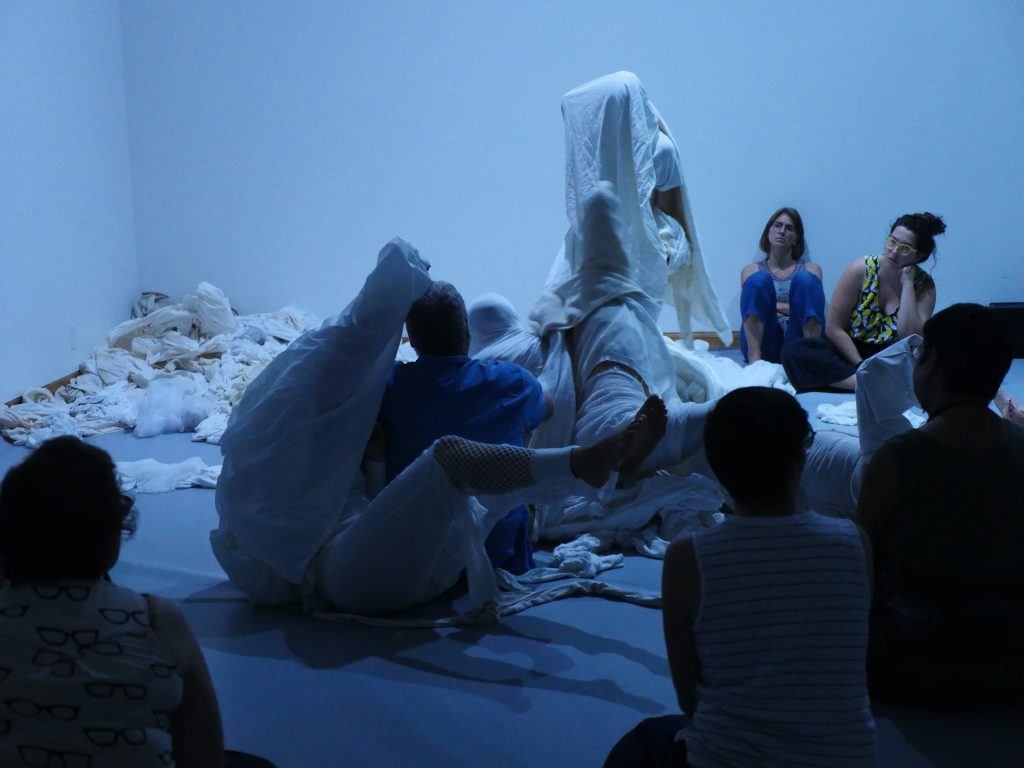 "From darkness to dimness to light – the "felt room" was a revelation. It's rare to confront your own physical and emotional hesitancies while watching a performance. It felt good to feel the heart pump a bit when confronted with uncertainty." Caroline Palmer. Read the full review here.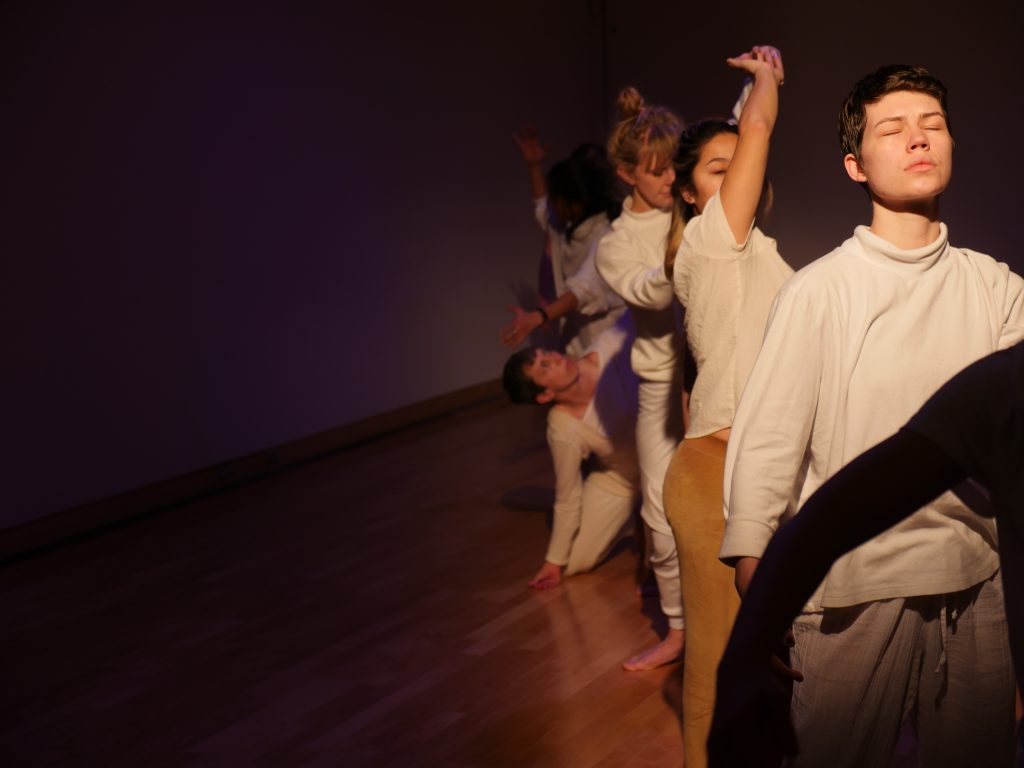 "Philosopher Alva Noë wrote that experience is not something we have—it is something we do. For the BodyCartography Project this is not an abstract philosophical concept but an operational principle." Boris Oicherman, Mapping (your) body reflection on the felt room, WAM website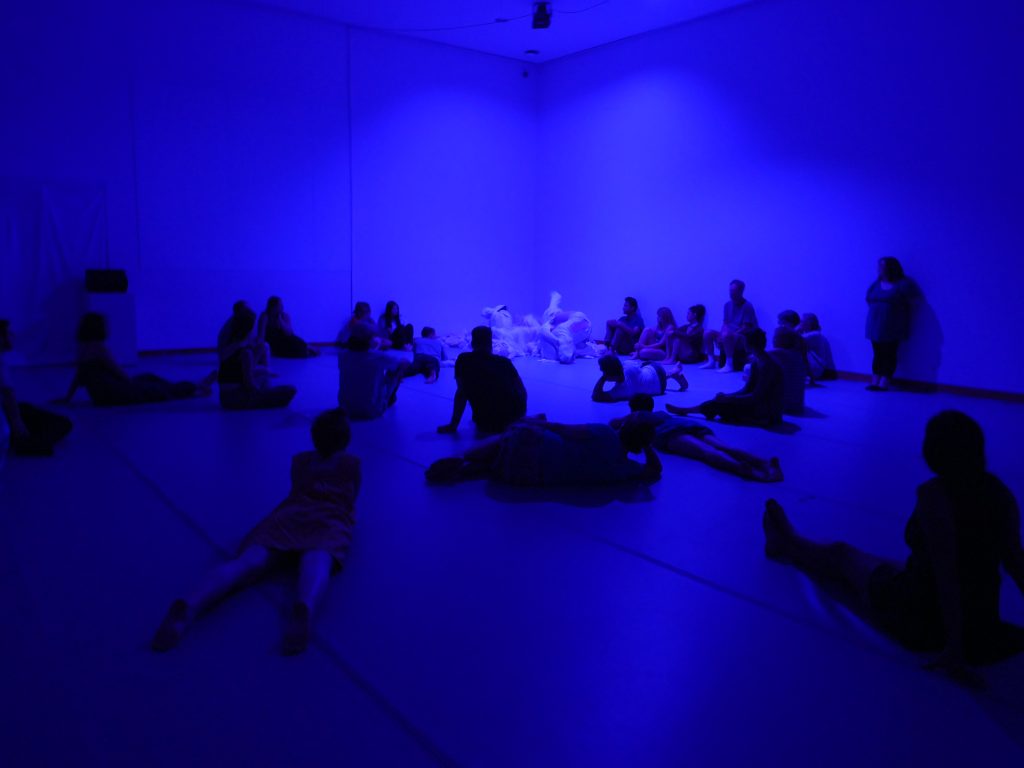 "felt room began for me as an audience member like this: Barefoot. Entrance into complete darkness. "Do you want to hold hands so we don't lose each other?" "Yes. Do you want to slowly walk forward?" Breathing sounds. Crackles and hisses like inside a body in creation. Dimly lit ensemble of dancers whose shapes merge, morph, split. Movement comes to rest, and apparent stillness generates agitation. Like the beginning of the universe, bursting to life. Unstoppable becoming. Like the pre-history of our human bodies, cells unfolding patterns before mind. A kind of holiness that my atheist self believes in." Asher Edes, audience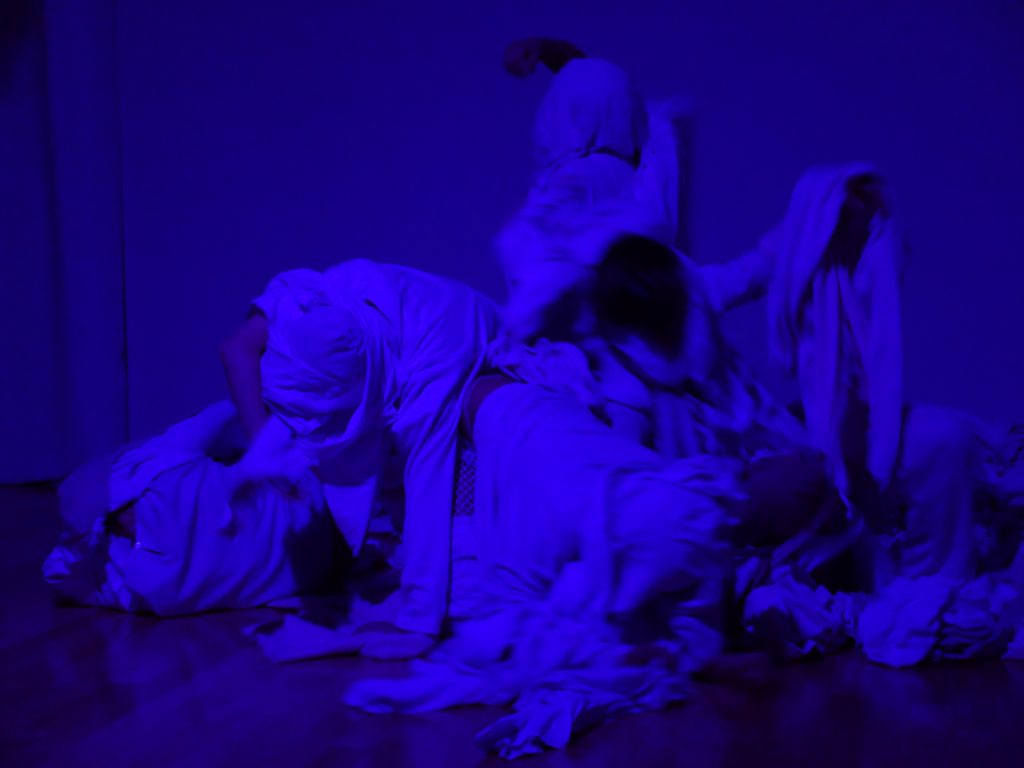 "Stretching between amazement, fear, and tenderness Bieringa's piece is a dream of life at its most instinctual." 
artist and audience member Sean Smuda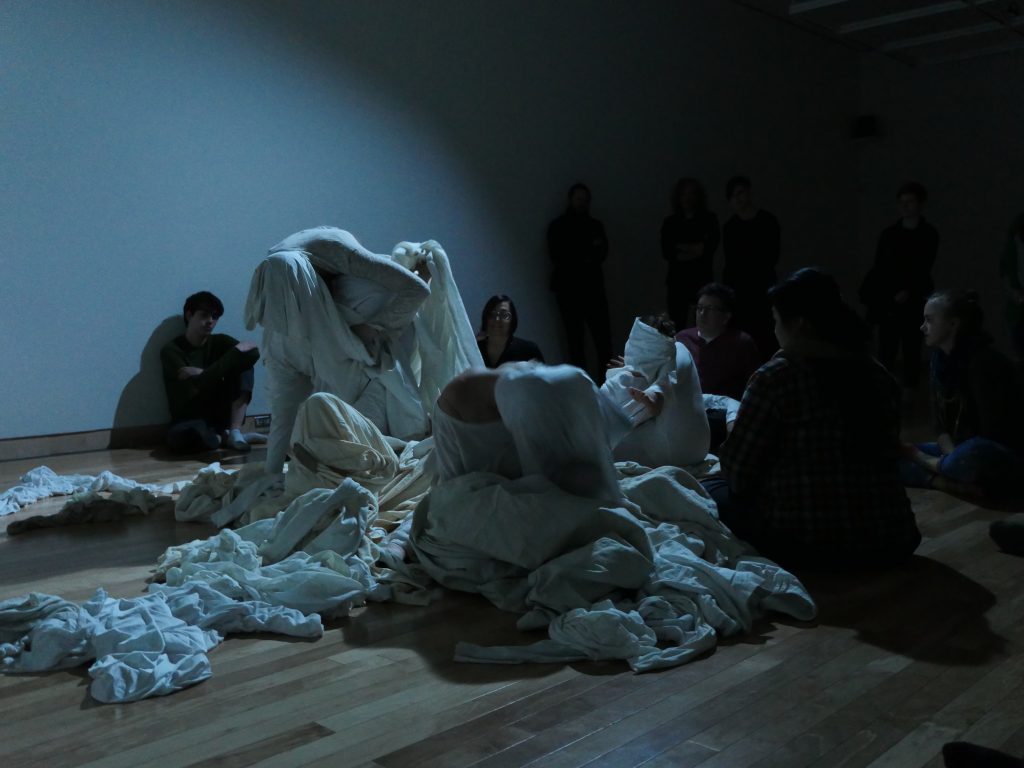 "And then suddenly in a burst of clarity I could see! The room and everyone in it now completely visible.
I could hear a heartbeat. Tears came to my eyes as I was awash in the feeling of being a human."
Bernie Jungle, audience feedback from the Headlands Center for the Art.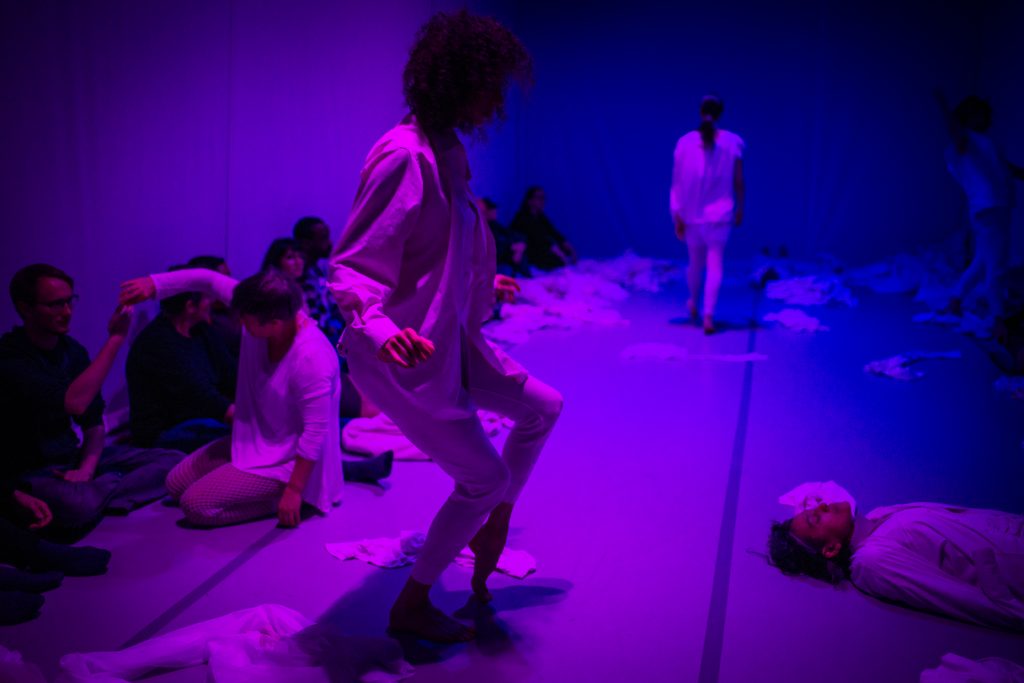 "It was the one space I have been where my mind simply decided this was all there was.
It played with the idea that there was nothing beyond the room. Outside that curtain there was nothing. No beings. No ideas or systems. No other way of life. No world. Just: felt room." 
An excerpt from Abiel Locke's review from the Performance Arcade. Read the full review here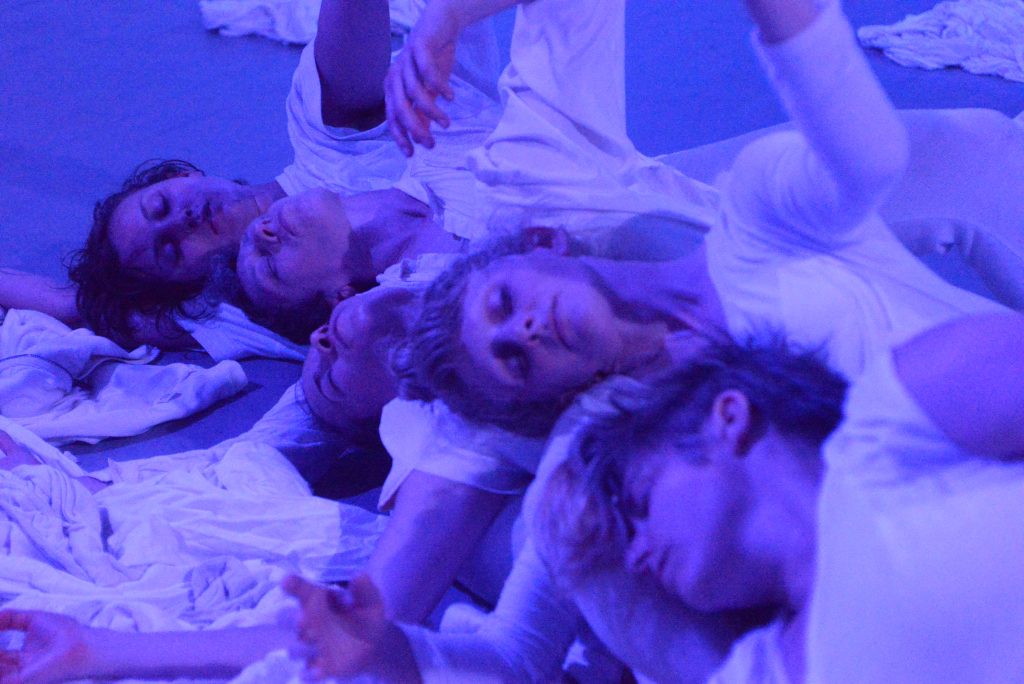 "Bodies nestle into one another. Limbs overlay. Eyes closed, the many-limbed organism rolls and shifts. The group shares a controlled, insistent agitation.
You are lying on the floor. I sit down next to you. You start to move toward me. There is only an inch of space between us. We aren't touching yet, but I can feel the heat from your body. I feel a brushing sensation — the suggestion of touch.  My skin grows antennae. Now we touch, just barely.
We move in and out of rest. We move in and out of restlessness."  
An excerpt from Framing Feeling: BodyCartography Triptych by Hope Mohr for Openspace. Read the full review here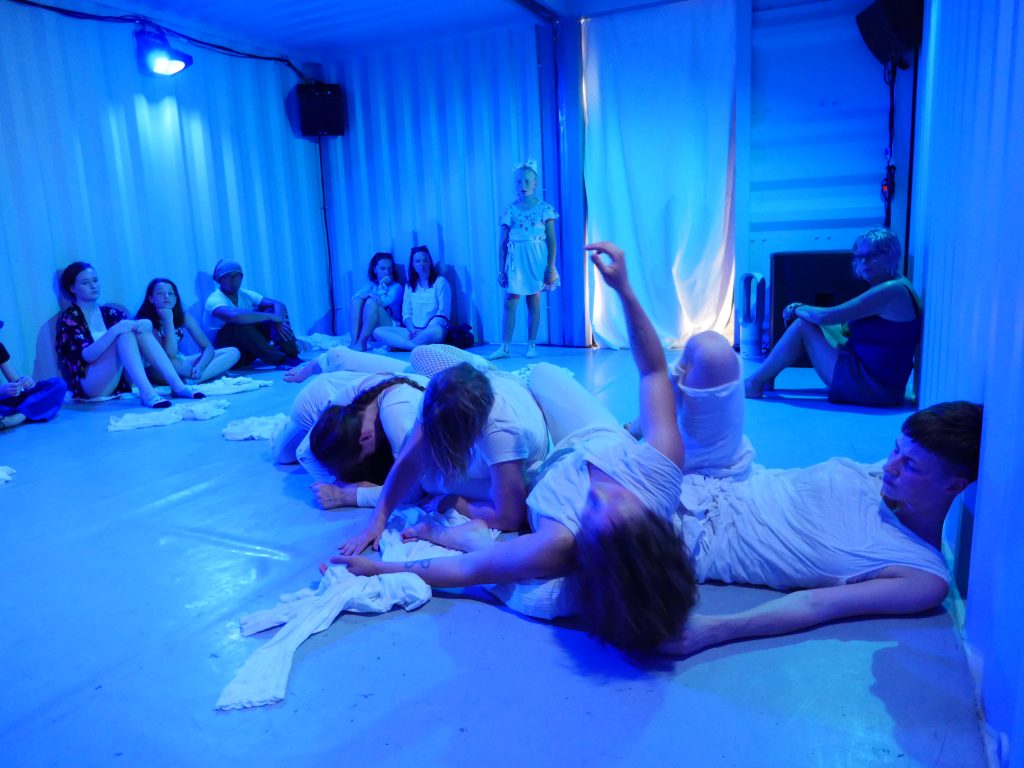 "Darkness ameliorates as a walled garden.
The lurching viewer makes up a glint-eyed border of foliage, the marginalia marked by muted gasps as dancers heedlessly plunge through darkness into our bodies. Anointed horrors of the imagination take material form, becoming perhaps pleasure.
Absence of light personified (yowling, so shocked at its own absence),
I felt it a part of me rather than a character of the space.
Figures erupt from foliage, momentarily taking the form of epics.
Chronologically arranged events of life and death, where cellular matter, deities, and meaning disintegrate into meandering movements of form and surface.
In the absence of reason, there is simulated beauty…"
an excerpt from Notebook – BodyCartography by James Fleming for Openspace.Read full review here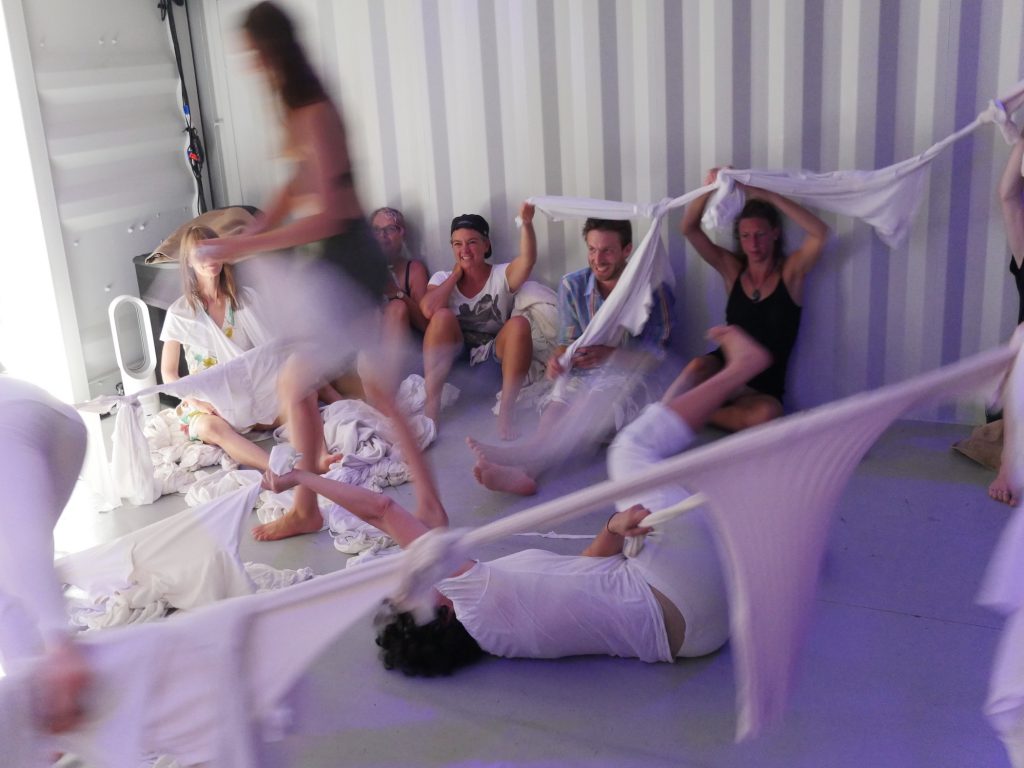 "The metamorphosis of the pile of white clothing punctuated the passing time. Beginning in one corner, it morphed and grew around the women. It scattered across the room, draped itself over us, hemmed us in, became our pillows, and connected us. The emotional and timeless hours drew to a close as each individual found themselves joining the dancers in their task of turning the pile into a web spanning from wall to wall. Methodically and yet without conscious goals, we passed shirts onto others and lengthened the strands until we ducked and wove in and out of our own piece of art." 
An excerpt from Abiel Locke's review from the Performance Arcade. Read the full review here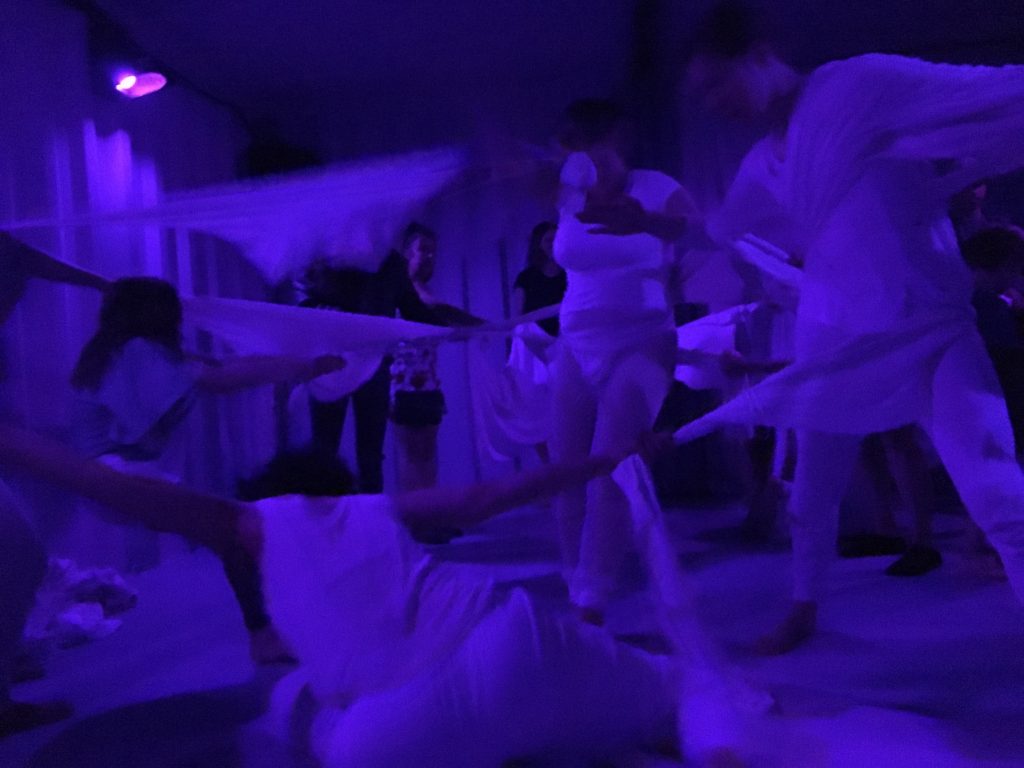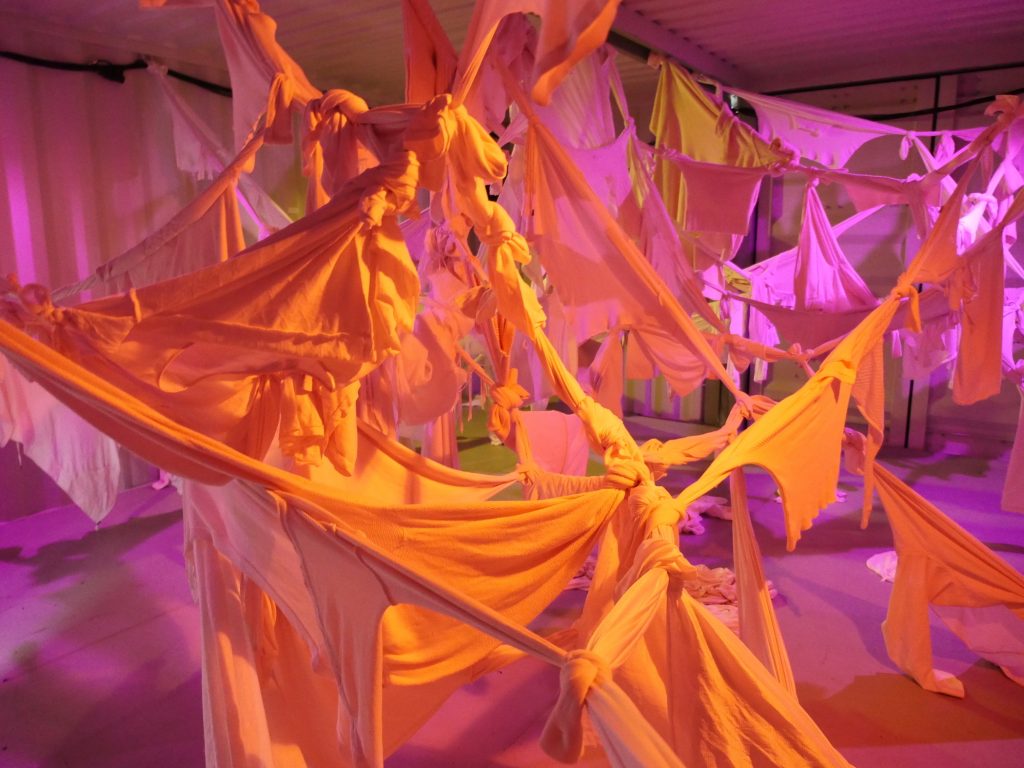 Weisman Art Museum, Minneapolis performers: Maurya Kerr, Sarah Baumert, Arwen Wilder, Anna Marie Shogren and Emma Barber
San Francisco performers: Maurya Kerr, Julie Tolentino, Anna Martine Whitehead, Sarah Baumert, Arwen Wilder, Olive Bieringa and Emma Barber
New Zealand performers: Josie Archer, Rosie Tapsell, Vicky Kapo, Olive Bieringa and Emma Barber
White Page, Minneapolis performers: Anna Marie Shogren, Sarah Baumert, Arwen Wilder, Emma Barber and Olive Bieringa with sound by Justin Jones and light by Mike Wangen.
Movement developed in collaboration with Rebecca Haseltine, Kevin Dockery, Otto Ramstad, Utam Moses, Kosta Bogoievski, Josie Archer, Anna Marie Shogren, Sarah Baumert, Arwen Wilder, Emma Barber, and Carleton College dancers Thu Nguyen, Annie Richardson, Kathryn Peneyra, Hettie Stern, Alison Ball, and Erin Arntson
Special thanks to Otto Ramstad, Judith Howard, Laurel Bradley, Teresa Lenzen, Christina Chang, Wu Chen, Wes Winship, and Piotr Szyhalski.
Support for this project comes from Carleton College, the Foundation for Contemporary Arts, and Alumni New Works grant and residency from the Headlands Center for the Arts, an Arts Activity Grant from the Metropolitan Regional Arts Council, Creative New Zealand, Wellington City Arts Council, Atamira Dance Company and our donors.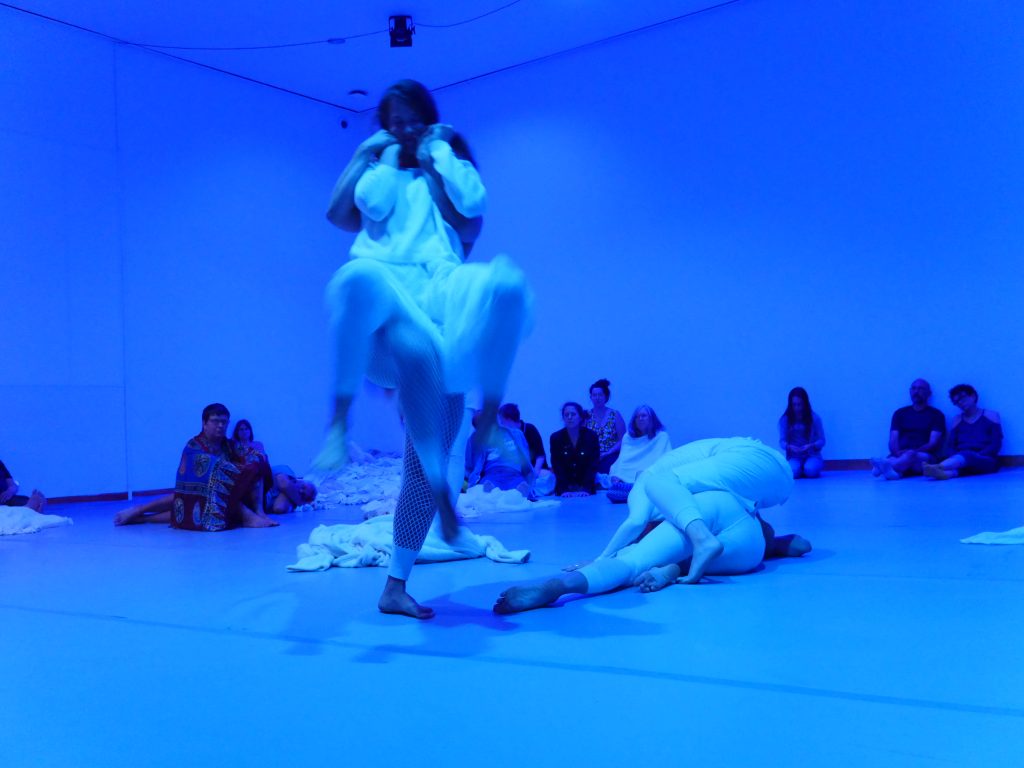 Exhibition
Weisman Art Museum, Minneapolis, July 11-15, 2018

SFMOMA in connection with Robert Rauschenberg: Erasing the Rules exhibit March 15-18 with Sarah Baumert, Arwen Wilder, Emma Barber, Julie Tolentino, Maurya Kerr, Anna Martine Whitehead & Olive Bieringa 

The Performance Arcade, Wellington, New Zealand,  March 1-4 with performers Emma Barber, Rosie Tapsell, Josie Archer, Vicky Kapo, & Olive Bieringa

The White Page Gallery, Minneapolis, June 29-30, 2017

Perlman Teaching Museum at Carleton College, Minnesota, January 13- February 23, 2017. Curator Sandra Teitge gave a talk "On Dance Constructions, Plastic, and Public Collections – female minds & bodies in museums"
Residencies
Atamira Dance Company, Corbyn's Estate, Auckland, February 2018

Perlman Teaching Museum at Carleton College, Minnesota, 2017

Headlands Center for the Arts, May 2016
felt room trailer from the White Page, Minneapolis
felt room excerpts from San Francisco Museum of Modern Art, March 2018