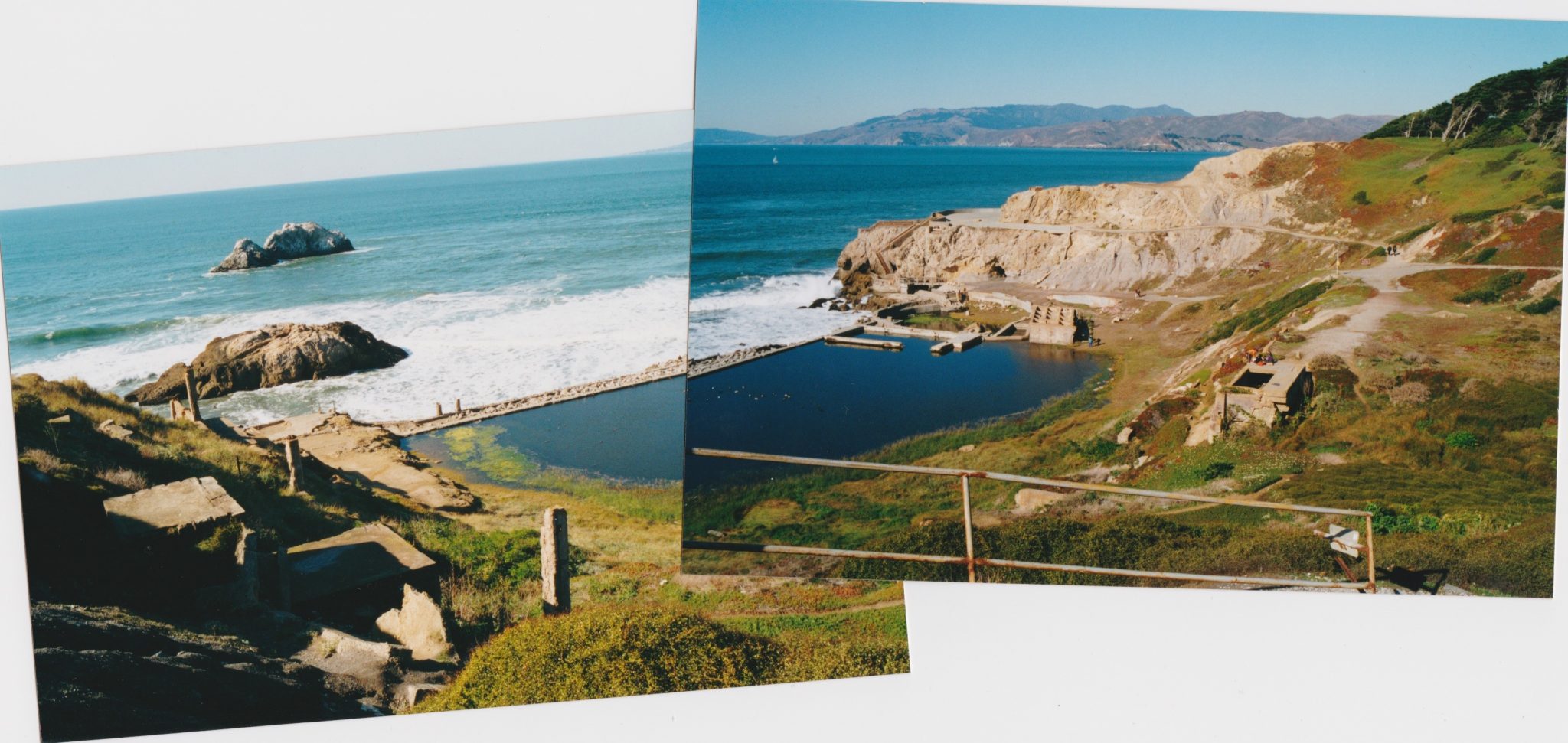 Bay Area, CA
"Up to 25,000 bathers could fit into the baths on a given day, and more than 1,600 could be accommodated in the 517 private dressing rooms (conveniently, there were 40,000 towels available for rent). The entire establishment was constructed inside an enormous three-peaked glass enclosure. According to visitors' reports, a great deal of the structure was made from stained glass, and the baths below were frequently dappled with rainbows from the sun shining down through the roof. Sutro placed dozens of display cases full of his memorabilia from trips around the world — including, weirdly enough, a mummy — throughout the halls to make his attraction "educational," too."
By Annalee Newitz, an excerpt from Digging the Baths
June 11th 2000
Dressed in orange, this was our first foray into this incredible landscape caught between the ruins and the sea.
Performers: Alex Zaphiris, Beaker Prince, Christina Lella, Emmett Ramstad, Heather Pierce, Heike Wrede, Jared Kaplan, Kyla Wetherall, Laura Podowski, Lawrenzo Share, Lea Bender, Louisa Bertleson, Olive Bieringa, Otto Ramstad, Rafael Cohen, Shelly Smith, Wang PoShu
November 19th 2000
Our second experience at Sutro Baths. This time dressed in white. We rehearsed all day and as our audience was arriving we were approached by park rangers and fined for not having a permit. It turned out there were a number of film companies shooting ads without permits in the park that day.  As a result we could not perform but were able to invite our audience down onto the seawall for a standing meditation and then take them into the rock tunnel to sing together. Olive had success in fighting the fine in Federal Court. The following year we were able to secure a permit and the performance took place in May 2001.
To read Shelly Smith's great perspective visit What Happened at the Edge of the Ocean
Performers: Alex Zaphiris, Heike Wrede, Laura Podowski, Lawrenzo Share, Lindsay Hasset, Mandy Snyder, Margot Lystra, Olive Bieringa, Otto Ramstad, Rafael Cohen, Rosemary Hannon, Steven Kessler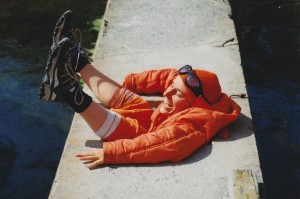 May 6th 2001
The Sutro Baths is an incredible site to bring the public into dialogue with. With all its bare concrete foundations and over grown flora, its myriad of paths winding amongst the ruined baths, the site already begs to be interacted with. Watching birds and raccoons range all over the area children are inspired to climb all over and investigate the area. You can even see some adults climbing the structures and walking close to the waters edge, but most just walk, look and take pictures.
The Project seeks to inspire adults to take on a childlike curiosity and appetite for physical investigation. In our working process and performance work involves many in the dance community and surprises public into becoming audiences. Our work that shows a model of engagement of the senses and body as a way to be in a place; offering a new way to look at where we are as well as fresh way to look at dance and performance as an integrated aspect of the landscape.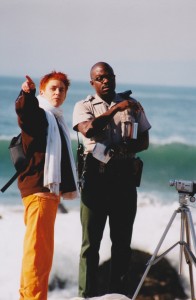 The piece that we showed at the Sutro this past May combined physical working of the terrain, sometimes subtle, sometimes virtuosic, and images that hearken back to the history of the turn of the century bath house. The work included twenty performers, dancers and musicians utilizing the full range of the place. Large group dances teetering on ledges and sliding down sculptured earth. Three half-naked blind folded people feeling their way up from the ocean like ship wreck victims. A trio of orange clad dancers suspended horizontal by ropes over the water move in unison to the sound of accordion mingling with ocean waves. All of these images and snatches of song weave in and out of the Sutro Baths as an offering of place as a frame and medium for art.
The concept and material for this performance has been developed amongst all the participants, over past seven days and within past working periods at Sutro Baths. We have collected images, dances, characters, memories and song. Mostly we have been engulfed by the ceaseless ocean eternal, met snakes and raccoons, watched herons, gulls, swallows, pelicans and cormorants feed, dive and sunbath. Burnt by the sun and wind, drowned in fog and the mystery of what this place was and what this place is.
During the performance a family walking along the baths, the son, 6 or so asked his father "why are these people doing this?" the father responded with "they have emotional problems son" and then he takes a chug of his Budweiser beer.
performers: Alex Zaphiris, Begonia Caparros, Carol Swann, Christel Grande, Eric Fink, Heather Pierce, Heike Wrede, Jan Burkhardt, Kerstin Kussmaul, Lawrenzo Share, Lea Bender, Lindsay Hasset, Manuela Hofer, Margaret Brunjes, Margot Lystra, Olive Bieringa, Otto Ramstad, Patrick Barber, Rafael Cohen, Rita Venturini, Rosemary Hannon, Sean Feit, Shelly Smith, Simon Walker, Steven Kessler