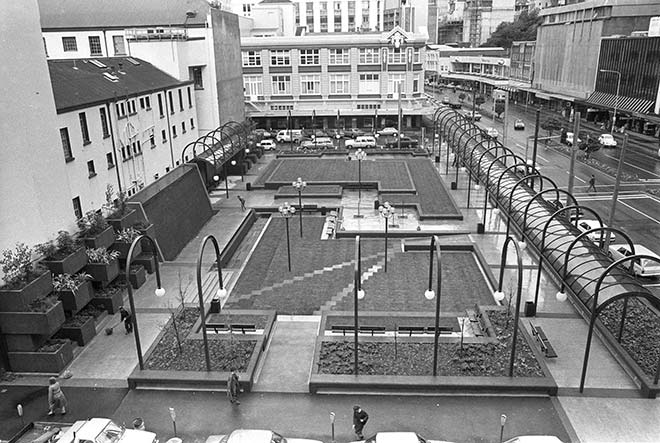 Midland Park, downtown Wellington, New Zealand
The dance plan: arriving individually at a corporate park at lunchtime dressed in corporate camouflage, suits.  Beginning with lunch solos, small dances increasing in size.
Twelve performers planted throughout the park invested in their own adventures until a cello player (or even a whole string quartet) begins to play an initiation into a waltz. Performers asking members of the public to dance, to join the game in a more formal frame. When the music came to a close we applaud, thank out partners and leave the park alone, as we had arrived. There was room for anyone to step on board. New suited participants always welcome, come join the history of performance art in your lunch break. Cutting across entrenched pathways, sudden movement snuck up on me, who was in and who was out? Conversation a meager offering to suppress the nervousness.
Performers: Andy Irving, Chris Jackson, Eileen Watson, Karen Daly, Katie Regalsford, Kilda Northcott, Mark Minnard, Olive Bieringa, Pietr Roncevich, Roger Livingston, Sumara Fraser, Tony Wolf, Zoe Miller