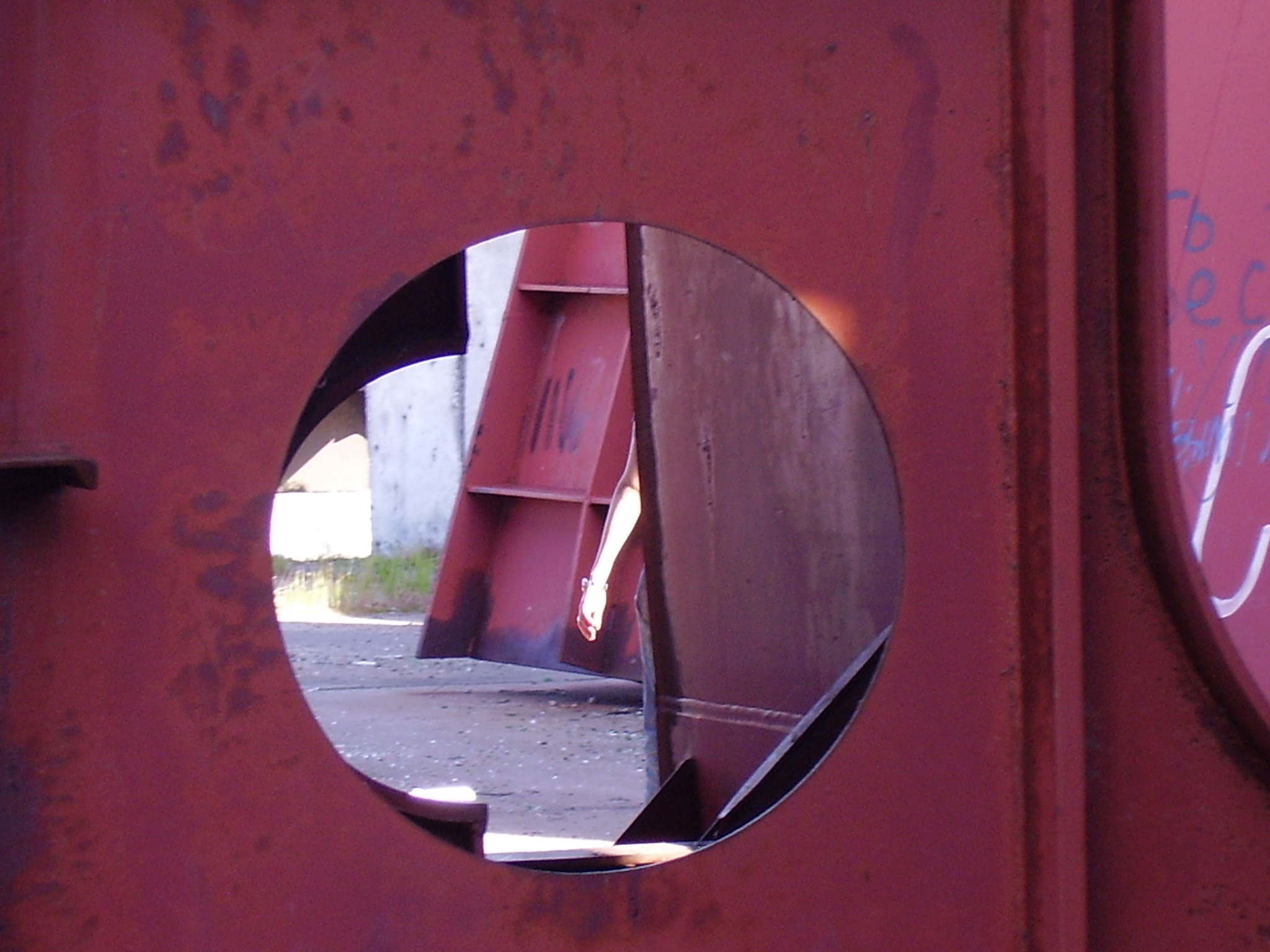 June 2005
Kronstadt, Russia
The Kronstadt Residency was offered by the National Center for Contemporary Art based in St Petersburg. Otto and Olive lived for two weeks on Kronstadt developing a new dance video work in abandoned ship parts.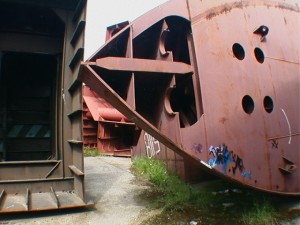 Olive's notes:
Otto and I have been in Russia about a week. We are staying just out of St Petersburg on an island that is owned mostly by the navy. There is an arts residency centre here. That means an empty house with no knives and forks. Today we had hot water for the first time. Nearby is a harbour where there are many frigates. Old and new. Sailors in their teens fishing, carrying supplies out to the boats and burning trash on the dockside. A wooden lighthouse and half sunken ships that make up the inside part of the breakwater. Old fortifications out in the water. The sun was shining and there was a gentle rain. The sea a steely grey. A large sailing boat came with a teen sailing camp on board. Seagulls opening plastic bags to eat the trash. A deep canal with a swivel bridge leading to a vast dry dock filled with fresh green grass and weeds. We have walked all over the island. We thought we were coming to a place where there were many forts but they are all pretty much inaccessible to us. A lot of it is closed off for military purposes. There are signs spray painted in many dubious places for "nuclear tunnel". We don't know if this means nuclear storage or bunkers in case some one decides to drop a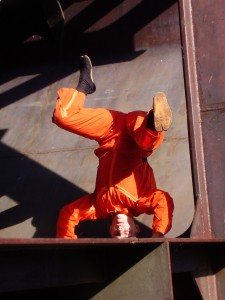 bomb. The grass is long like the sunlight. Gravestones made of metal painted bright blue with photos of their inhabitants attached to the outside. Teenagers in prom dresses. Trash and drunkenness and outrageous outfits everywhere. Last night was summer solstice so we shot our own version of White Nights in St Petersburg. We rented bikes and rode around the city with our video camera, created interventions, watched the bridges open, ate food and drunk champagne. It got dark between 3 and 4am. We went to bed at 8.30 this morning. Life here is about constantly letting go of expectations. It is extraordinary. It is a time warp. Old and new, decadent and primitive all at the same time.
History of Kronstadt from Wikipedia:
The Baltic Sea, the Finnish Gulf, the Neva River, the North of Russia… It was there that the ancient trade routes passed from Scandinavia to the East. During the Northern War (1700 – 1721) against Sweden, Russia won back some of its territories including the region of Izhora, the Neva River coastline and Kotlin Island (Rhettusari). The history of the fortress town Kronstadt, located on Kotlin Island, dates back to 1704 when the building of the first fort Kronslot was completed there. Kronstadt was the first Russian naval and trade port on the Baltic Sea. Harbours and a unique system of docking facilities and canals, batteries and other fortifications were erected on the island during the next 200 years. Still today, 24 sea and coastal historical forts survive representing magnificent examples of fortification art. The history of this unique fortress town is well described in the book "Kronstadt" by V. Krestyaninov. The history and glory of Kronshtadt have been closely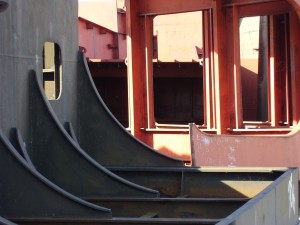 associated with the Russian Navy. It was Kronshtadt from where the round-the-world voyages and expeditions to the Arctic and Antarctic regions started. The famous explorer Bellingshausen set out on his search for the South Pole from Kronshtadt. Krusenstern's around-the-world trip also began here. A great number of scientific discoveries and inventions were made in Kronshtadt. The following list highlights a few of these along with their creators: the first icebreaker (M. Britnev), an anti-plague vaccine (I. Mechnikov), an electric oscillations detector (A. Popov), a submarine and a torpedo (I. Alexandrovsky), an electric telegraph (P. Shilling) and a mine-sweeper (S. Makarov). Many well-known artists, musicians and writers lived and worked in Kronshtadt.