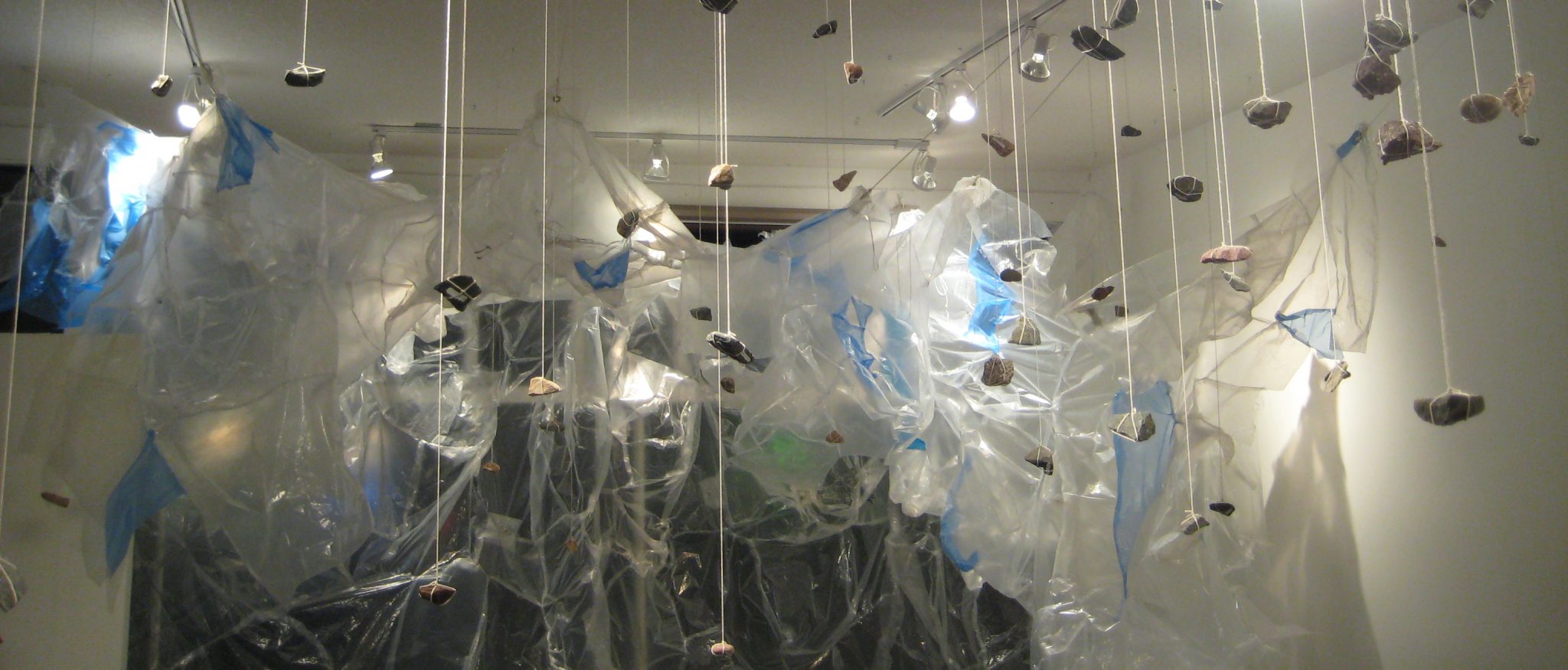 Art of This Gallery, Minneapolis, December 10-19, 2009
We are probing the invisibility of radioactivity and the immortality of plastic by creating a large amorphous plastic "ocean" and an explosion of "radioactive rocks" from test and wastes sites and power stations from around the Pacific and USA. ½ Life investigates the survival of the body amidst a world of scientific research, data, and control. The performance version hovers geographically at the edges of the Pacific Ocean – connecting nuclear super power USA, atomic survivor Japan and nuclear free New Zealand.

 A contemporary ritual to address our dormant nuclear nightmares.
"The bomb is a gift, confronting us with our mortality as a species."
Eco-Philosopher Joanna Macy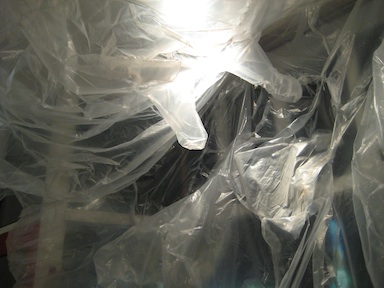 The installation was sewn in the gallery over the course of the installation by collaborator Emmett Ramstad amidst performances, screenings, talks and party. This work became part of the set design for the evening length work which took place at the Southern Theater, Minneapolis and Performance Space 122, NYC.
"meticously beautiful" – Romina Takimoto
"The obsessive detail of the designer Emmett Ramstad is admirable, perhaps devotional" – NY Times
Hear Emmett Ramstad chat with the Walker's Teen Arts Council

Evening programming 
Thursday December 10th, 7pm-9pm
OPENING with live "ocean" sewing +1/2 Life performance excerpts + composer Zeena Parkins
Friday December 11th, 8pm
Physics lecture with Manhattan Project scientist Hans Courant, physicist and artist Bryce Beverlin.
Friday December 18th, 8pm
movie screening of Half Life: A Parable for a Nuclear Age by Dennis O'Rouke
This compelling and beautifully crafted film reveals the effects of United States nuclear testing on the inhabitants of the Marshall Islands, tiny atolls in the mid-Pacific.
Saturday December 19th, 8pm
CLOSING party with 1/2 Life performance excerpts and dance party with DJ Wes Winship of Burlesque of North America!!!!!