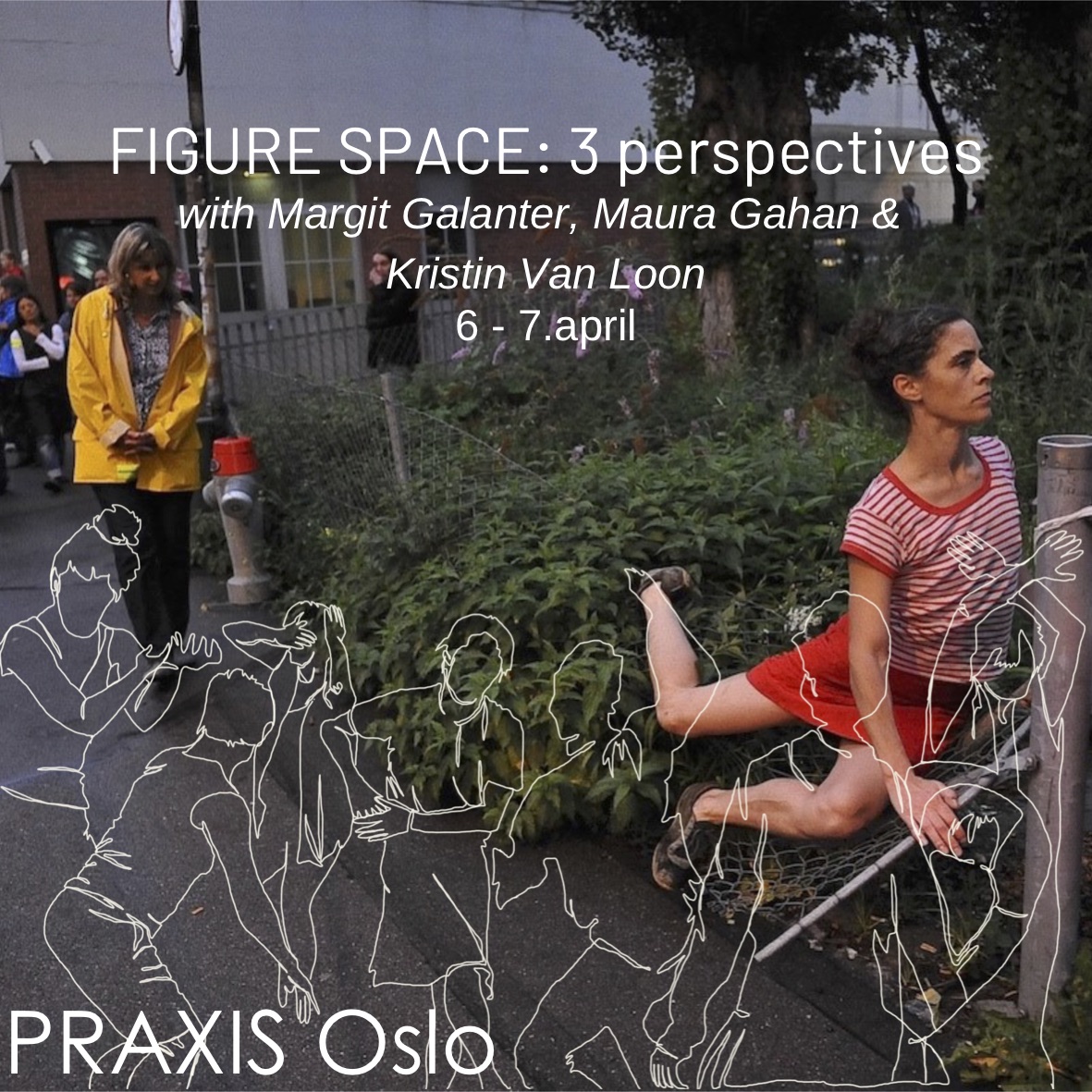 Photo: Christian Glaus/Kristin Van Loon performs BodyCartography's GO
Three independent performance and dance-makers from across the USA share practices from their long time work with Lisa Nelson and Steve Paxton.
Steve Paxton developed Material for the Spine in 1986 as an exploration of the movement possibilities within the muscles surrounding the spine, as well as the connections between the pelvis, head, scapula and vertebrae. This solo practice is supported by specific exercises, body puzzles and ideokinetic imagery. It helps to strengthen and coordinate the foundation of a person's movement. 
Lisa Nelson's Tuning Score is an improvisational composition practice and performance research format that is a performance in itself. It offers tools and a framework for communication and a model of collaboration that is constructed by the players in the act of doing. As a practice of real-time editing and instant replay, Tuning is an aesthetic game and a self-balancing system that uncovers its intention each time anew.
This workshop is part Otto Ramstad's KHIO MA project titled Lineage. Learn more.
Kristin Van Loon (pictured above) is a dance artist based in Minneapolis since 1993. Van Loon grew up a competitive figure skater in Chicago suburbs, earned a BA in Geology from Colorado College and, upon graduation, formed HIJACK — a choreographic collaboration with Arwen Wilder. HIJACK dances have been seen in New York (at PS122, DTW, Dixon Place, Here ArtCenter, Chocolate Factory, La Mama), Russia, Japan, Seattle, San Francisco, Philadelphia, Iowa, Ottawa, New Orleans and at Fuse Box Festival in Austin, Bates Dance Festival in Maine, and Seattle Festival of Dance Improvisation. HIJACK dances have received support from McKnight, Jerome, and Bush Foundations, Forecast PublicArtworks, and commissions ranging from James Sewell Ballet to Barebones Puppet Theater. As a dancer, Van Loon has been awarded a McKnight Fellowship for Dance and a Sage Award for Performance. Van Loon has danced in the works of Morgan Thorson, Chris Schlichting, Chris Yon, Body Cartography, Judith Howard, samong others, and was featured in the film installations "Triangle of Need" and "The Startled Faction" by Catherine Sullivan. Van Loon is a member of Steve Paxton + Lisa Nelson's ongoing research/study group Figure Space and in 2014 she performed Steve Paxton's duet "Smiling" at Walker Art Center and she performs Lisa Nelson's "Endplays" at Roulette (NYC) in winter 2019. Van Loon/HIJACK teaches Contact Improvisation/Improvisation/Comp at Zenon Dance School, University of Minnesota, and TU Dance School. Van Loon is the Artistic Director of the Bryant Lake Bowl Theater and co-runs HAIR+NAILS Contemporary Art Gallery.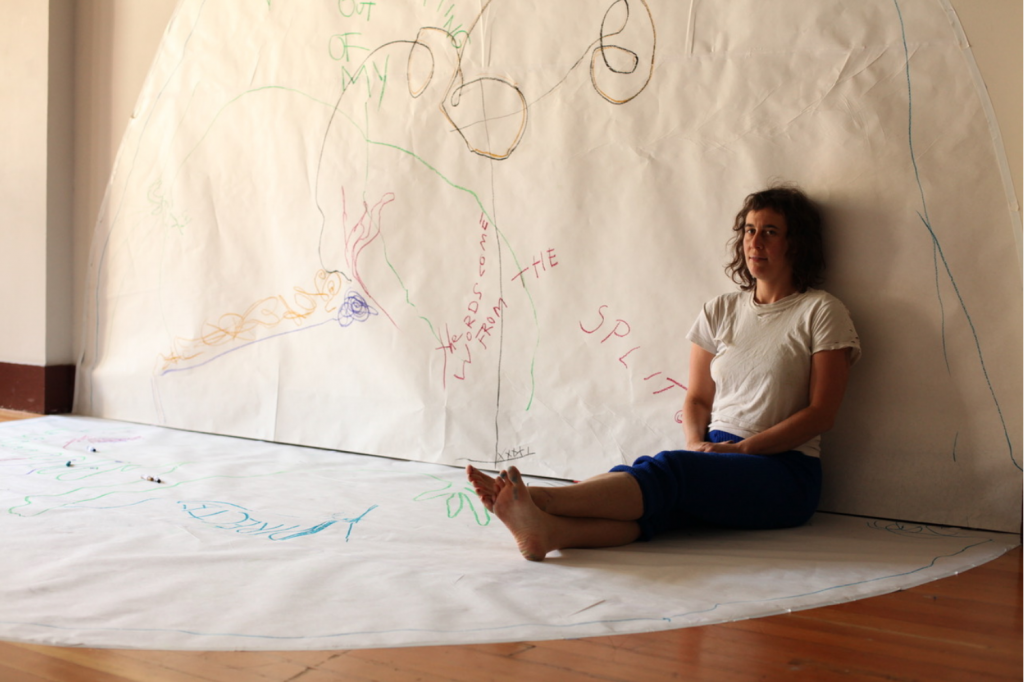 photo by Avery Hudson
Margit Galanter is a movement investigator and dance poet living in the California East Bay. Her work spans the realms of performance, teaching, practice, and larger-scale cultural projects. She has shared Tuning Scores and Material for the Spine across the globe for decades, and is excited for what can grow in Oslo. In the past few years, Margit has been focusing mainly in two realms; the first is Cave Forms, a long-term exploration in performance, fecundity and the environment, and the second is the vivid grove — a platform for moving, learning, creative evolution, and collective liberatory practices. Galanter has written and edited various articles and creative writing projects, and most recently published both an article on BodyCartography's Action Movie and an interview with Sherwood Chen in Contact Quarterly, and co-edited the book Embodied Lives: Reflections on the Influence of Suprapto Suryodarmo and Amerta Movement. Margit is dedicated to the prisms of cultural inquiry, conversation, perceptual vibrancy, and nourishing life. Learn more about Margit's work at Vivid Grove: www.vividgrove.art & www.physicalintelligence.org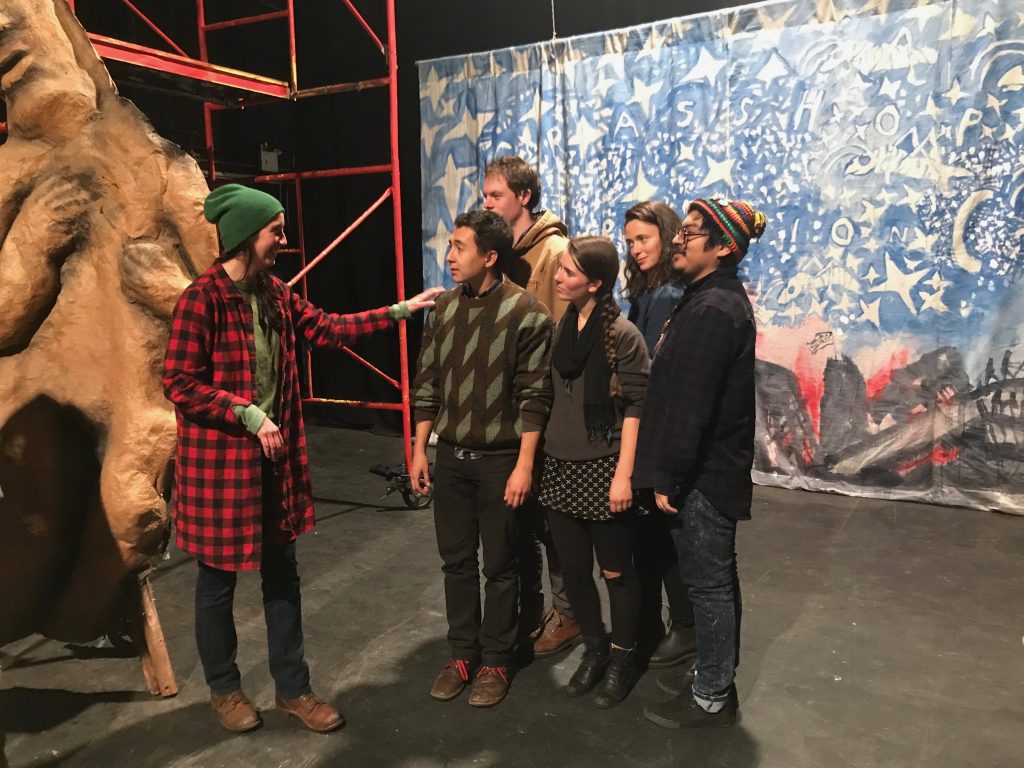 Maura Gahan has been studying with Steve Paxton (Material for the Spine) & Lisa Nelson (Tuning Score) since 2010 and Peter Schumann (Lubberland Dance) since 2006. Gahan has a B.F.A. in Dance Choreography and Performance from Ohio University and scholarship recipient to Jacob's Pillow Choreographer's Lab. She is a member of the Bread and Puppet Theater (2006-present) making shows spun from garbage for the sake of justice and beauty. She teaches internationally—in universities, dance studios, church basements, pastures and train stations. Her classes combine Material for the Spine, Tuning Scores, choreography with objects and Bread and Puppet's Lubberland street dancing. Gahan's collaborations include: Steve Paxton/Robert Ashley's "Quicksand", Dance Hegintbotham's "Fantasque," Athens Greece Dance Collective "Boat Dances", Fos Mayonet's "7 Dances for Human Rights in Haiti". She is a Possibilitarian. 
April 6 +7  from 10:00-17:00
Kunsthøgskolen i Oslo
Workshop cost: 800 NOK
To register please email praxisoslo@gmail.com
In collaboration with PRAXIS Oslo and Otto Ramstad's Lineage performance (KHIO MA). Supported by KHIO, US Embassy and Kulturrådet.