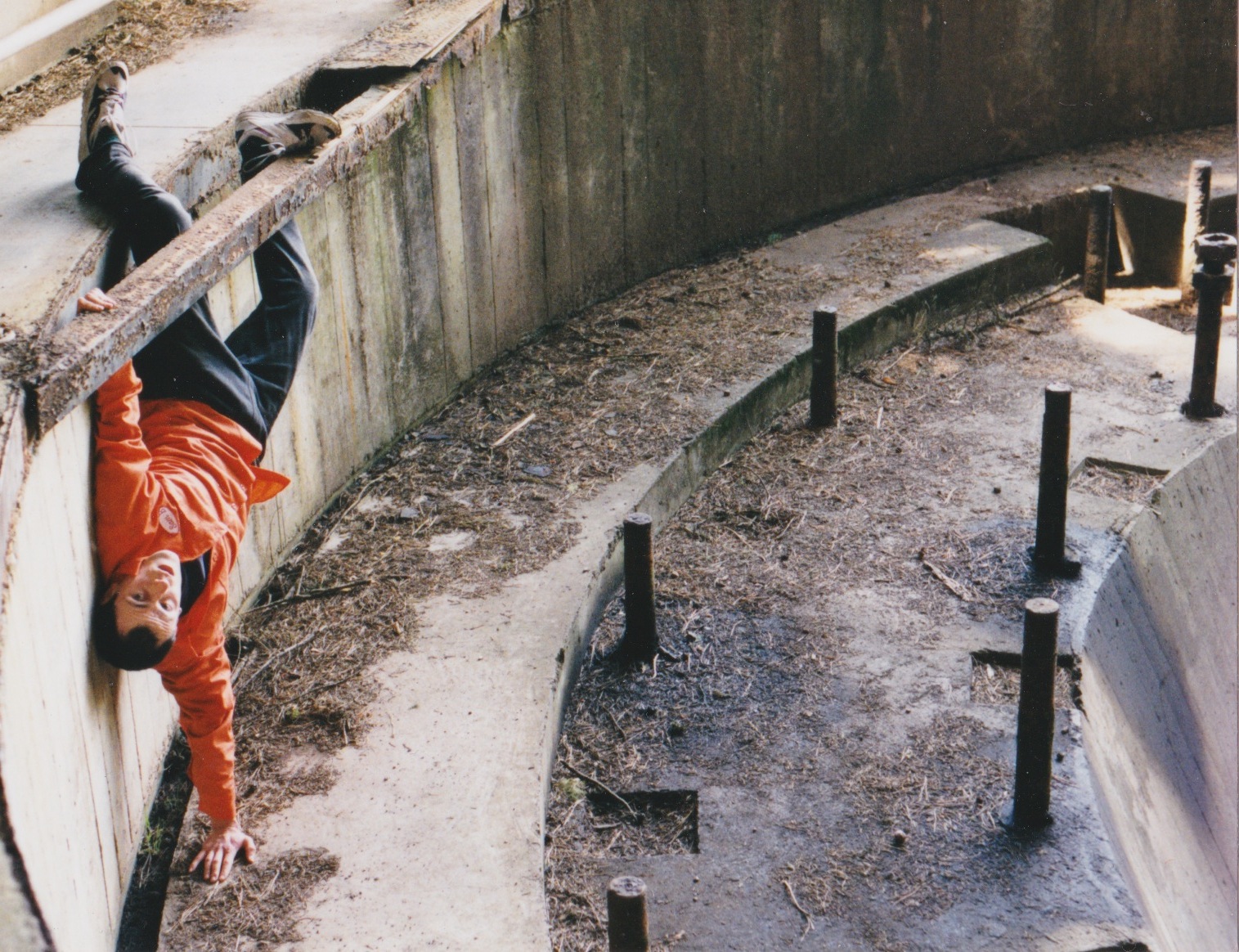 Marin Headlands
April 1999
This was our first visit to this amazing location across the Golden Gate bridge.  Essentially we began with an open hour of moving and sounding through the tunnels, darkened rooms and into and around the gun pit. Former military bunkers and gun placement structures from WW2 became our playground. 
'Breath' was now stenciled on the walls (a work from at Headlands artist in resident no doubt).
This was followed by a 'tuning' score above on the look out structures. The key structure we danced on was like a free standing stage, originally a military lookout point surrounded by the hills of the Headlands and the Golden Gate Bridge, the bay, open ocean and the San Francisco city manifesting between the washes of fog. Audience stood on adjacent platforms watching. With this many dancers it was quite a circus.
Performers in orange: Beaker Prince, Brian Burt, Chris White, Gretchen Schuster, Jez Parez, Jon Lustig, Kate Gibson, Kathy Ketman, Kris Bieringa, Lawrenzo Share, Liza, Olive Bieringa, Riccardo Morrison, Rob Penn, Samantha Beers, Shelly Smith, Steven Kessler, Susan Glover, Tara Hernandez, Tara Brandell, Wang PoShu


June 2000
Performers in white: Emmett Ramstad, Frieda Kipar, Heike Wrede, Kyla Wetherall, Louisa Bertleson, Margot Lystra, Otto Ramstad, Rafael Cohen, Steven Kessler, Olive Bieringa and Lawrenzo Share.
November 25th 2000
After our first major performance disruption earlier in the month where we were shut down by the National Park Service, we decided to meet with no agenda to perform but to play.  We arrive and without warmup the group begins a two hour dancing and rope climbing, hanging session in the military installations at Construction 129. This event is testament to the incredible ability of the Bay area Cartographers to come together and play hard. This structure is one of our favorite spaces to dance in because of its three dimensional spatial possibilities, climbing and hanging vertically, its acoustic realms and the stark contrasts that exists between nature and the cold cement fortification. We brought with us many ropes that had loops built in to them and were able to suspend ourselves vertically on the walls, a foot or two from the floor. We also suspended ropes over the gun hole giving us the opportunity to hang, swing, climb and counter balance one another over the cement pit.
Performers in white: Frieda Kipar, Heather Pierce, Heike Wrede, Lawrenzo Share, Mandy Snyder, Margot Lystra, Olive Bieringa, Otto Ramstad, Rafael Cohen, Rosemary Hannon, Steven Kessler