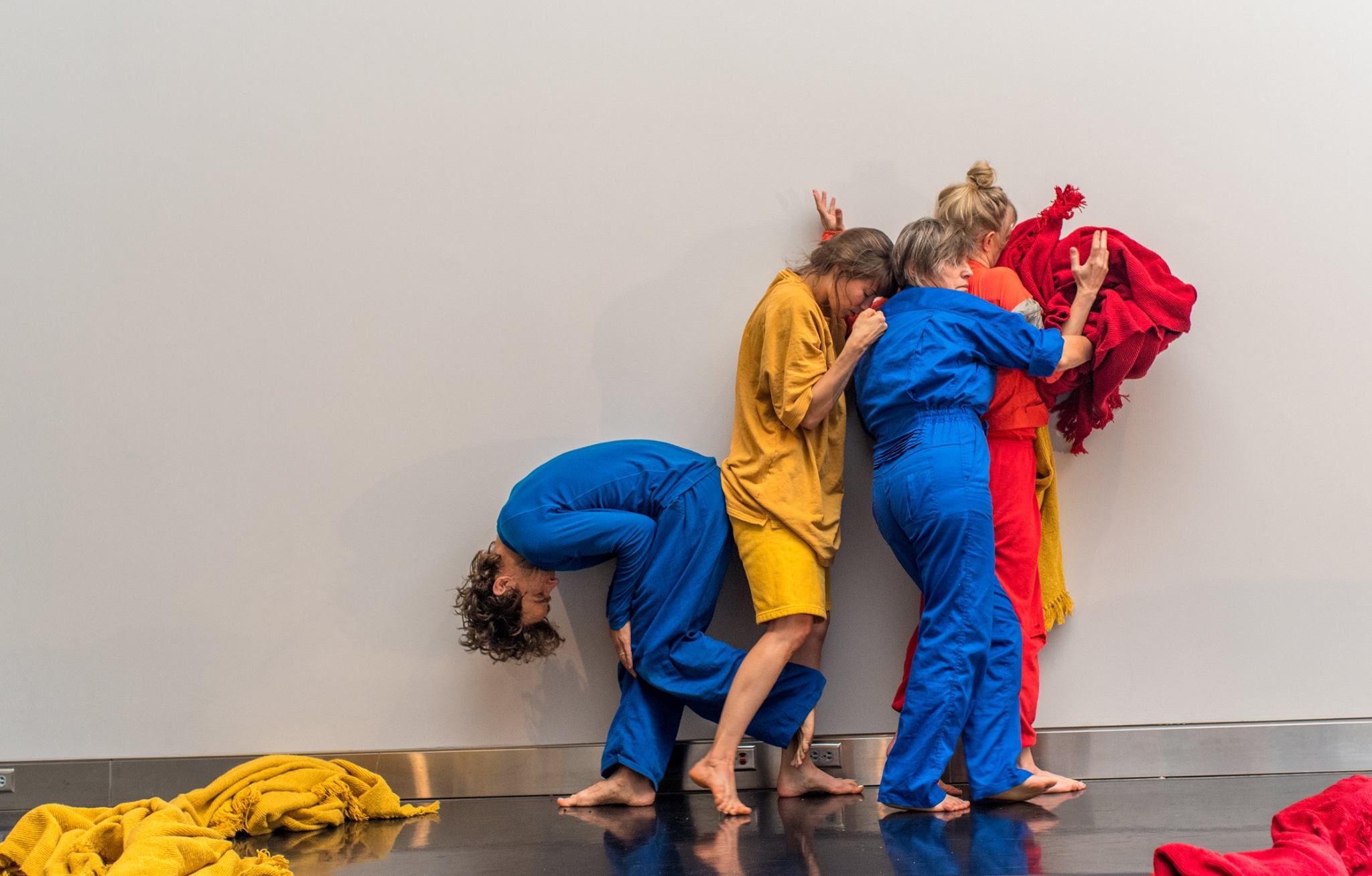 Dancers: Emma Barber, Sarah Baumert, Anna Marie Shogren, Olive Bieringa & Otto Ramstad. Photo: Boris Oicherman
"Your body is a performance, a process, a life long performance. Literally you are performers, you perform your body,
you shape your body and the entity that is shaping that is you…"
Jaap Van Der Wal, embryologist
collection of fluid spaces; a radical embryology laboratory is an installation that uses touch and movement as a doorway into our embryological histories. We will uncover some of the preexisting choreographies of embryogenesis, a series of morphological patterns, a surging of forces and forms, that continue to shape each of us.
Embryogenesis is the adventure we all undertook to become who we are. The first eight weeks after conception is when our body forms its basic structure. We transform from a fertilized egg, into two cells that multiply into a cluster of cells, then into a series of fluid spaces to become a complex being. These fluid spaces and processes underlie our current structure and inform our current state of being.
"With embryology, anatomy ceases being the static, achieved geography of structures – a stillness that is primarily borrowed from the cadaveric inertia of the dissected body – and reveals what moved and still moves our seemingly silent interiors. Learning through embodiment may start from a choreographic-like mind, the one that takes images as maps, maps as diagrams, and everything as scores. In the case of embryology, the term score seems almost to be closer to music than to dance, and in fact lines and directions describing the all too busy movement of the forming embryo, in order to be "correctly" read, need kinematics being paralleled with dynamics: a play of intensities, rhythms, simultaneous events, different speed rates." researcher Carla Bottiglieri
We will create a series of unfolding dances, participatory workshops, performance lectures, and conversations. We will bring the public together with embryologists, science historians, artists, movement educators, therapists and philosophers. We will also create an embodied atlas of embryogenesis.
Our team includes Kristina Gjems, Gry Kipperberg, Hanna Filomen Mjåvatn, Carla Bottiglieri, Bernt Isak Wærstad,  Varya Iashchenko. Otto Ramstad and Olive Bieringa. We have created an international research cohort in collaboration with Tanzfabrik, Berlin.
Our supporters and partners include Norsk kulturfond – Fri scenekunst dans, Fond for Lyd og Bilde, Oslo Kommune, Fond for Utøvende Kunstenere, Danse- og Teatersentrum, Norsk Teknisk Museum, Oslo, Tanzfabrik, Berlin, Medicine and Health Library, Norwegian University of of Science and Technology, Trondheim, Minnesota State Arts Board and the Weisman Art Museum, Minneapolis.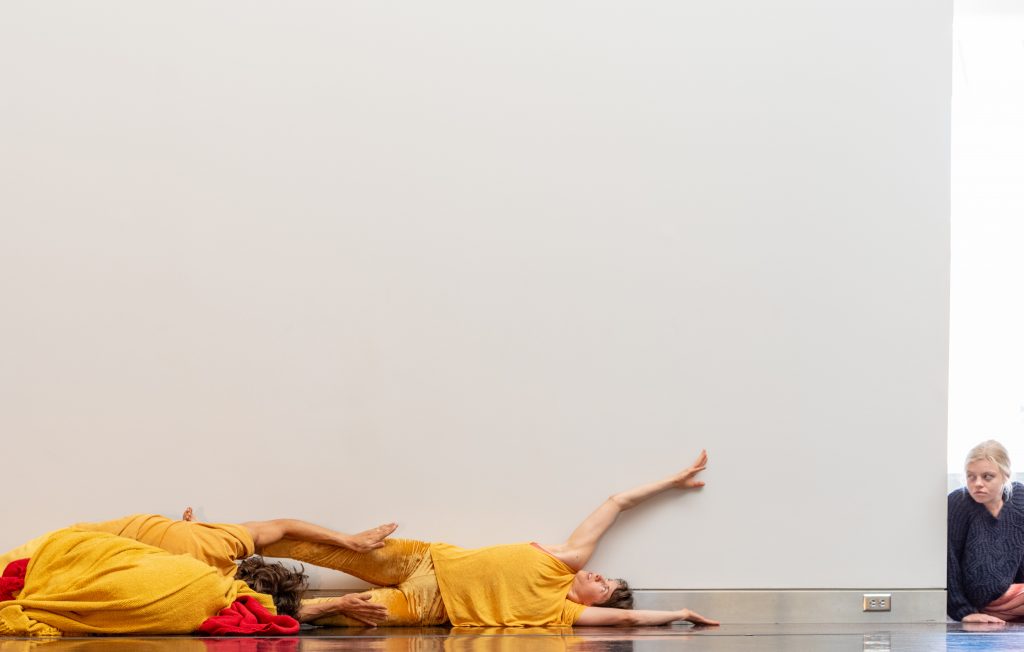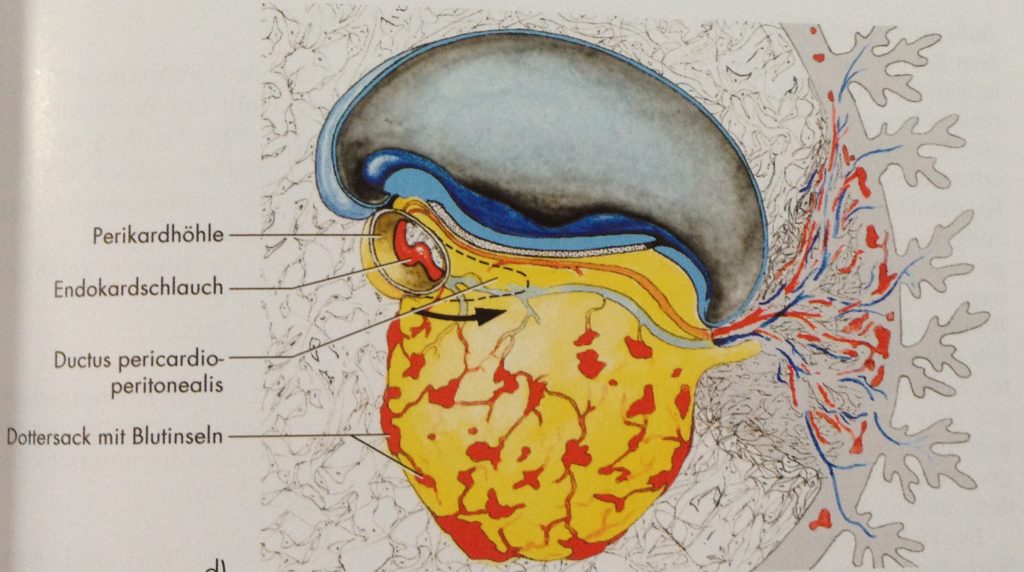 Funktionelle Embryologie by Rohen & Lütten-Drecoll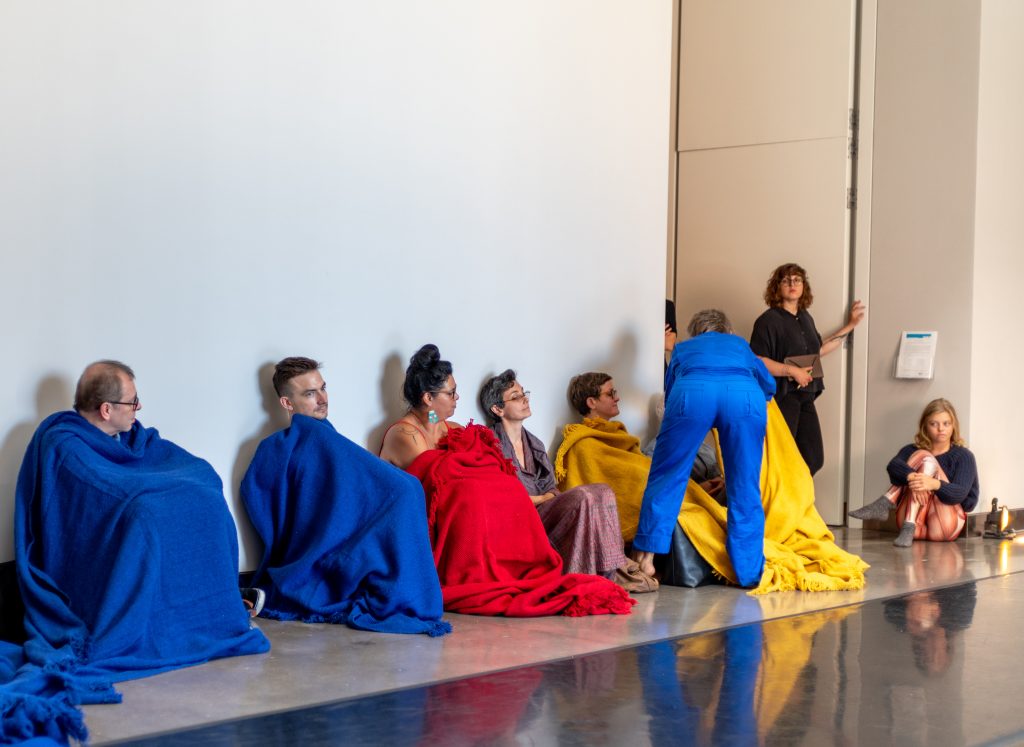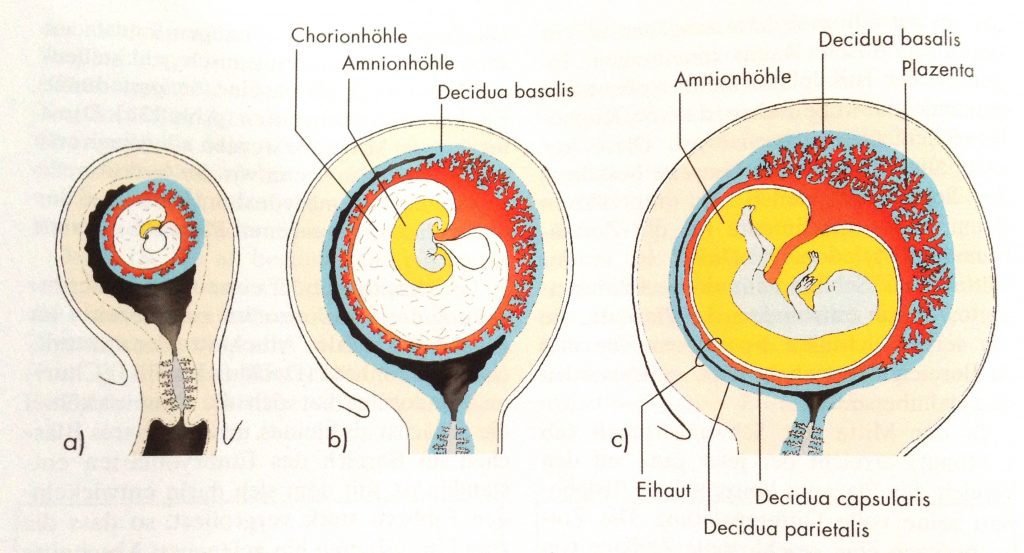 Funktionelle Embryologie by Rohen & Lütten-Drecoll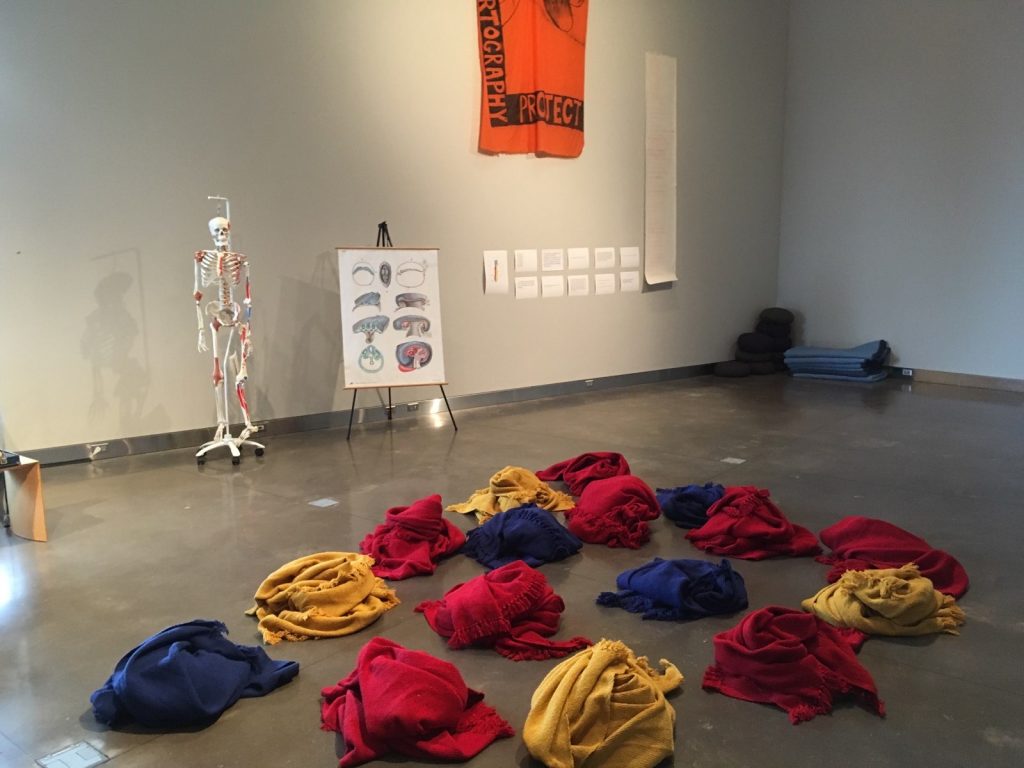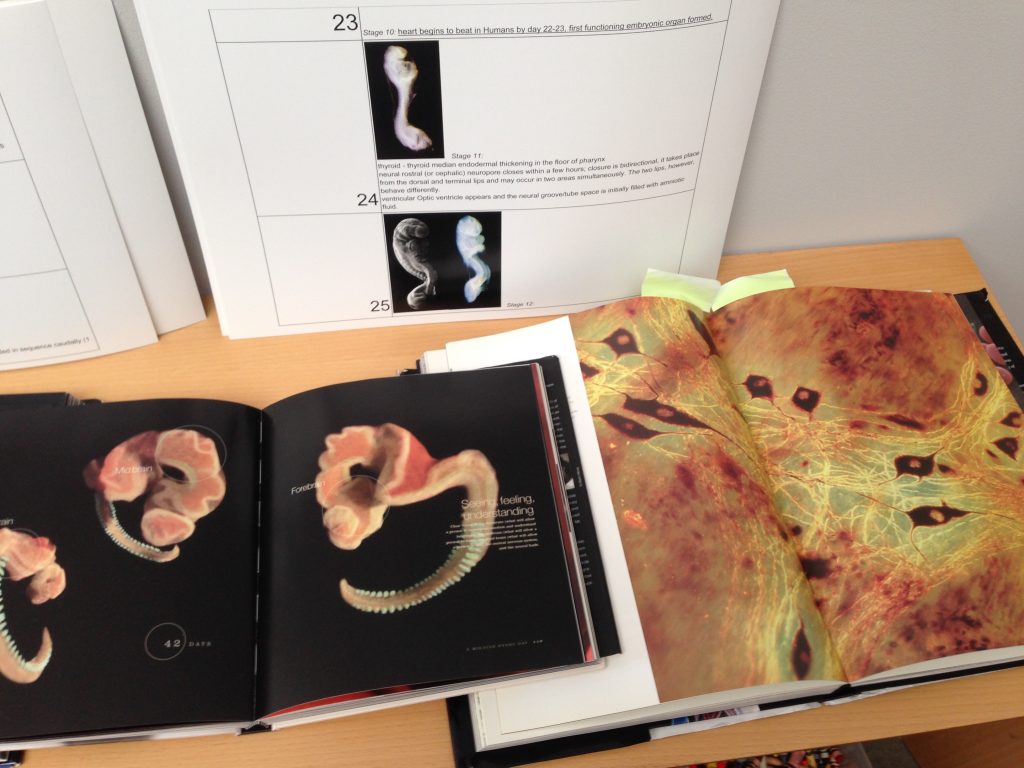 Images from our first residency titled The Place of Space took place at the Weisman Art Museum in Minneapolis.
""The Place of Space" embryonic, both conceptually and symbolically, it exploited our art gallery habits and sought to build a relationship between art and science… Very subtle, maybe even fragile, these encounters relied upon the privileged duration of the museum. I was not witnessing a series of bodily representations of neurogenesis, but rather the sense of becoming that is involved with the biological processes as the duration unfolded."  Damon Stanek, INREVIEW
"The Place of Space is the Ecstasy of St Therese in reverse. This is a dismantling, an undoing. Heavy blankets in red, yellow ochre and cobalt blue –the triadic. The fabric smells of animals and earth and enshroud both floor and body. They are not neatly draped, flowing off of a white marble form. They are tightly wrapped or loosely disregarded in a slow game of conceal and reveal within the confines of a gallery space. There is an invisible thread between bodies as they expand and contract into one another, becoming abstracted shapes, a continuous reveal into the ambiguous." Stevie Ada Clark, INREVIEW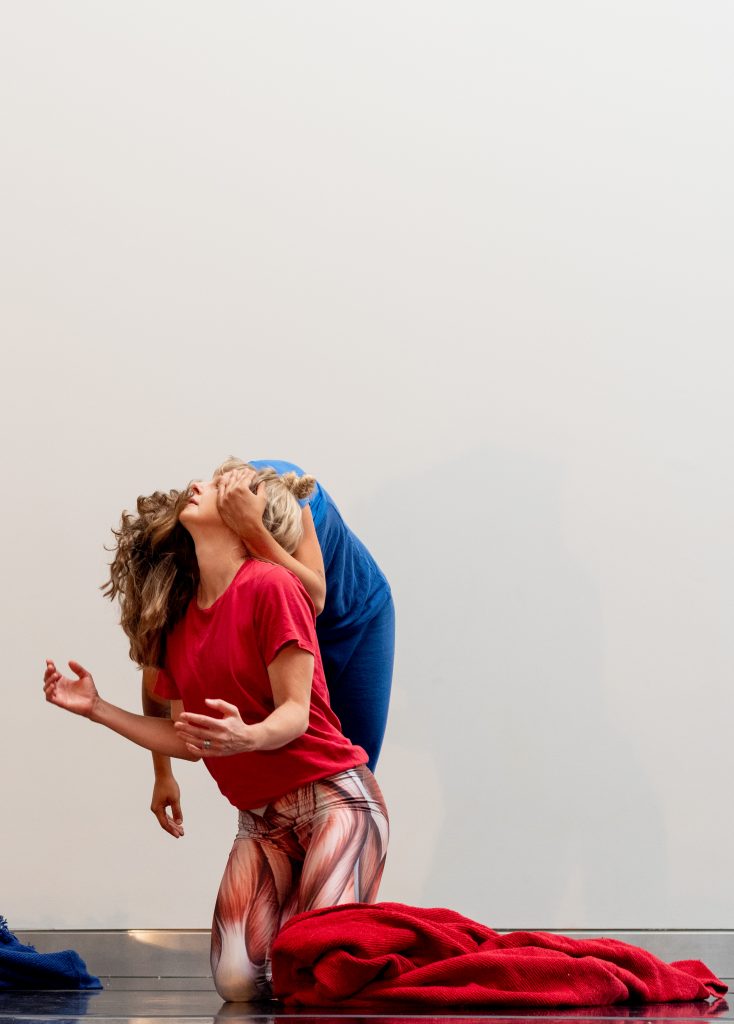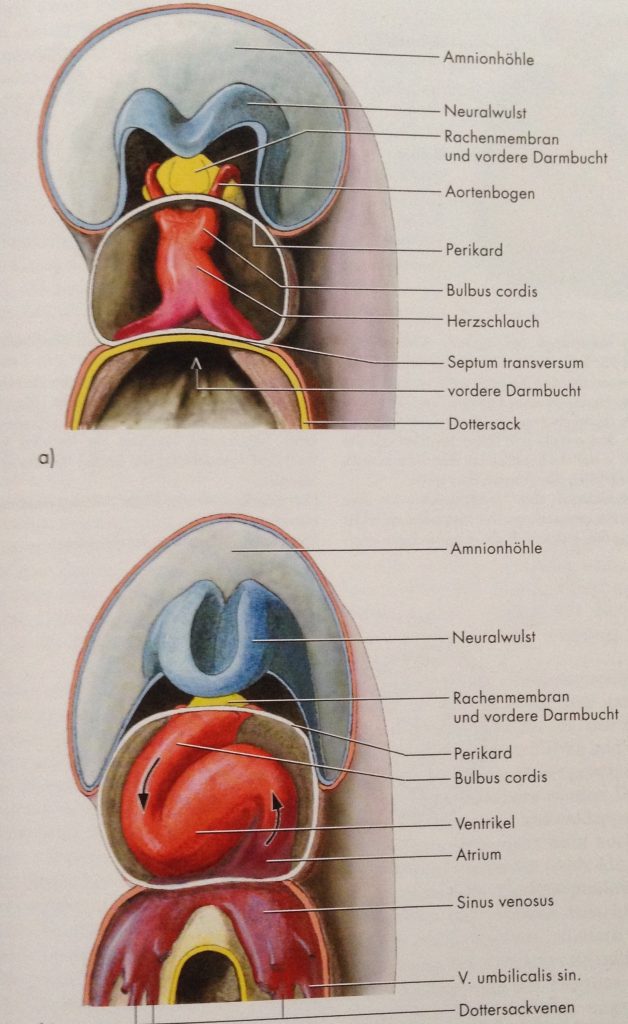 Funktionelle Embryologie by Rohen & Lütten-Drecoll
Documentation from our recent presentation at the Body-Mind Centering Association Conference 2020 with collaborators Kristina Gjems, Otto Ramstad, and Hanna Filomen Mjåvatn.
Documentation from our initial residency The Place of Space at the Weisman Art Museum in Minneapolis with dancers: Emma Barber, Sarah Baumert, Anna Marie Shogren, Olive Bieringa & Otto Ramstad. Photo: Boris Oicherman.