The IATC journal/Revue de l'AICT – December/Décembre 2020: Issue No 22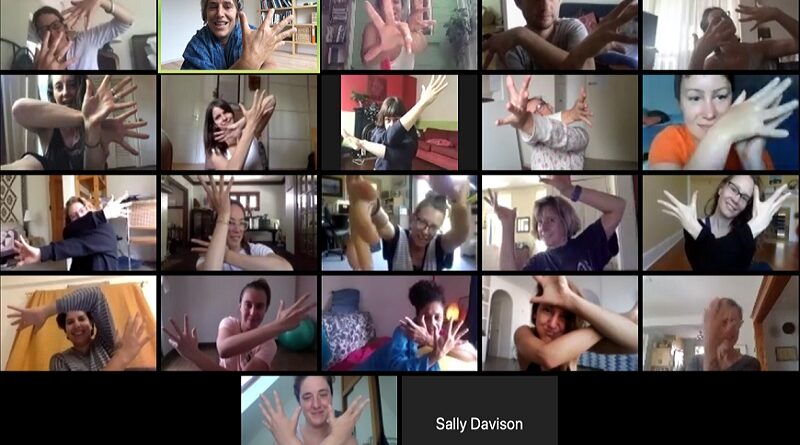 Olive Bieringa and Otto Ramstad are partners in life and work for 22 years. Their field of action is spread geographically and interdisciplinarily. Originally from New Zealand (Olive) and the U.S.A. (Otto), they currently reside in Oslo, Norway. They are engaged in creating their own performance work, as well as teaching somatic work, both in person and online, as an example of how artistic and educational practice can survive and develop nowadays.
As renowned artistic duo called BodyCartography Project, they have created together more than 150 stage performances, site specific works, installations and films worldwide. As certified Body Mind Centering (R) (BMC) teachers, they are also program directors of Somatic Education Australasia, the first BMC certification in Australasia, based in Melbourne.
In turbulent and frustrating COVID-19 times, several hundred people passed through their online BMC workshops, receiving tools not only to survive in hard times but to benefit from that particular moment to acquire deeper knowledge of their own needs and potentials. That is how I met them, in one of their BMC classes, designed for movers in general, performers, body practitioners and everyone interested in body awareness. And that is how my desire to initiate a talk about BMC with a wider public, not only with practitioners but also theoreticians, critics and scholars, finally came to its accomplishment.
As a theoretician who focuses on the experience of performers, I have witnessed many times how Body Mind Centering can open that magic door to creation, by bringing the artist in contact with his/her own body sensations and processes. Can you tell me something about your experience with BMC as a source of artistic practice from different perspectives, as a teacher, as a witness and as an artist?
Olive: When teaching BMC, there is always a moment when somebody comes to an understanding of what is it that we are doing. Like this morning, I was teaching dance students, and you can look around the room and see people who are in the material, and others who have not really arrived yet. Then, over time, you watch people transition, either through the course of a class or over weeks or years; there is that particular moment when their understanding arrives on a cellular level; they feel it in their body not only conceptually. That is really a magic moment! For example, they get to the end of an exercise and can feel that there is a difference between two sides of their body, and then it opens up in a dance or some kind of new perceptual experience!
I ask myself how did we get here; was it a touch, the movement, the images, the words, the embodiment of those around them? Even now, having taught so extensively on Zoom, that is still happening to people: transmission across virtual space. Although we are not together in a room, and they are not being touched by a partner, but somehow they are being engaged through the language and images, or through the self touch, and then someone disappears from the screen and when they come back I am asking, "Are you OK?" and they say, "Oh, I just had a rebirthing experience!" Or some other amazing report of what is happening for them . . . the proposition of BMC opens up something that is new or exciting, a transformation of consciousness.
Otto: As artists, what we are working on is how do we get the audience in these deeply embodied experiences. Our work and pedagogical practices are beginning to overlap. Can our practice with movement, image making and language induce similar process of transformation or experience of self for the audience?
Do you feel that this potential of BMC and other somatic practices to create transformative experiences is sufficiently recognised and acknowledged in the dance and theatre world?
Olive: It is a very particular piece of the dance and performance community that is familiar with this work. It is hard to make generalizations, but I would say that it is usually people interested in a performance or improvisation, or people really engaged in some kind of somatic exchange, in generating knowledge.
Otto: It is strange that even in dance schools, alienation from our bodies is still prevalent. (Olive suggests, dance and theatre). I was working with a third year BA student here in Oslo, and I wanted to do something with a thoracic diaphragm, and she did not know what it was and what it did. And that is incredible! In regular dance schools, people are still instrumentalising themselves; it is all about what can you do and not what are you.
How did your own practice evolve out of embodied practices?
Olive: I studied what was called, in the 1980s and 1990s, "new dance," which was a combination of different things such as release technique, BMC, Cunningham, contact improvisation, tai chi, and so on. I was working with people like Karen Nelson, KJ Holmes, Lisa Nelson, Deborah Hay, Eva Karczag, Tony Thatcher, Lisa Kraus, Mary Fulkerson, Steve Paxton. These people were working between some kind of somatic practice and had danced with choreographers such as Trisha Brown of the Cunningham or made work as part of Judson Church. I really wanted to understand my body as my medium for art making and this happened in a school in Netherlands where I was doing very experimental work.
Otto: I started doing BMC when I was six years [old] because my mom signed me for a dance class in the neighbourhood community center, and the dance teacher happened to be a very cool BMC teacher, Suzanne River. Then, at the age of 15, I stopped taking dance classes because I wanted to become a professional snowboarder; but I returned to a dance course in college, and, all of a sudden, I was in a dance world again, doing capoeira, butoh, improvisation . . .  I rediscovered the world of contact improvisation, so that is how I met Olive.
After meeting Suzanne again, the same year I started doing the full four-year BMC training at the age of 23. Olive followed three years later. We had a lot of overlapping aesthetic experiences in our childhood, visual art, improvisation, an appetite to understand our body.
In terms of our dancing in that period, we were doing a lot of things with people with disabilities, and working and studying with Karen Nelson, Lisa Nelson and Steve Paxton. Historically, our early work was focused on creating stuff outside in a public space. That is where the name BodyCartography came from. Questioning how we use our bodies to measure and understand the world through all of our senses. Cultivating space in the public sphere for our bodies, full physical expression, beyond normative behaviour. Bodies that breathe, sing, dance and play, operating outside of the condoned frame of the art market.
Olive: Our early work, which began in the San Francisco Bay Area and New Zealand in the late 1990s, was happening on an ongoing basis. We amassed big groups of people who wanted to work outside, in public spaces, with improvisation, with Lisa Nelson's Tuning Scores, and so on. And then, all that work and our appetite and curiosity looped around BMC, becoming more and more specific, until it formed the ground for everything that we do now.
The diversity, intensity and quality of your public engagement in pandemic times really impressed me. While it seemed to me that the whole world went upside down, you were among the first to react positively to the entire situation, starting to introduce and then continue offering different stimuli regularly, from intensive workshops to panel discussions. First of all, tell us how did you actually feel and how did you manage to stay focused and active?
Olive: Otto had a performance on the last night before the our first lockdown here in Oslo, and then he was supposed to fly to Budapest the day after for a weekend workshop; and on Monday, I was supposed to fly to America to teach. In that moment, everything came apart. I had to do something, otherwise I thought I would go crazy. So, I started organizing things because that is easy for me. And this thing with BMC online classes was like a wild beast, all those people that started manifesting; it was awesome. We did 28 free classes over 14 weeks, a bunch of small group class series and a five-class-a-day five-day intensive in July. We got pretty burned out and took a break.
Otto: Three years of scheduled work has dissolved for us, so we need to build new possibilities now.
What is your experience with online teaching? Are the effects similar as in regular classes?
Olive: In online classes the mirror effect is stronger. I am not as fully with you, I am a little bit more with myself, even when we talk right now (on Skype). In a class I am facilitating, I am the only one in charge, telling everyone what to do; so, I am there to shape the space, and I think that the whole process makes me reflect more on myself. I do not really know what is happening to you, so I cannot really support you if something does not work out so well. I can only trust that you will be fine.
On the other hand, people were having really profound experiences in the intimacy of their own home, which was supporting them, so that was extremely beneficial. I did not realize that this was going to happen. There was nothing to get in a way of the material. For example, in the studio you have to negotiate the social space with others, with so many things and with a measure of what is "normal"; at home, you can make noise, be naked, spend as long as you want with a particular exercise . . . so that is wonderful!
Do you think there is any future for these online projects irrespective of pandemics?
Otto: Yes! For both projects that we are working on right now, we want to develop a research cohort so that we can continue our international collaborative conversations.
You also initiated online artistic panels called Relational Practice + Public Places + Performance as a way of exchanging experience among artists during the lockdown. How did it work?
Olive: They were great! We had three of them and would like to start them up again soon. I invited many artists each time to talk for around 8–10 minutes about their practice. All the people invited to present have been creating work in different public contexts, deeply relational and movement oriented for years. They talked about what they consider their work to be and also about their practices in light of what is happening. People were doing super different things, and it was really lovely to hear from different people, in different parts of the world, about different ways of working. People are wrangling with what is possible, and that was highlighting the local conditions and resources.
All of those conversations are up online on our website. It was really a feeling of solidarity building: Oh I see you! I feel that so many more people are now going to work in this way, with small audience and in different public spaces; so, it was interesting to get a bunch of people who have already been doing that for a while talking to each other.
How did this pandemic experience influence your own artistic work?
Olive: To do so much teaching was a way for me to deeply engage with one aspect of my practice and to be in the material, and that was incredibly valuable! I also realized after a while that delivering something on Zoom becomes a space of performance. While I am reporting to others what I am doing, it is just like a performance. I started to feel that each of these classes were super performative. After the class, I was slightly adrenalized; and then, I felt tired. I was watching the whole thing as if I had just performed a live show, and I thought "Oh, this somatic storytelling thing, where, for example, I can access this bone, this organ or this gland . . . so this talking and moving thing is what we are doing now in our performance projects." So, from doing it for several months intensively, it is now going into the live work that we are making.
Otto: I was also working on it with my solo somatic storytelling work. The way I am addressing you and using my language is holding space that allows you to enter and have the experience of your body and come to that specific space in your own way, whatever my choreographic and directorial intention was. So, in our performances we are using a kind of pedagogical approach as a way to get there, to be there.
About the interviewer: Tina Perić has an MA in Art Theory, and a PhD in Performance Studies. She is an active researcher in performance theory as well as in performance practice, and a free-lance critic for Serbian newspapers and magazines. She is the author of the book The Way of Performer: From I to Self (Sterijino Pozorje, 2019); she publishes essays and critical articles in the areas of culture and performing arts. She is actively taking part in various projects and workshops as performer.