Author: Douglas Wolk
Source:

ST. PAUL – The first sign of unusual life at tonight's Station to Station show was parked outside Union Depot: Kate Casanova's "Vivarium Americana," a 1976 AMC Pacer whose interior is covered with oyster mushrooms (their growth is encouraged by a humidifier under the dashboard). It was a witty, unsettling preamble to a Twin Cities happening that introduced some new species to the tour. The evening officially began with a collaboration between artist Fritz Haeg and dance company BodyCartography Project, in which a group of barefoot, apron-clad dancers slowly made their way into the building carrying a harvest: garlands of chard and flowers, herbs and peppers. The dancers fell to the ground, clustered into momentary sculptures, and incorporated the movements of a delighted little girl, maybe a year or two old, who had grabbed a frond of dill.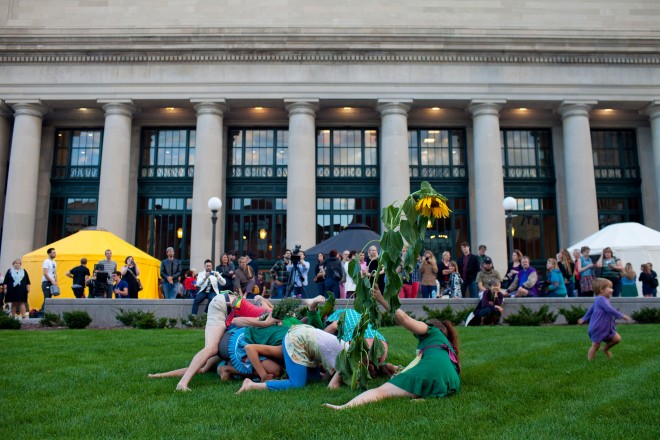 When the BodyCartography dancers finally reached the Depot's smaller stage, the show kicked into high gear with a short, raucous set by the Orange-Amps-loving sibling duo White Mystery. They were followed by an unannounced performer, Jonny Olsen, a former semi-pro skater who plays the khaen, a Lao mouth organ. Olsen's a longtime friend of No Age, who joined him on guitar and drums for a ferocious improvisation, then kept going after he stopped—first hauling waves of mechanical groans out of their instruments, then gradually easing into a riff and a song, and out again. Randy Randall played his guitar with a drumstick for a while; then that guitar ended up on top of Dean Spunt's drum kit while Randall manipulated his intricate pedal setup.
After a few of the classic experimental shorts that have been screened at previous Station to Station stops (fun fact: the dancer in Bruce Conner's "Breakaway" is also the song's singer, Antonia Christina Basilotta—16 years before she'd become famous for recording "Mickey" as Toni Basil), Ariel Pink popped up on the second stage to sing a song accompanied by a pulsing synthesizer and a couple of bins of dry ice. That served as an introduction to Eleanor Friedberger and her band, whose brief set of syllable-crammed songs from her albums Last Summer and Personal Record combined the relaxed, sun-bleached tone of '70s singer-songwriter records with twitchy urgency and velocity.
The auctioneers-and-whip-cracker routine that's been a highlight of all the Station to Station shows introduced punk godmother Patti Smith, whose eccentric charisma had the audience riveted. Joined on stage first by her son Jackson Smith, and then by a pickup group of musicians whose names she learned mid-set, she added new lyrics about Union Depot and its history to "My Blakean Year," leaned hard on the lines about a train on "straight prairie rails" in Neil Young's "It's a Dream," and nudged her new bandmates through what was apparently their first-ever runthrough of her classic "Redondo Beach."
Following spirited, loose versions of "Beneath the Southern Cross," "Because the Night," and "People Have the Power," Smith's group was out of songs. The lights went up, but the audience wasn't ready to go home; after a few minutes, Smith and the band returned for one more number, the single-chord "Banga," to which she added a monologue about a mystical vision of a dog in St. Paul, and the audience howled like dogs along with her. Olsen, No Age and a couple of members of Ariel Pink's band provided a brief, very loud recessional as the satisfied crowd walked out past Kate Casanova's mushroom car, its windows now steamed over in the darkness.
All photos: Kendrick Brinson/WIRED