By Jan Robert Johnsen 10 September 2019 Events , Løkkanytt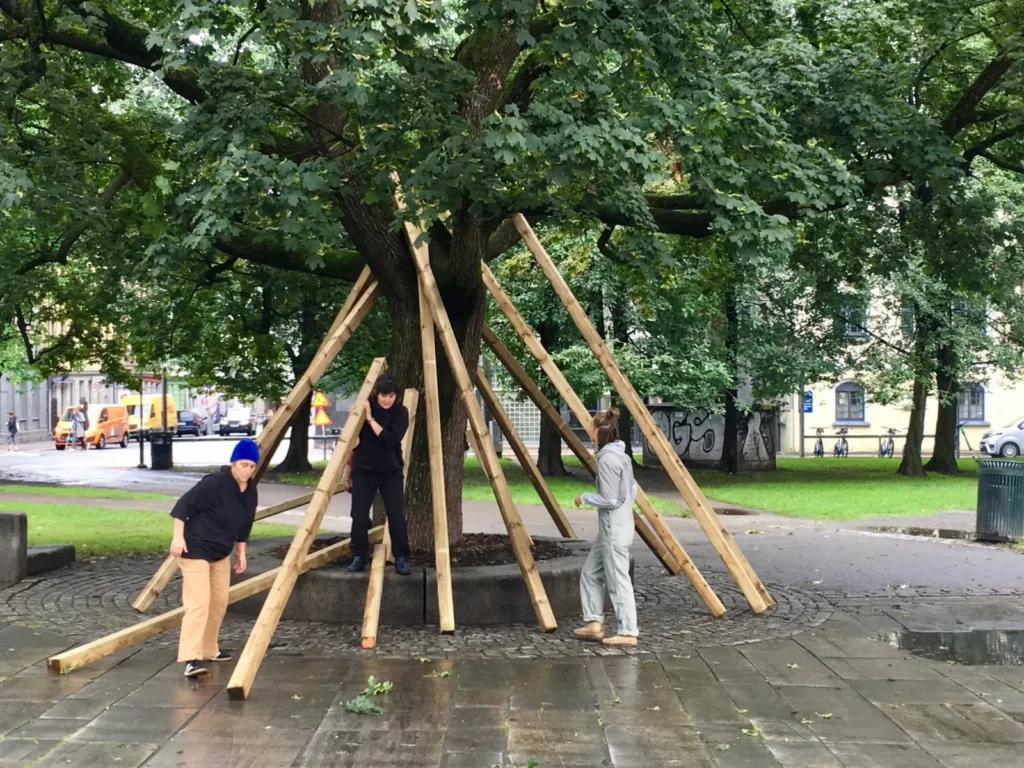 Source: https://visitlokka.no/en-sanselig-reise-pa-schous-plass/
Today I had a special experience that is hard to describe. It's half past two and I'm in Schous' place. But then – where am I really? What was it I hear? Who's touching me? who gives me something in my hand? Who is it that whispers?
Today there were rehearsals for TOGETHERING, the performance project of the group BodyCartography Project which is part of the art project SAMMENomGATA in connection with the upgrade of Thorvald Meyers gate in Oslo. I was invited away by curator Linn Cecilie Ulvin who collaborates with the Ministry of Culture on this project, to see what it's all about.
It was with a certain skepticism that I met this gang who danced and went on heavy planks around the square, but I was also curious. How should a group of dancers use this space through a program over a full 10 days? After a short introduction, I was offered to experience this "live", through one of the many choreographed experiences that will fill the place in the future. Together with the dancer Loan Ha, I chose from the «menu» a 15 minute one-on-one solo performance: «Action movie».
"Close your eyes!" Says Loan. I am guided around the place blindly to constantly new acts in our action film. "To open!" – and there was Loan in a new «scene» – witty, absurd and funny. This is a tactile experience with surround sound, and where the radar is sharpened while I walked blindly from clip to clip in Schous place. It's a strange and sensual experience, and it's nice. This place, which I know so well, suddenly became a completely different universe.
Because this was a meeting between only two people, it was for me a gentle journey into the art of performance with a present, unpretentious and playful «film director». This did not scare a well-adult man, so then I would like to encourage everyone to take part in this unusual activity which from Thursday takes place at Schous plass.