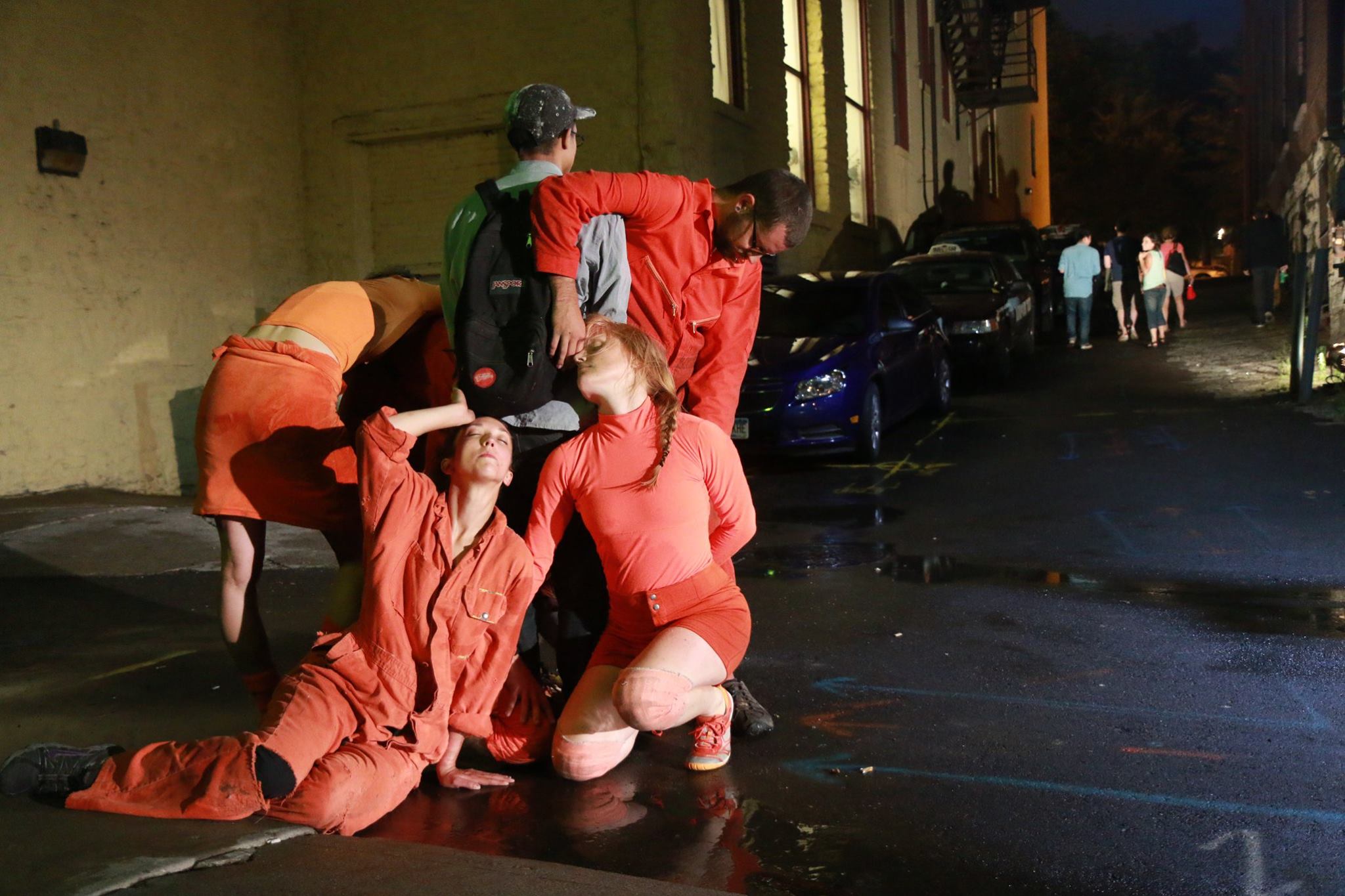 The mission of BodyCartography Project is to engage with the vital materiality of our bodies to create live performance that facilitates a re-enchantment of embodiment, relationship, and presence. We create dance in urban, domestic, wild, and social landscapes. Our work is rooted in contemporary dance, somatic and socially engaged practice, and public art. 
Over our twenty year collaboration we have created projects across the USA, Canada, New Zealand, Japan, Norway, UK, France, Russia and South America. Our works range from intimate interventions in public space,  large community site works, intimate installations for the museum to complex works for the stage.
We have collaborated with dancers, composers, visual artists, scientists, and filmmakers including Anna Marie Shogren, Justin Jones, Dolo McComb, Emmett Ramstad, Zeena Parkins, Doug Aitken, and Fritz Haeg.
As certified teachers of Body-Mind Centering® somatic practice informs the ground of our dance-making and teaching practice. Somatic practice is an integrated and embodied approach to movement, the body and consciousness.
Our programming includes performances, installations, films, workshops, talks, and curatorial projects. We are invested in an art making practice that holds itself to a high international standard and participates in a global exchange of ideas. Projects include Vital Matters Dance Festival for Minneapolis, SEEDS Festival, City Art Collaboratory, Kinesthetic Kinos amongst others. 
Honors include a grant from the Foundation for Contemporary Art in 2015, Twin Cities City Pages Dance Company of the Year 2013, City Pages Artists of the Year 2008, Sage Award for Outstanding Performance 2008, Sage Award for Audience Choice 2006. Our site spectacle Lagoon was the winner of the Perlorous Trust Creativity Award at the New Zealand Fringe Festival in 2003. We are featured artists in the first book about site dance in the USA published by University of Florida Press entitled Site Dance, the Lure of Alternative Spaces.
Our presenters and commissioners include the Walker Art Center,  Bryant Lake Bowl, Southern Theater, Minneapolis International Film Festival, Minnesota Public Television, Young Dance, Minneapolis; American Realness, Dance Theater Workshop, Movement Research, Dance on Camera Festival, NYC; TBA/Portland Institute of Contemporary Arts; Philadelphia Dance Project; Anti-Festival, Finland; Stromereien Festival, Zurich; Lyon Opera Ballet, Lyon; South East Dance, Cheshire Dance, UK; Footnote Dance, Touch Compass,  NZ International Film Festival, New Zealand; Cinedans, Amsterdam; Polish Public Television.
Our work has been supported by residencies at the Walker Art Center, Bell Museum of Natural History, Soap Factory, Nash Gallery/University of Minnesota, Minneapolis; Maggie Allesee National Center for Choreography, Tallahassee; Headlands Center for the Arts, Marin; K3, Hamburg; Les Subsistances, Lyon; War<so>Vie,Warsaw, amongst others.