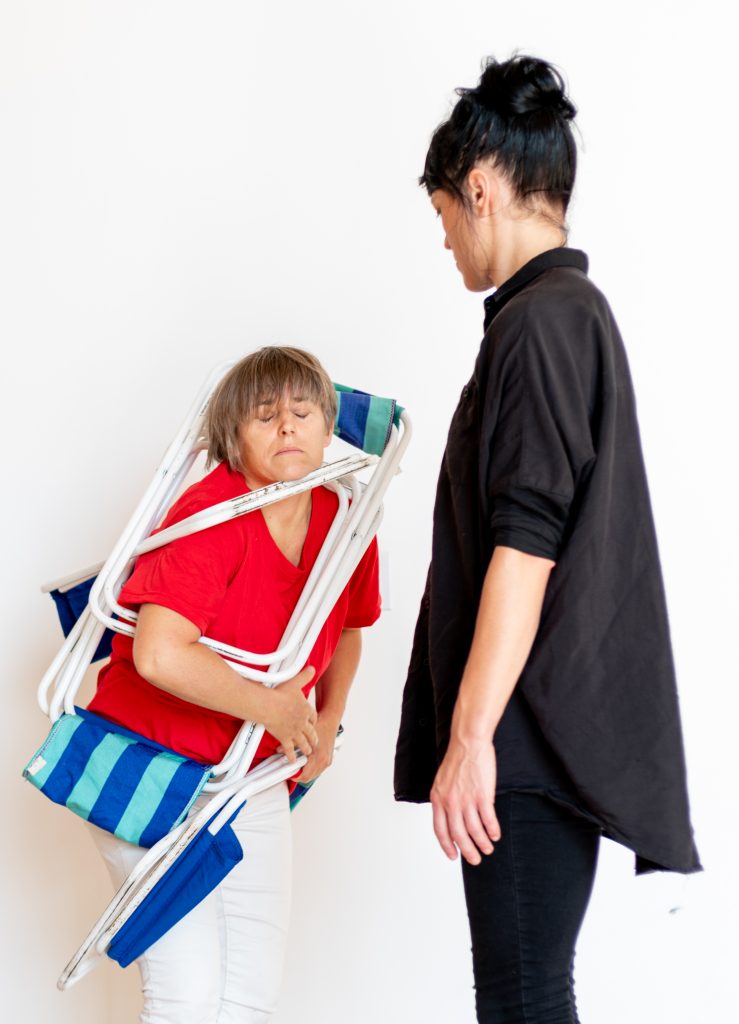 "Throughout history, dancers have been asked to embody ideas and emotions. Even in this post Judson era, the materials of body, the embodiment of our own tissue, are often not considered as a source for thinking, movement generation and performative practice. This is where my dance making practice begins.  My recent work exists in the encounter between audience and performer. I am are interested in what new social relationships we can build if we pay close attention to how our bodies might feel their way around each other. "
Olive Bieringa is a choreographer, director, performer, somatic movement therapist, video artist, producer and curator from Aotearoa/New Zealand.  She studied at the European Dance Development Center in the Netherlands and completed her MFA in Performance and New Media from Long Island University in Brooklyn, NY. She is a Registered ISMETA Somatic Movement Therapist and Educator, a Certified Practitioner and Teacher of Body-Mind Centering®, Shiatsu practitioner and certified DanceAbility teacher, working with performers of all abilities.

She has collaborated with numerous artists and appeared in the work of choreographers Deborah Hay, Yoshiko Chuma, Sara Shelton Mann, Karen Nelson, Jennifer Monson, Eva Karczag and Stephanie Skura and worked extensively with Lisa Nelson, Benoît Lachambre, and Bonnie Bainbridge Cohen.
She is a recipient of Foundation for Contemporary Art Fellowship in 2015 and a McKnight Foundation Fellowship in 2010.
Olive teaches internationally in Body-Mind Centering® trainings and dance programs such as Moveus, Germany, Leben Nuvoa, Italy, Moving from Within, USA,  Sonder, USA, KHIO, Praxis, Oslo, Impulstanz Festival, Vienna, Movement Research, NYC, SEEDS Festival, Earthdance, Massachusetts, Wayne State University, Detroit, Winona State University, Carleton College, Minnesota, and for dance companies Lyon Opera Ballet, Footnote Dance, Touch Compass, New Zealand, Axis Dance Company, California and Young Dance, Minneapolis. She is the Program Director for Somatic Education Australasia's Body-Mind Centering® program in Melbourne, Australia.
Curatorial projects include Vital Matter Dance Festival and Future Interstates performance series, Minneapolis, Public Art Saint Paul's City Art Collaboratory, SEEDS Festival at Earthdance in Massachusetts, and the Kinesthetic Kino: International Dance Cinema.
As a speaker she has presented at the 4×4 Series, Walker Art Center, Dance USA, Public Art St Paul,CUNY Site-Specific Performance Symposium, NYC, American Dance Festival,  and Commonwealth Film Festival, UK, University for Music and Dance Cologne, Germany, Chicago Department of Cultural Affair's amongst others.
Her writings appear in numerous online publications and the following books: Meandering Methodologies, Deviant Disciplines — Four Years of City Art Collaboratory from Public Art Saint Paul, Saint Paul, Minnesota.  Site Dance: Choreographers and the Lure of Alternate Spaces from University of Florida Press.