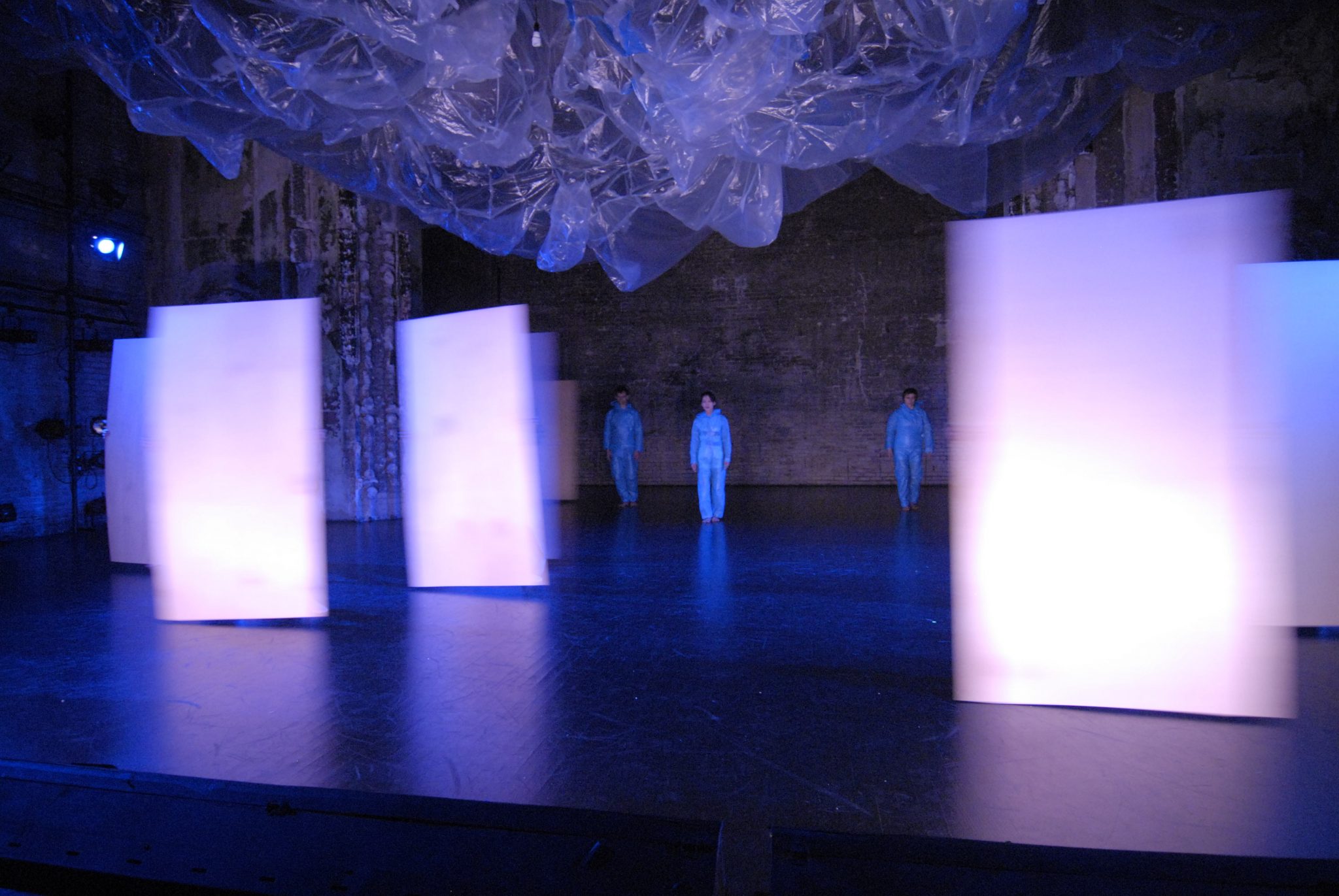 "The bomb is a gift, confronting us with our mortality as a species." – Eco-Philosopher Joanna Macy
½ Life investigates the survival of the body amidst a world of scientific research, data, and control. The performance hovers geographically at the edges of the Pacific Ocean – connecting nuclear super power USA, atomic survivor Japan and nuclear free New Zealand.

 A contemporary ritual to address our dormant nuclear nightmares. Dance and video artists Olive Bieringa and Otto Ramstad bring together an extraordinary collaborative team including composer and harpist Zeena Parkins, visual artist Emmett Ramstad, physicist Bryce Beverlin II, and performer Takemi Kitamura.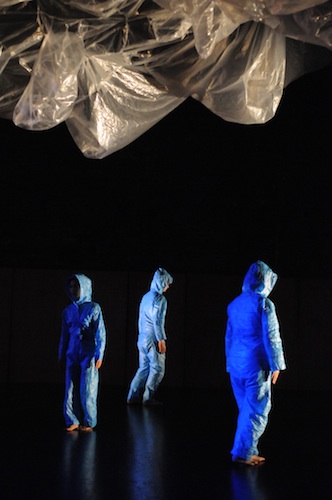 "visually stunning"  mnartists.org
Thoughts on the BodyCartography Project's "1/2 Life"  TC daily Planet 
"Think globally, dance locally"  Star Tribune
+ watch a preview on 3 Minute Egg
The project has been supported with residencies at the Kyoto Art Center and The Headlands Center for the Arts and funded by the Rockefeller MAP Fund, the Jerome Foundation, Public Art St Paul, the Metropolitan Regional Arts Council, the Archibald Bush Foundation, Arts International, Foundation for Contemporary Art, the Moore Family Fund and Minnesota State Arts Board. 
Collaborators
Zeena Parkins is a sound artist, multi-instrumentalist, composer, improviser, well-known as a pioneer of the electric harp, has also extended the language of the acoustic harp. She has received numerous awards and commissions to provide scores for film, video, chamber orchestras, theater and dance. She has collaborated and/or performed with Fred Frith, Christian Marclay, Pauline Oliveras, Bjork, John Zorn, and Yoko Ono, among others. Visit Zeena's website.
Emmett Ramstad, a Minnesota native, makes visual art and collaborates as a writer, set and costume designer and performer with Morgan Thorson, The BodyCartography Project and others in addition to installing art shows at Yerba Buena and SFMOMA. Visit Emmett's website.
Bryce Beverlin II is a multidisciplinary artist and scientist residing in Minneapolis where he explores various forms of art, primarily music. Bryce is also currently pursuing a PhD in Physics at the U of M conducting research on neural network behavior. Visit Bryce's website.
Takemi Kitamura is a native of Osaka whose work has been presented at many venues in NYC where she lives. As a dancer, she has worked with numerous choreographers and companies, such as Nami Yamamoto, Sally Silvers, Sondra Loring, to name a few. She is also performs Japanese sword fighting with Samurai Sword Soul. Visit Takemi's website.
MSP Critical mass: Sinan Goknur, Andrea Zimmerman, Becky Olson, Sophie Rog, Taja Will, Jennifer Arave, Romina Takimoto, Kimberly Lesik, Emma Rainwater, Melissa Birch, Laressa Dickey, and Nick LeMere
NYC Critical mass: Sinan Goknur, Becky Olson, Taja Will, Jennifer Arave, Kimberly Lesik, Emma Rainwater, Melissa Birch, Laressa Dickey, Melissa Guerrero, Sharon Mansur, Laura Grant, and Nick LeMere
Project History
Since 2005 we have been developing physical, visual and aural material from locations of relevance around the Pacific specifically within Japan, New Zealand and West Coast of the USA. In the past we have built works in abandoned WWII military bunkers in NZ and the USA (Marin Headlands & Fort Worden) such as ROOM our first dance video work. These spaces are deeply evocative on all levels and are in many ways inscribed with a history of a conflict that never actually took place on NZ or US soil. Now nature is reclaiming these spaces with rust eating the metal doors and hinges and plants breaking through the cement.
On a research trip to Japan in 2005 we sought locations for a possible site performance or film screening. Many places associated with this moment in history were difficult to find because they destroyed, forgotten or hidden or are still active US military bases. We found a  gas weapons factory in the Seto Sea, a haunted shell of a building where many people were poisoned making weapons during WWII on an almost forgotten island. By contrast modern Hiroshima has fewer sites as gritty, but it does host the incredible Hiroshima Peace Memorial Museum  in the middle of Peace Park and an empty white tiled hospital still stands, a place where many survivors where brought in 1945.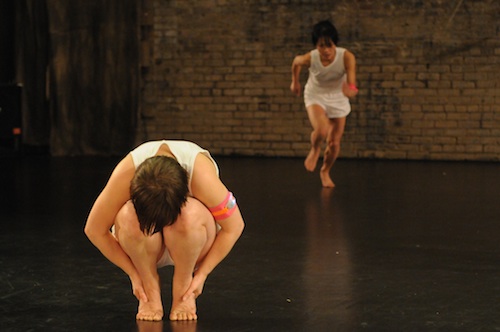 In 2007 we returned to Japan for a 3 month residency at the Kyoto Art Center. At the end of the residency we performed Made in Japan, a work in progress for 1/2 Life with dancer Tamami Yamada and group of local dancers performing as our ensemble.
Co-director Olive Bieringa's  interest in the project arises from events surrounding New Zealand's nuclear free status in 1995. In early 90s she was an active participant and organizer of anti-nuclear rallies in New Zealand. She became fascinated with the legacy of nuclear experimentation in the Pacific and its effects on people, culture and the environment from Muroroa, to Hiroshima to the American west.
The gallery installation of 1/2 Life, which took place at Art of This Gallery, Minneapolis in December 2009, we probed the invisibility of radioactivity and the immortality of plastic by creating a large amorphous plastic "ocean" and an explosion on radioactive rocks from test and wastes sites and power stations from around the Pacific and USA. The work was sewn in the gallery over the course of the installation by collaborator Emmett Ramstad. This work will become part of the set design for the evening length work.
Performances
January 28-30th, 2010
Southern Theater, Minneapolis
co-sponsored by the University of Minnesota's Institute for Advanced Study
February 10-14, 2010
Performance Space 122
Work in progress showings
2008
Curated by Isabel Lewis for Dixon Place, NYC
Bryant Lake Bowl, Minneapolis
Spark Festival, Univesity of Minnesota
Minneapolis performers: Bryce Beverlin II,  Jennifer Arave, Justin Jones, Mandy Herrick, Megan Mayer, Olive Bieringa, Otto Ramstad, Patricia Good, Romina Takimoto, Andrea Zimmerman, Dawn Strom,  Jillia Pessenda, Laressa Dickey, Sarah Russ
2007
Performance Made in Japan and artists talk as part of a residency at the Kyoto Art Center, Japan
Kyoto performers: Tamami Yamada, Fumie Yokoo, Kayako Takahashi, Masami Noda, Maya Ichikawa, Mie Kawata, Minami Kajitsuta, Mitsuo Inui, Miyako , Olive Bieringa, Otto Ramstad, Risa Takita, Toshiharu Wataru, Yukari Ojika, Yumiko Nakata
Additional Documentation
Listen to Olive and Bryce discuss the project for the Bat of Minerva
Body and Knowing Symposium, Institute of Advanced Study presented a 1/2 Life talk and workshop. The link can be found here.
Above, Arwen Wilder discusses 1/2 Life with collaborators Zeena, Olive, Otto, Bryce, Emmett, and Takemi at the Southern Theater, Friday January 29th
Clarinda MacLow discusses 1/2 Life with collaborators Zeena, Olive, Otto, and Emmett and Clarinda MacLow at PS122, Friday January 12th
1/2 Life dance and physics workshop took place at the Southern Theater, Saturday January 30th
Uncovering some of the physics and physical layers from the performance work 1/2 Life with co-directors Olive Bieringa, Otto Ramstad, and physicist Bryce Beverlin. Short physics lectures will fed into scores for solo and group dancing. Unraveling how science and embodiment practices come together in our choreographic process.