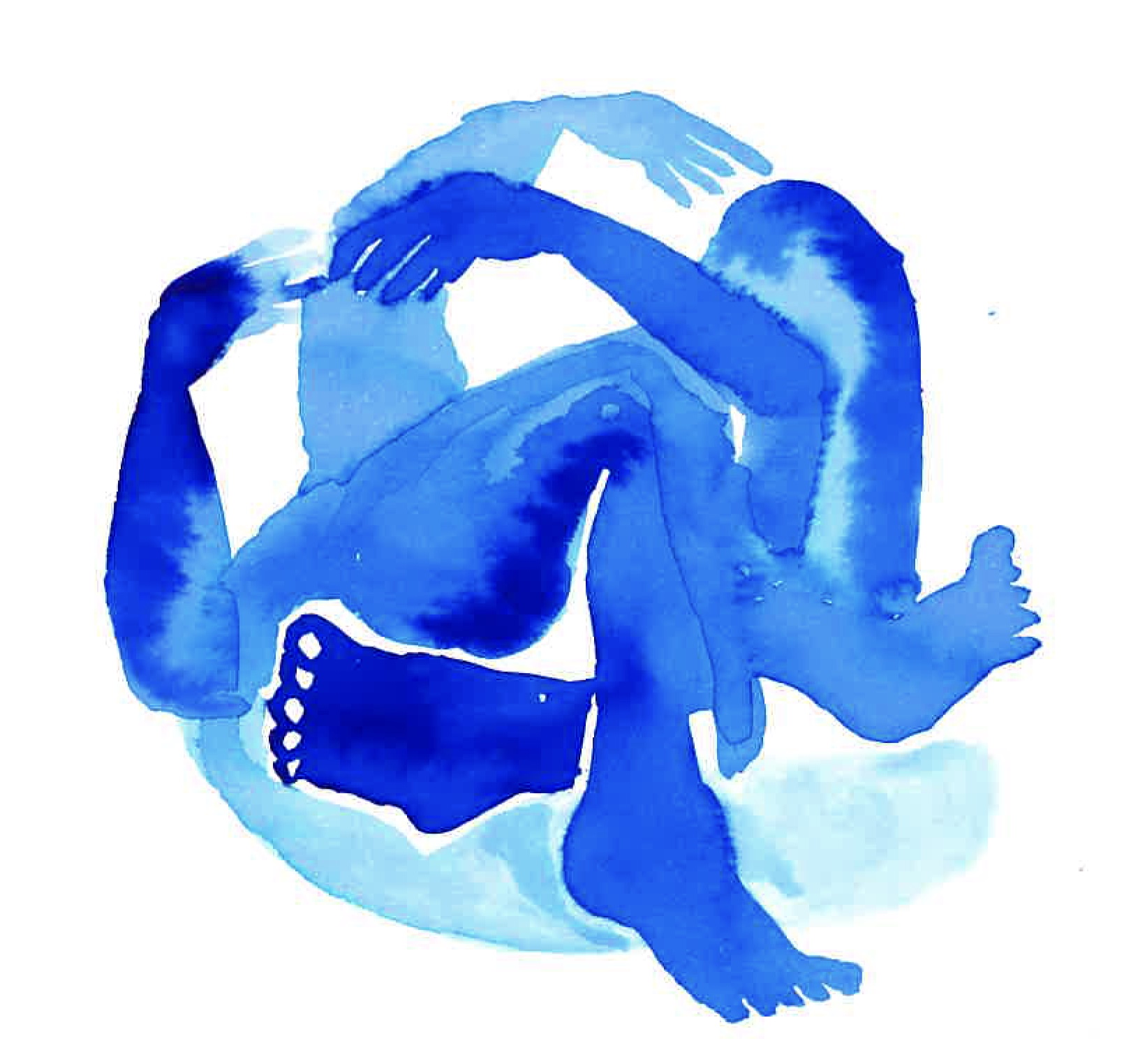 Nasjonalt Medisinsk Museum at Norsk Teknisk Museum, Oslo April 21-30, 2022
Concept: Olive Bieringa
Direction & choreography: Olive Bieringa and Otto Ramstad
Associated curator and researcher: 

Carla Bottiglieri 
Contributing performers: Hanna Filomen Mjåvatn, Kristina Gjems, Gry Kipperberg, Otto Ramstad, Olive Bieringa
Musician and composer: Bernt Isak Wærstad
Scenographer: Carle Lange
Costume designer: Kristine Gjems
Visual artist: Katja Henriksen Schia
Lighting designer: Agnethe Tellefsen
Special guests:  movement researcher Konrad Obermeier, developmental biologist Scott Gilbert, anthropologist and philosopher Stefania Consigliere, ​​and movement educator and therapist Thomas Greil
Olive Bieringa and Otto Ramstad collaborate as the BodyCartography Project for over 25 years. Their work has been performed at Oslo International Theater Festival, Kulturataten's SAMMEN-om-GATA, San Francisco Museum of Modern Art, Lyon Opera Ballet, Dance Theatre Workshop, Performance Space 122 and American Realness, NYC, Walker Art Center,  Minneapolis,  and many other contexts internationally. Their work also lives in the permanent collection at Te Papa Tongarewa National Museum of New Zealand. They are fellowship recipients of work grants from Norsk Kulturråd from Foundation for the Arts, McKnight Foundation, Jerome Foundation and Bush Foundation. 
Gry Kipperberg is a dance artist based in Oslo. She studied at Khio and Merce Cunningham Studio in New York and has worked with several companies, choreographers and other dancers since 1990. In 1999 she established the company Wee together with choreographer Francesco Scavetta, with whom she has worked and toured extensively internationally. She is employed by Skuespiller- og Danseralliansen since 2013 and is also certified as a BMC Somatic Movement Educator. As a dancer Gry has received several grants and was awarded the Rolf Gamlengprisen in 2012.
Kristina Gjems was trained at London Contemporary Dance School and has worked as a dancer and choreographer since 1984. Her works include stage and site-specific productions as well as dance films. She has been practicing and teaching T'ai Chi for many years, which influences her movement vocabulary and inspires her artistic approach and expression.
Hanna Filomen Mjåvatn works as a freelance performing artist, currently for gender house festival, bora bora with artists Linn and Tone Lorentzen, her own production shifting modes with Sverigjes Konstforeningar, and for Runa Carlsen at OsloKunstforening. She finished her master in Performance at the Norwegian Theater Academy in 2020. She has also worked as a co-creative performer and maker for several artists such as Erikk Mckenzie, Mia Habib, Elle Sofe Henriksen, the organisation TekstLab and dans 5.
Bernt Isak Wærstad is a musician, sound and multi-media artist, programmer and instrument designer holding a MA in Music Technology from Norwegian University for Science and Technology (NTNU).Musically he is working within a wide variety of genres such as electro-acoustic free-improvisation, noise-rock, electronic pop and afro pop. As a performer his musical language is constantly evolving in synergy with his mutable electronic instruments. His artistic activity also expands into the world of performance arts, theatre and sound installations, where he has been working as a sound designer, instrument builder, composer, programmer and performing sound engineer.
Carla Bottiglieri is an independent researcher and practitioner of somatic approaches to movement. She is certified as Infant Developmental Movement Educator, Somatic Movement Educator and Practitioner/Teacher from the School of Body-Mind Centering®, as well as Rolfing®/Structural Integration Practitioner. She holds a Master Degree in Aesthetics from the University of Salerno, Italy, and a Master in Performing Arts/Dance Studies from the University of Paris 8, France. Carla has been performing and collaborating with several dance and theatre companies in Europe, increasingly orienting her interest towards the investigation of aesthetics, clinics and politics of gestures. She is been involved in long-term action-research projects, addressing somatics as a potential resource for questioning body politics and contributing to enlarge the meaning of care and community, together with associations of people dealing with HIV/Aids (University of Paris 8/Sidaction, 2008-2012) and teams of somatic artists and educators across Europe engaged in exchanges and dialogue with families and children with diverse abilities (Project SPARKS, 2013-2015). She is currently based in Faenza, Italy where she is part of minima somatica together with Thomas Greil.
Kristine Gjems is a costume designer based in Oslo, educated at the National Academies of Arts in Bergen and Oslo. She has been designing costumes, masks and scenography for theatre and dance over the last ten years. www.kristinegjems.com
Carle Lange scenographer
Agnethe Tellefsen lighting design
Katja Henriksen Schia is a Norwegian artist working in the intersection of dance, performance, and visual arts. She holds a BA in Contemporary Dance from KHIO. In her practice, she uses drawing and dancing to enlarge collective and subjective understandings of perception, time, and imagination. She is in collaboration with various artists and art collectives. She currently has a work grant from Norsk Kulturråd for the period 2021 – 23. Katja is engaged in Praxis Oslo to emphasise the importance of community and shared knowledge in the field of experimental dance and performance. www.katjaschia.com
Konrad Obermeier is the editor for Kiener Verlag (Munich) of the Embryological writings of Dr. Erich Blechschmidt. He studied Communication and Anthropology,  University Munich. Since 1991 he has run a Somatic Praxis in Rolfing and is on the faculty Rolf Institute (USA) since 1996.
Scott F. Gilbert is the Howard A. Schneiderman Professor of Biology, emeritus, at Swarthmore College, as well as a Finland Distinguished Professor, emeritus, at the University of Helsinki.  Trained as a developmental biologist and historian of science, Scott has been pursuing research in evolutionary developmental biology as well as studying the complex interactions between embryology, evolution, genetics, and ecology. His scientific research has focused on how evolutionary novelty comes into existence through changes in gene expression and changes in symbiont acquisition. His philosophical studies have most recently concerned the implications of the holobiont and process views of organisms to biology, philosophy, conservation efforts, medicine, and public health. He currently has three books in print: (1) Developmental Biology, (2) Ecological Developmental Biology, and (3) Fear, Wonder, and Science in the New Age of Reproductive Biotechnology. He has been awarded honorary doctoral degrees from the University of Helsinki (Finland) and the University of Tartu (Estonia), as well as receiving the Kowalevsky Prize in evolutionary developmental biology,  the Viktor Hamburger Prize from the Society for Developmental Biology, the Service Award from the Pan-American Society for Evolutionary Developmental Biology, and a John Simon Guggenheim Award for his research. He.has participated in Vatican panels concerning embryology and religion. In 2016, he presented a lecture on developmental biology to His Holiness, the Dalai Lama.
Thomas Greil is a practitioner and trainer of Body-Mind Centering®, a JKA (Jeremy Krauss Approach) practitioner and a Registered Somatic Movement Therapist (RSMT). He is teaching and directing Infant Developmental Movement Educator programs in Europe, the US and South America since 2003 and is one of the co-founders of moveus as well as SOMA in France. He has extensive experience with babies and newborns. His work is particularly dedicated to the accompaniment of families with children with fragilities. He created the project "Making Connections" to support families with children with disabilities. He lives in Faenza, Italy, where he directs together with Carla Bottiglieri minima somatica, a nucleus of somatic research in practices and narratives of embodiment.
Stefania Consigliere (1969) is researcher in Anthropology at the University of Genoa, where she teaches Anthropology and Anthropology of knowledge systems and where she has organized two post-graduate courses in Ethnomedicine and ethnopsychiatry. Her main research lines focus on the debate over "human nature" and the processes through which human beings are produced by (and, in their turn, produce) the culture they belong to; and on the epistemological, ontological and ethical questions that arise when the anthropological precept of "taking other seriously" is, in its turn, taken seriously. She is author of more than 150 publications, among which are Antropo-logiche. Mondi e modi dell'umano ("Anthropo-logics. Human worlds and ways", Colibrì 2014), Mondi multipli 1 and 2 ("Multiple worlds", Kainos 2014, Strumenti di cattura ("Tools for capture", with Paolo Bartolini, Jaca Book 2019) and Favole del reincanto ("Fables of the re-enchantment", DeriveApprodi 2020).
Fluid Spaces research cohort videos created by Carrie Girstantas, Christine Quoiraud, Fiona Harrisson, Julie Nathanielsz, Kim Sargent-Wishart, Laressa Dickey, Mandy Herrick, Maria do Rosário Matos, Theo Armstrong, Vanessa Chapple, Vasiliki Tsagkari, and Late Harvest's Daniel Racek, Monika Certezni, Katarina Vlnieskova and Anka Sedlackova.