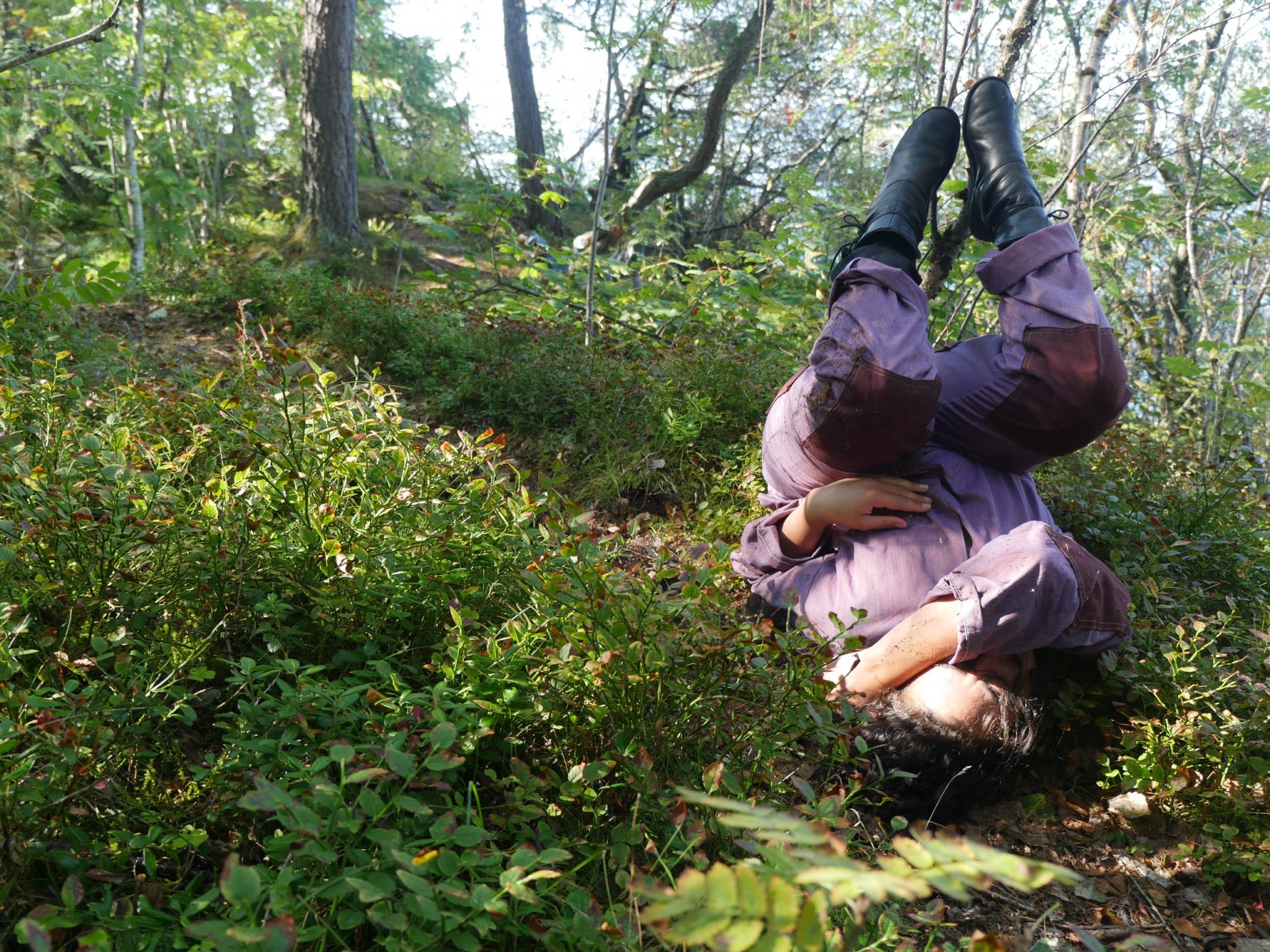 Concept
Olive Bieringa
Direction & choreography
Olive Bieringa & Otto Ramstad
Text
Olive Bieringa with support from Laressa Dickey
Song
Big Thief
Co-creating Performers
Kosta Bogoievski, Josie Archer, Rachel Ruckstuhl-Mann, Olivia McGregor, Amit Noy, Oliver Connew,  Maria Lothe, Uma Ramstad, Olive Bieringa and Otto Ramstad
Other contributers
Sigrid Marie Kittelsaa Vesaas, Ornilia Ubisse, Hanna Filomen Mjåvatn, Kristina Gjems,  Nina Wollny, Uma Ramstad
Costume design
Kristine Gjems
Host
Adam Ben-Dror
Funders and partners
Public Art Fund, Wellington City Council, Manatū Taonga Ministry for Culture and Heritage and Arts Council Norway, Kulturrådet, KORO – Public Art Norway, the Nordic residency at SITE, Sweden, DansIT,  Oslo Municipality, University of the Arts Helsinki. 
Special thanks
Royal New Zealand Ballet, Sam Trubridge, Judith Fyfe, Jan Bieringa and to all of the performers and families for contributing to this work
About the artists
Adam Ben-Dror is a multidisciplinary artist, designer, dancer and inventor based in Tāmaki Makaurau, Auckland. Adam teaches design at the University of Auckland and teaches composting to individuals and communities as a facilitator with the Compost Collective. Adam is interested in waste, worms, somatics and multispecies entanglements and recently initiated a resourceful makerspace 'A Place for Local Making' with Xin Cheng which acted as a community research hub, looking at waste and re-use. Previously Adam operated a makeshift cafe on wheels at climate activist events and gatherings and carried around a worm farm inside of a briefcase. Adam studied fine arts at the University of Auckland, design at Victoria University Wellington and robotics at Carnegie Mellon
Amit Noy is a dancer and dancemaker living in Aotearoa. He grew up as a visitor on the unceded lands of Oahu, Hawai'i and Aotearoa New Zealand to Latine and Israeli parents. In Hebrew, 'Amit' means good friend.
Josie Archer is a freelance dancer and choreographer from Ōtautahi where she is currently based. She has presented and performed her work throughout Aotearoa and overseas and hopes to do this right through to old age. Artistically she finds joy and meaning in nurturing the body through practice and collaborating with other artists/friends/disciplines. The most important being her ongoing artistic and life collaboration with partner Kosta. As self confessed dance nerds, die hard, dance or die, dance believers their work both celebrates and critiques the absurd world which is 'experimental contemporary dance'.
Kosta Bogoievski is an Ōtautahi based artist wading in the creative swamp plucking everyday language and flow for poetry and prose, choreographing unorthodoxly, and dancing with an application of principles from Klein Technique, Material for the Spine, and Body-Mind Centering. He mostly works in tandem with his love, Josie Archer, as 'Josie and Kosta'. In 2014, he graduated from the Unitec Institute of Technology with a Bachelor in Performing and Screen Arts (majoring in Contemporary Dance). Notable career milestones include, New Zealand Dance Company,  BodyCartography Project (Norway, NZ, USA), Jennifer Lacey & Wally Cardona (NYC), Okareka Dance Company, and Footnote NZ Dance.
Olive Bieringa and Otto Ramstad collaborate as the BodyCartography Project for 25 years. Their work has been performed at Oslo International Theater Festival, San Francisco Museum of Modern Art, Lyon Opera Ballet, Dance Theatre Workshop, Performance Space 122 and American Realness, NYC, Walker Art Center,  Minneapolis, TBA/Portland Institute of Contemporary Arts,  Anti-Festival, Finland, Cinedans, Amsterdam and many other contexts internationally. Their work also lives in the permanent collection at Te Papa Tongarewa National Museum of New Zealand. Their early work Lagoon on the Whairepo Lagoon won the top work of the New Zealand Fringe Festival in 2003.
Oliver Connew is a choreographer, dancer, occasional writer and a sound enthusiast among other things. He is a classical ballet graduate of the New Zealand School of Dance, and has a contemporary dance degree from Unitec Auckland. Since 2013 Oliver has worked as a dancer and performer with Peter Pleyer, Body Cartography, Wilhelm Groener, Joshua Rutter and Julian Weber among others. He is a member of the Berlin-based dance company "Cranky Bodies a/company". In 2021 he completed the two-year Master Exerce programme at the Centre Chorégraphique National Montpellier, France. Oliver's own recent choreographic project, Being(s)(a)part, is a multi-entity collaboration in which dance, sound, language and voice form techniques that work to unsettle culturally-conditioned separations between earthly creatures and phenomena of all kinds.
Olivia McGregor (Muaūpoko, Ngāti Raukawa) is a performer based in Ōtautahi, formerly Berlin. Olivia graduated from the New Zealand School of Dance and went on to join Footnote Dance Company (2011-2014), performing in works by Lisa Densem, Kate McIntosh and Jo Randerson among others. Since 2014, she has worked and performed around Europe and Aotearoa in dance theatre, performance art installations and film with artists including Julian Weber, Jeremy Shaw, Wilhelm Groener and the BodyCartography Project. Olivia finds pleasure in the connective possibilities of dance, classical forms and improvisation based on somatic and energetic movement exploration.
Maria Lothe (NO/SE) is a dance artist working as a choreographer, performer and producer, based in Oslo. She works in different freelance constellations, as well as making her own work, and has performed for artists and companies within dance, theatre and performance art in Norway and the UK. She has a two year diploma from Skolen for Samtidsdans in Oslo (2012), and a BA Hons in Contemporary Dance from Trinity Laban (2015) in London. She's currently working as a dancer for BodyCartography project, Lonely Riders and Karstein Solli and as a dancer/choreographer with the queer dance collective STICKY. www.marialothe.com
Rachel Ruckstuhl-Mann comes from a diverse background of performing arts, design and dance practices including training in contemporary and somatic dance, kapahaka, and contact improvisation. Through her ongoing physical research utilising Mātauranga Māori, Chinese Medicine and Western Somatic practices such as Body Mind Centering, she has been developing her own style of movement and performance performance practices, many of which are centred around the pūrākau of Hineahuone, the first woman in Te Ao Māori. Her offerings are site, community and time specific, and bring people into relationship to inner and outer ecologies through somatically designed alignments of movement, story, space, object and sound. In the last year, she has created a moving performance entitled Hine Downtown, that takes people on a journey through urban centres of a city, all the while listening to a soundscore designed in collaboration with Tāonga Puoro artist Salvador Brown. Rachel has also developed the kaupapa of Camp Move Play. This is a wānanga experience of coming into relationship with whenua and community through practices of deep listening, movement, play and creative expression.
Uma Ramstad has been a key player since the inception of Resisting Extinction in 2020. She studies dance, electric guitar, new circus and theater and has performed with AKKS, TEKSTLAB, Rom for Dans UNG, CocoonDance, CODA Dance Festival and BodyCartography Project in Oslo where she lives at attends school.
Made possible with support from
The Public Art Fund, Wellington City Council