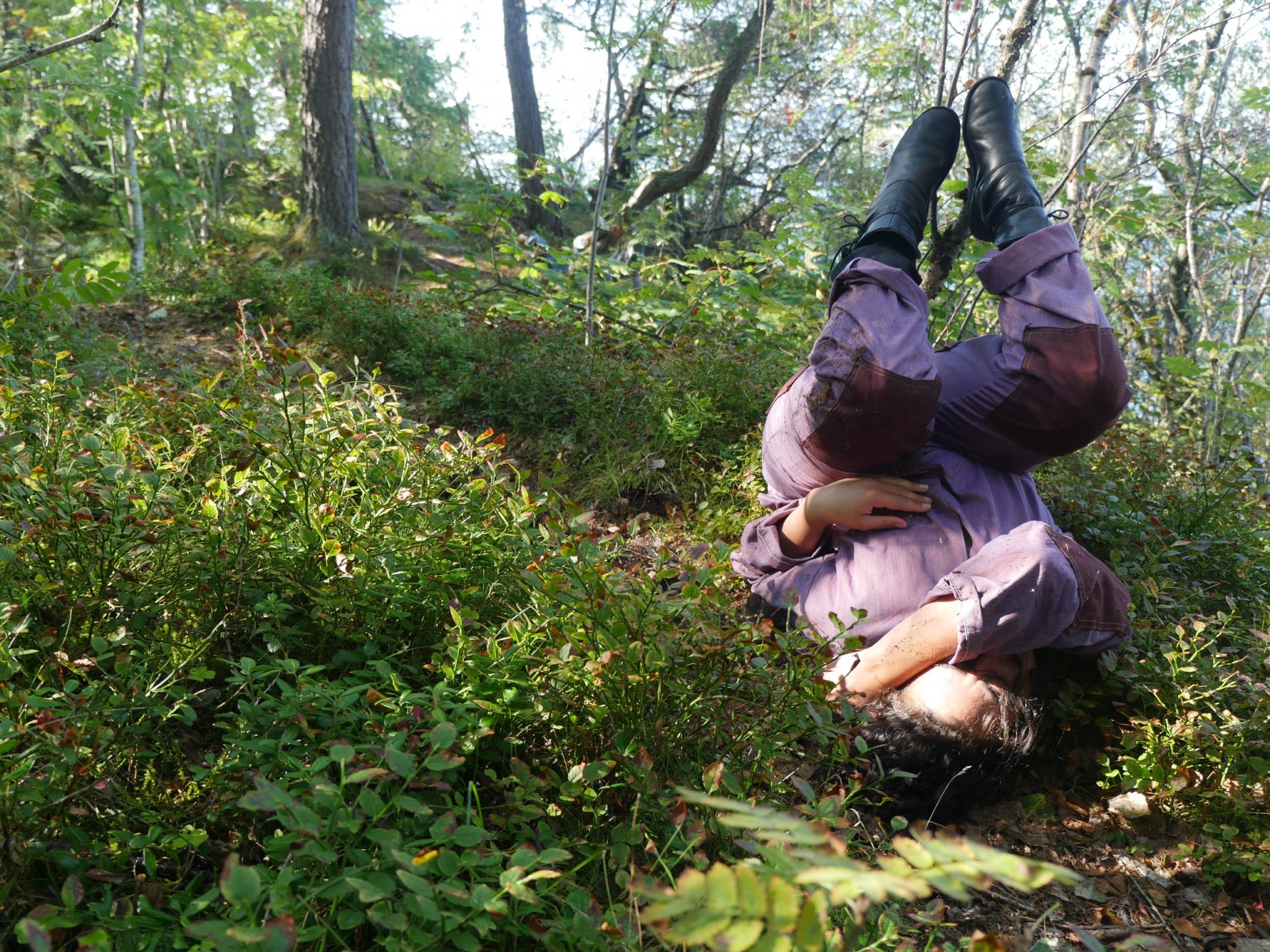 Concept: Olive Bieringa
Directors: Olive Bieringa & Otto Ramstad
Co-creating performers: Maria Lothe, Sigrid Marie Kittelsaa Vesaas, Ornilia Ubisse, Hanna Filomen Mjåvatn, Kristina Gjems, Otto Ramstad, Olive Bieringa, Nina Wollny, Uma Ramstad
Performers in Dansefestival Barents: Maria Lothe, Ornilia Ubisse, Hanna Filomen Mjåvatn, Otto Ramstad, Olive Bieringa.
Costume design: Kristine Gjems
Funders and partners: Oslo Municipality, Kulturrådet, KORO – Public Art Norway, the Nordic residency at SITE in Farsta, Sweden, Klimahuset, Natural History Museum, University of Oslo, Norskfolkemuseum, Bygdø Kongsgard, Oslo Kulturnatt, DansIT, University of the Arts Helsinki.
About the artists:
Olive Bieringa and Otto Ramstad collaborate as the BodyCartography Project for nearly 25 years . Their work has been performed at Oslo International Theater Festival, Kulturataten's SAMMEN-om-GATA, San Francisco Museum of Modern Art, Lyon Opera Ballet, Dance Theatre Workshop, Performance Space 122 and American Realness, NYC, Walker Art Center,  Minneapolis, TBA/Portland Institute of Contemporary Arts,  Anti-Festival, Finland, Cinedans, Amsterdam and many other contexts internationally. Their work also lives in the permanent collection at Te Papa Tongarewa National Museum of New Zealand. ​​They are fellowship recipients from Foundation for the Arts, McKnight Foundation, Jerome Foundation and Bush Foundation. Learn more about BodyCartography at www.bodycartography.org
Sigrid Marie Kittelsaa Vesaas is a creative and performing dance artist educated from the School of Contemporary Dance. Works with free lance in collaboration with other artists. Collaboration with other artists such as Goro Tronsmo, Caroline W. Nesse, Lundahl & Seitl, Wee Scavetta / Kipperberg, Marie Nikazm Bakken / Fredrik Floen, and Maja Roel. Shown own work among others during Ravnedans / Kristiansand with Heidi Jessen, CODAfringe / Oslo art gallery with Marte Reithaug and Ann-Christin Kongsness, Henie-Onstad art center with Ny Høvik Ballet, and shows the dance film STRIM at home and abroad, collaboration with film artist. Alexander Johan Andreassen. STRIM won the Gold Chair in Grimstad in 2017. Current collaboration with Signe-Hilde Jørgensen on dance with Parkinson's, and dances in a preliminary project with Tone Martine Kittelsen.
Maria Lothe is a dance artist, working as a mover, maker and producer in Norway and England. She has a two year degree from Skolen for samtidsdans (The School for New Dance) in Oslo and a BA (Hons) in Contemporary Dance from Trinity Laban Conservatoire of Music and Dance. She is also a certified yoga teacher in Ashtanga Yoga and Yin Yoga. As a performer, Maria has been working within dance, theatre and performance art, with companies/artists such as Martin Creed, What's Coming out of the Box, BitterSuite Company, Livia Rita and the Bicycle Ballet Company, and performed in venues such as The Twist Museum, The Royal Opera House London, Rich Mix, Roundhouse, Royal Academy of the Arts, Whitechapel Gallery and has toured across the UK. She has also been a member of Backspace Collective. Both as a mover and a maker, Maria is amongst others interested in interdisciplinary collaborations, site specific work and sensory/interactive work. Her work often involves questions around climate change and our relationship to nature. Her work has been shown in venues such as The Place, Chisenhale Dance Space, Turner Contemporary, Ugly Duck, Røros Museet, Galleri TM51, Ælvespeilet, Norsk Skogmuseum and Musea i Nord-Østerdalen. Maria has recently been involved with Extinction Rebellion, where she facilitates movement classes for the performance group "Red Rebels", as well as being an internal coordinator for the Artivism group. She is also a board member of SIB Dance Lab, PRAXIS Oslo and a former producer for DansINN. www.marialothe.com
Hanna Filomen Mjåvatn works as a freelance performing artist, currently for gender house festival, bora bora with artists Linn and Tone Lorentzen, her own production shifting modes with Sverigjes Konstforeningar, and for Runa Carlsen at OsloKunstforening. She finished her master in Performance at the Norwegian Theater Academy in 2020. She has also worked as a co-creative performer and maker for several artists such as Erikk Mckenzie, Mia Habib, Elle Sofe Henriksen, the organisation TekstLab and dans 5.
Ornilia Ubisse born and raised in Mozambique where she studied dance at the Escola Nacional de Danca and worked as a dancer and dance teacher. She has a BA in dance with specialization in modern and contemporary dance from the Norwegian Academy of Dance with an Erasmus in Austria, at Anton Bruckner Private University (2017). As a performer, Ubisse has been on tours, productions and collaborations with choreographers such as Editta Braun, Shanti Bramachari, Cecilie Steen, Mia Habib, Hallgrim Hansegård, Bawren Tavaziva, Francesco Scavetta, Tendai Makurumbandi, De Naive and Roza Moshtaghi. She has been on school tours and DKS with Nutopia, Frikar X and TekstLab with various productions. As a TekstLab Incubator participant, she has choreographed and performanced "Rua 57" and "Chaos in the Box". Ubisse established Kronos Dance Company and has choreographed "Memories from Nowhere", "Motherland" and is now working on the company's third production – "Ecstasy".
Kristina Gjems is a graduate of the London Contemporary Dance School and has worked as a dancer and choreographer since 1984. Her work used both stage and site-specific productions, as well as dance films. She has practiced and taught T'ai Chi for many years, which has a great influence on her artistic work. Much of her practice takes place in nature and experiences of the connection between body, movement, elements and surroundings are strongly present in work.
Nina Wollny studied contemporary dance at the Rotterdam Dance Academy, Codarts, in the Netherlands. After her graduation in 2002 she joined the company anoukvandijkdc and has worked there as dancer, rehearsal director and artistic assistant for more than 10 years. She performed in most of Anouk van Dijk's works during that time, including the collaborations with director and playwright Falk Richter and Anouk van Dijk's first work as director of Chunky Move in Melbourne, Australia. Since 2012, Wollny is performing and collaborating regularly with German choreographer Jenny Beyer at Kampnagel in Hamburg, Germany. And since 2016 she is working with Mia Habib Productions and has been featured in the works …a song to, All-a physical poem of protest and How to die-Inopiné.
Uma Ramstad attends Rudolf Steinerskolen in Oslo, studies aikido and performs with Tesktlab and Rom for Dans Ung.
Kristine Gjems is a costume designer based in Oslo, educated at the National Academies of Arts in Bergen and Oslo. She has been designing costumes, masks and scenography for theatre and dance over the last ten years. www.kristinegjems.com