We have two performance events during the Dance USA conference in Minneapolis. Olive will also be presenting on a panel on somatics, sustainability and audience engagement and offering advice at the smART bar. We hope you can join us.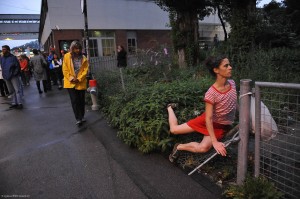 The Empaths will be in its second week of development during the conference. The Empaths will use movement to reveal the connection between how we feel and how we think.  Part one, one-on-one solos and conversations (25 minute max), will take place at the Northrop auditorium lobby 10-1.30pm. Space is extremely limited. You can book here.  
Part two will take place as part of the Dance USA showcase at the Illusion Theater at 7.30pm and 9.30pm. This will be a ten minute excerpt of what will be become a full evening length work with music composed by Justin Jones.
The project is a Composer Forum's New Music for Dance commission, and supported by a Creative Exploration Fund, a Metropolitan Regional Arts Council Arts Activities grant and a residency at the Soap Factory in August 2012 as part of Impetus Festival.
Featuring performers Justin Jones, Anna Marie Shogren, Sam Johnson, Hannah Kramer, Olive Bieringa and Dolo McComb.