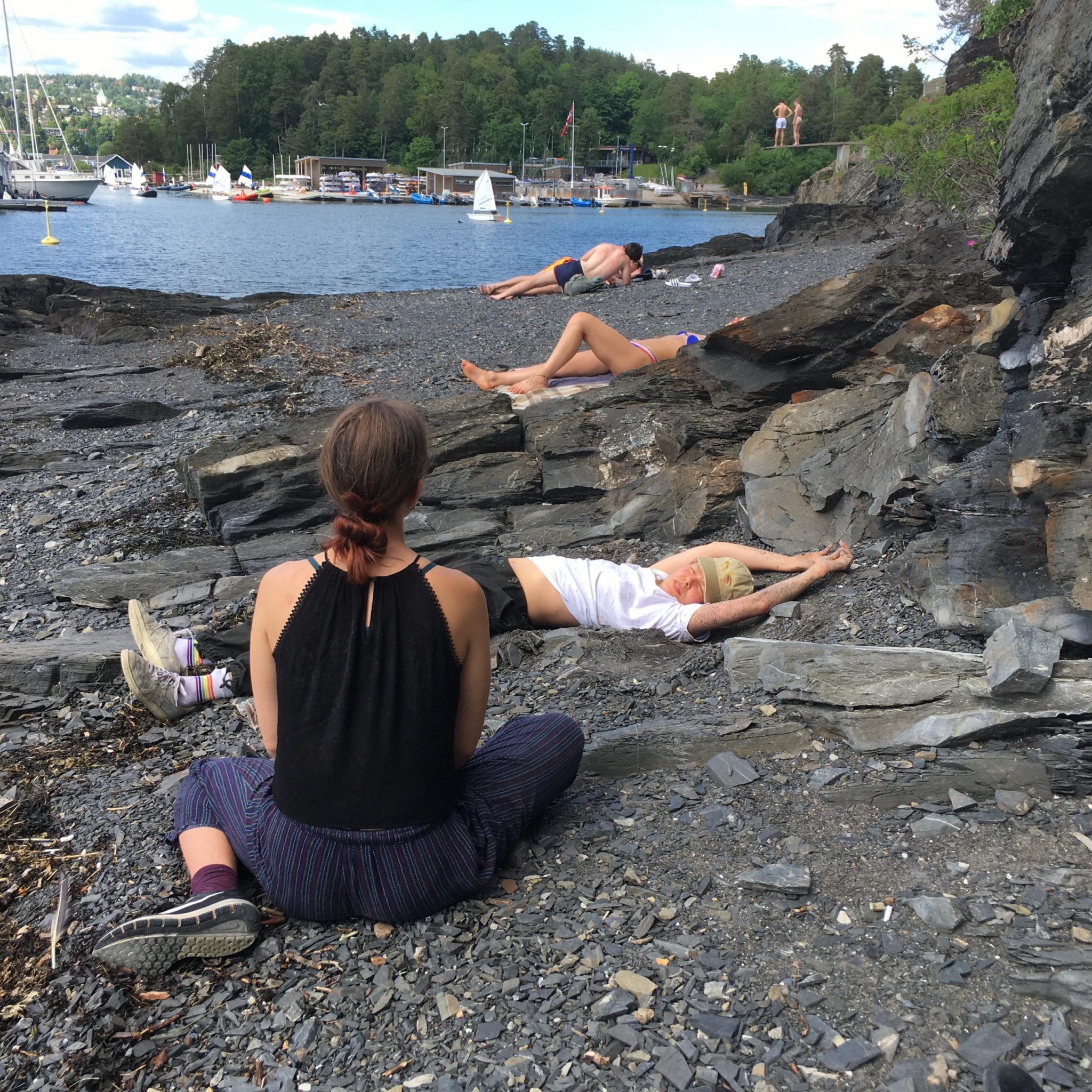 BodyCartography Project's Olive Bieringa and Otto Ramstad
BodyCartography's mission is to engage with the vital materiality of our bodies and minds to create live performance that facilitates a re-enchantment of embodiment, relationship, and presence. We create dance in urban, domestic, wild, and social landscapes. Our work is rooted in experimental dance, somatic and socially engaged practice, and public art.
Olive Bieringa and Otto Ramstad collaborate as the BodyCartography Project and 2018 marked the 20th anniversary of BodyCartography Project, whose work began in public spaces across the Bay Area, California, Minneapolis, Minnesota and Wellington, New Zealand. In 2018 they celebrated their 20th anniversary with the first intangible commission for the permanent collection of Te Papa Tongarewa National Museum of New Zealand and performances at the San Francisco Museum of Modern Art, Weisman Museum, Minneapolis and the Performance Arcade festival in Wellington. In 2019 their project TOGETHERING was commissioned and curated by Linn Cecilie Ulvin for Kulturetaten's SAMMENomGATA for Schous plass in Oslo.
They have created performances, installations, films, workshops, talks, festivals and curatorial projects around the world presented by institutions such as the Walker Art Center, Performance Space 122, American Realness, Movement Research, TBA/Portland Institute of Contemporary Arts, Lyon Opera Ballet, Lyon, Cinedans, Amsterdam, South East Dance, UK, Polish Public Television amongst others. Beginning in 2019 they are the directors for Somatic Education Australia's first Body-Mind Centering® Somatic Movement Educator program in Melbourne, Australia.
Olive Bieringa (NZ) is a first generation New Zealander of German Jewish and Dutch ancestry. She trained with Judson Church choreographers at the European Dance Development Center in the Netherlands where she acquired a BA. She has an MFA in Performance and New Media from Long Island University, NY and is a Certified Teacher of Body-Mind Centering® and DanceAbility®. She has collaborated with numerous artists and has appeared in the work of choreographers Deborah Hay, Yoshiko Chuma, Sara Shelton Mann, Karen Nelson, Jennifer Monson, Eva Karczag and Stephanie Skura.
Otto Ramstad (USA) holds an MA in Choreography from Oslo National Academy of the Arts, a BA in Dance, Improvisation, and the Moving Image, from Goddard College and is a Certified Teacher of Body-Mind Centering®. He has been featured in the work of DD Dorvillier, Miguel Gutierrez, Shelton Mann, Karen Nelson, Lisa Schmitt, Scott Wells, and Kitt Johnson. Ramstad's solo work has been performed in Norway, Denmark, Finland, England, Paris, New Zealand, Italy, NYC, around the USA. He is a recipient of an Archibald Bush Fellowship Artist 2006. His recent work Lineage was performed at the Oslo International Theater Festival in March 2020.
Collaborators
Sigrid Marie Kittelsaa Vesaas: Skapande og utøvande dansekunstnar utdanna frå Skulen for Samtidsdans. Arbeider med fri lanse i samarbeid med andre kunstnerar. Samarbeid med mellom andre kunstnerar som Goro Tronsmo, Caroline W. Nesse, Lundahl & Seitl, Wee Scavetta/Kipperberg , Marie Nikazm Bakken/Fredrik Floen, og Maja Roel. Vist eige arbeid mellom anna under Ravnedans/Kristiansand med Heidi Jessen, CODAfringe/Oslo kunsthall med Marte Reithaug og Ann-Christin Kongsness, Henie-Onstad kunstsenter med Ny Høvik Ballet, og viser dansefilmen STRIM i inn og utland, samarbeid med filmkunstnar. Aleksander Johan Andreassen. STRIM vant Gullstolen i Grimstad i 2017. Aktuell med samarbeid med Signe-Hilde Jørgensen om dans med Parkinsonister, og dansar i forprosjekt med Tone Martine Kittelsen.
Maria Lothe is a dance artist, working as a mover, maker and producer in Norway and England. She has a two year degree from Skolen for samtidsdans (The School for New Dance) in Oslo and a BA (Hons) in Contemporary Dance from Trinity Laban Conservatoire of Music and Dance. She is also a certified yoga teacher in Ashtanga Yoga and Yin Yoga.  As a performer, Maria has been working within dance, theatre and performance art, with companies/artists such as Martin Creed, What's Coming out of the Box, BitterSuite Company, Livia Rita and the Bicycle Ballet Company, and performed in venues such as The Twist Museum, The Royal Opera House London, Rich Mix, Roundhouse, Royal Academy of the Arts, Whitechapel Gallery and has toured across the UK. She has also been a member of Backspace Collective. Both as a mover and a maker, Maria is amongst others interested in interdisciplinary collaborations, site specific work and sensory/interactive work. Her work often involves questions around climate change and our relationship to nature. Her work has been shown in venues such as The Place, Chisenhale Dance Space, Turner Contemporary, Ugly Duck, Røros Museet, Galleri TM51, Ælvespeilet, Norsk Skogmuseum and Musea i Nord-Østerdalen. Maria has recently been involved with Extinction Rebellion, where she facilitates movement classes for the performance group "Red Rebels", as well as being an internal coordinator for the Artivism group. She is also a board member of SIB Dance Lab, and a producer for DansINN. www.marialothe.com
Advisory team
Romain Bigé, PhD, digs, writes about, curates, and improvises dance and philosophy. S/he lives and teaches and researches nomadically in and out of Paris, France. Fell in dance in North America and Western Europe with Steve Paxton, Lisa Nelson, Nancy Stark Smith, Matthieu Gaudeau, and many others. And currently investigates the somatopolitical potentials of dance for mobilizing sensitivities to other critters. A dance improviser curious to bring philosophy in the dance studio, s/he dedicated a PhD dissertation to Contact Improvisation (Le partage du mouvement, École Normale supérieure, 2017) which led to the curation of two travelling exhibition-performances: Gestes du Contact Improvisation, created for the Musée de la danse in Rennes in 2018 and Steve Paxton: Drafting Interior Techniques, created with Joao Fiadeiro for Culturgest in Lisbon in 2019. A Professor in Art Epistemology at the Ecole Supérieure d'Art in Aix-en-Provence, s/he teaches textual-conceptual practices to a variety of audiences: students, artists, dancers, somatic practitioners. The rest of the time, s/he endeavors to prepare the revolution, and awaiting the great day, s/he rolls on the ground.
Laressa Dickey is a writer, performer, bodyworker and teacher who you can learn more about here. She is based in Malmo, Sweden
Ageliki Lefkaditou is an award-winning science curator, nature documentary producer, anti-racist and environmental activist. She specializes in the history and philosophy of the life-sciences and has a long record of publications and presentations for peers and broader audiences. She is an internationally acknowledged expert in science communication.
Alicia May Donnellan Barraclough is an ecologist and deep ecology practitioner who is currently a Doctor of Philosophy at University of Bergen's Department of Biological Science.