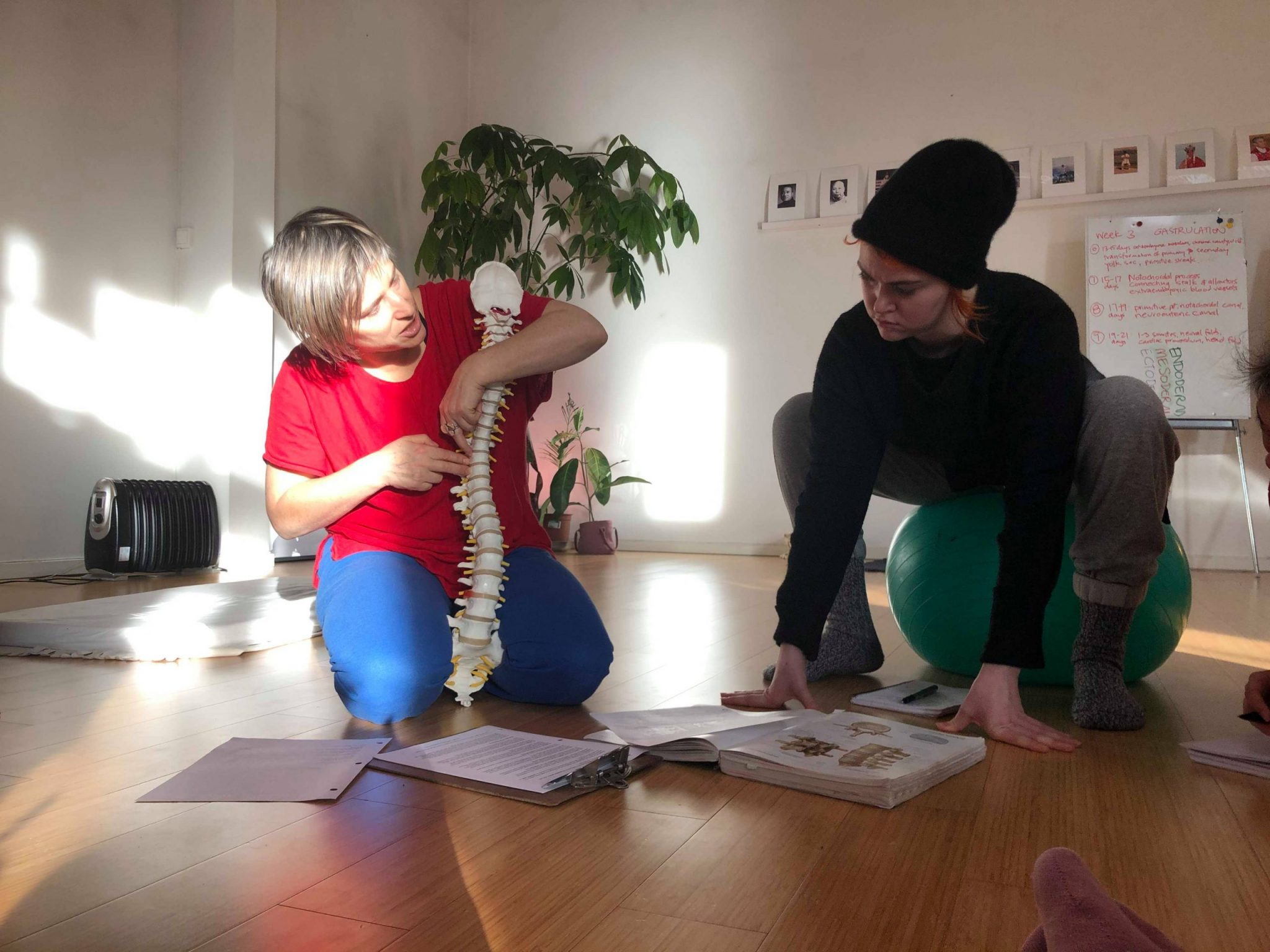 Mondays
PRAXIS Oslo presents online Body-Mind Centering® class 
15-16.30 CEST No pre-registration required. Final class June 2
Join the class by attending the Zoom Meeting
Meeting ID: 695 049 330
10:00 CEST Embryology class May 4 – June 8 (6 weeks). Registration required. Fee 60 euros for whole series/12 euros drop in. 
17:30 CEST Embryology class April 27 – June 7  (6 weeks). Registration required. Fee 60 euros for whole series/15 euros drop in. 
Tuesdays
19:30 CEST Immune System class  April 28- June 16 (8 weeks). Registration required. Fee 80 euros for whole series/15 euros drop in.
Thursdays
9.00-10.30 CEST An introduction to the Basic Neurocellular Patterns April 30-June 4 (6 weeks). Registration required. Fee 60 euros for whole series/12 euros drop in. 
To register, get more details, request private sessions or other class times please email us at info@bodycartography.org. If finances are an issue for you at this time but you would like to participate please email us with details and we can figure out a way to make it happen. 
Join the facebook group to catch updates, download anatomy images and join the conversation.
Body-Mind Centering® is a study of the vital materiality of our body and mind.
In our classes we will cultivate our movement through the deep and subtle somatic approach of Body-Mind Centering®. Utilizing movement, touch, voice and mind we will explore anatomical, physiological, psychophysical and developmental awareness of our self and others. Through movement and touch we will explore different body systems, bones, fascia, connective tissue, organs, fluids, endocrine and nervous system. We will explore how these systems support different ways of moving, performing, breathing, singing, being, behaving and thinking. We will learn about embryological and developmental movement patterns, as way to move from simplicity into complexity, through water, gravity and space.
Our embodied embryology class series will explore the developmental adventure we all undertook to become who we are. The first 8 weeks after our conception is when our body forms its basic structure. In this period we form from an egg and sperm, transforming into a cluster of cells and a series of fluid spaces and become a highly differentiated human being. These fluid spaces and processes underlie our current structure and inform our current state of being.
Our immune system class series will be an embodied investigation of our immune system. We will explore the relationship between our immune system and bones, organs, fluids, nervous and endocrine systems to understand more about our innate and adaptive immunity. 
Our basic neurocellular patterns are the words of our movement. They are the building blocks for the phrases and sentences of our activities. They also establish a base for our perceptual relationships (including body image and spatial orientation) and for our learning and communication. We will explore our prevertebrate and vertebrate patterns and explore our capacity to yield, push, reach and pull.
These classes are for movers, dancers, performers, yoga practitioners, bodyworkers, occupational and physical therapists, somatic psychotherapists, infant/child educators, and those from other body-mind disciplines interested in unraveling the mystery of embryological development as it relates to cellular consciousness, movement, and mindfulness. No prior experience with Body-Mind Centering® is necessary.
Olive Bieringa and Otto Ramstad are certified Teachers and practitioners of Body-Mind Centering®. They are the program and education director of Somatic Education Australasia running Somatic Movement Educator Certification in Melbourne, Australia . They collaborate as dancers and choreographers under the name BodyCartography Project and are based in Oslo, Norway.
Body-Mind Centering® is a registered service mark of Bonnie Bainbridge Cohen.
Monday and Wednesday classes are made possible with support from PRAXIS Oslo, Kulturrådet and FFUK.