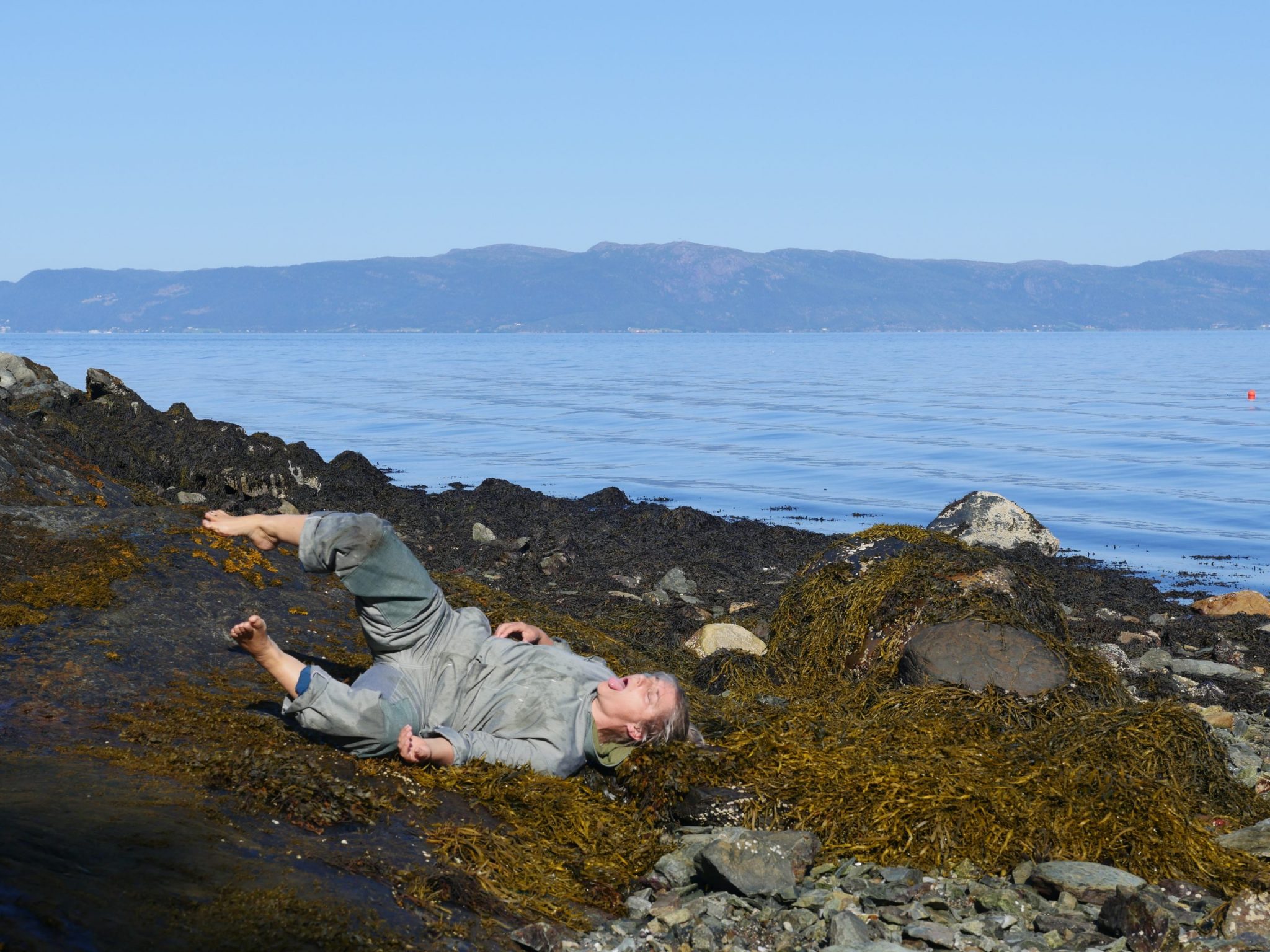 TOGETHERING was commissioned and curated by Linn Cecilie Ulvin for Kulturetaten's SAMMENomGATA, an art program focusing on temporary visual art in public space. TOGETHERING exposes other ways of knowing through radical practices of togethering. Practices have been drawn from performance works from BodyCartography's twenty years of creating dance in public spaces internationally. The dances, one-on-one experiences and group scores unfold in public space, a city square, and public library. This project invites us to practice "audiencing" as we play with how we perceive ourselves, others and our surroundings. TOGETHERING creates a space for movement, social gathering, conversation and refraction in embodied practice, behavior, relational intelligence, and intimacy in public space.
felt room plunges viewers into an open, and often completely dark stage, with no seating and with the proximity of the dancers heard and felt as much as seen. One's somatic awareness gets switched on. The viewer can't lose their body to the theater's safe seats. felt room, an immersive three-hour performance installation, is designed to conjure imagination and speculation. In the darkness, viewers are offered an escape from a world of constant illumination in which to practice other ways of knowing. Like human animals moving in the night, the dance slowly reveals itself. The dancers engage in a series of movement tasks that generate particular spatial and sensorial qualities ranging from stillness to high activity, silent to sounding, interactive to personal. Our role is to bring people into a physical state. Through its frequent visual absence, punctuated by occasional flashes of light and deeply saturated color, the dance becomes heightened in the imagination. There are few handles in the dark or ways to mark time. In the intimacy created by darkness, audience and performer are both hidden and vulnerable. Together we share fluid time, a space for napping, lucid dreaming, visioning, and collective imagining. The work creates a space of ambiguity, an invitation for both performers and audience to take responsibility for our actions. Each of our choices of where to sit and where to look may have a profound consequence for everyone in the space. Each choice is at once personal and compositional.
In action movie, a single dancer guides an audience of one through the city where the simple act of opening and closing ones eyes becomes a revelation. action movie was developed from a pedagogical score that I created with collaborator Otto Ramstad twenty years ago, inspired by our work with Tuning Scores creator Lisa Nelson. We taught the exercise in dance workshops around the world, specifically those oriented to site-specific work and filmmaking. More recently, I was looking for a one-on-one performance score that would bring audiences inside the heart of a dance and invite them to question how they experience the world through all of their being—both feeling and sensing.
"The particular score of action movie had an elegant simplicity that enabled the participants to see the space uniquely and explore in a way which experientially opened up the museum, an environment which ordinarily can perpetuate isolationism, privilege, cult of authorship, and therefore a kind of detachment." Margit Galanter, action movie performer, excerpt from Under Seeing, Contact Quarterly 2019
"I initially thought I would be editing together a series of dance sequences—a walking montage with the visual experience at the foreground, and the eyes-closed bits the less important, waiting time. What I learned was that eyes-closed moments were the primary material, allowing the audience member to quickly engage in a non-visual feeling state, attention spreading down and sideways, with smell, temperature, and sound becoming the primary compositional material, which I took great pleasure in choreographing. The visual sequences (eyes-open) were then moments for surprise, rest, connection, re-entry, attenuation, and then, eyes closed, dive back into the under-senses for something more real, more connected, more human." Justin Jones, action movie performer, excerpt from Under Seeing, Contact Quarterly 2019
A version of action movie, titled Follow was commissioned for the permanent collection at Te Papa Tongarewa National Museum of New Zealand, Wellington, New Zealand which gone on loan to Auckland Art Gallery and Govett Brewster, New Plymouth.
Holiday House (triology)
Curatorial project of 7-21 days, Earthdance, MA, USA
An interdisciplinary arts and ecology festival gathering artists, community activists, scientists, spiritual leaders, and permaculture practitioners. Through workshops, residencies, discussions, performances and artistic investigations, SEEDS aims to explore the potent space of art, allyship, movement practice, and ecology. By working with the connections between environmental racism, intersectional oppressions, power/territory, and privilege, SEEDS makes space for multiple voices and forms of participation while creating a space for embodied intelligence and collective inquiry.