Minnesota
Alan Ernst, Alex Lange, Amy Behm, Anat Shinar, Andrea Parkins, Andrea Zimmerman, Andrew Lafkas, Anna Marie Shogren, Arwen Wilder, Becky Heist, Becky Olson, Brinsley Davis, Bryce Beverlin II, Clare Tallon Ruen, Colin Rusch, Dan Schlag, Danelle Dever, David Wick, David Echelard, Dolo McComb, Dustin Maxwell, Eben Kowler, Edna Stevens, Elayna Waxse, Elizabeth Draper, Elliott Durko Lynch, Emily Johnson, Emma Barber, Emma Buechs, Emma Rainwater, Emmett Ramstad, Eneka Bordato, Eric Ramstad, Felicia Glidden, Francesca Mattavelli, Fritz Haeg, Hannah Kramer, Hannah Geil-Neufeld, Heidi Geier, Hope Grathwol, Interact Theater, James Byrne, Jamey Garner, Jeffrey Haas, Jennifer Arave, Jessica Cressey, Jillia Pessenda, Joan Mathews, Jonathan Zorn, Josie Winship, Justin Jones, Kara Motta, Karen Sherman, Katelyn Skelley, Katie Burgess, KC Somdahl, Kelly Meister, Kendra Denkart, Kimberly Lesik, Kristin Van Loon, Laressa Dickey, Lindsay Bullock, Lynn Andrews, Malia Burkhart, Mandy Herrick, Margaret Johnson, Margaret Zepp, Margit Galanter, Margot Basset, Marylee Hardenberg, Megan Mayer, Melissa Birch, Michelle Lockhart, Mike Brindley, Mike Cohen, Mike Wangen, Miriam Colvin, Morgan Thorson, Nastalie Bogira, Nick La Mere, Owen Winship, Patricia Good, Peter Podulke, Rachel Johnson, Roman Morris, Romina Takimoto, Sally Rouse, Sam Johnson, Sarah Baumert, Sarah Russ, Scotty Gunderson, Scotty Reynolds, Sean Smuda, Shana Crawford, Sherry Saterstrom, Sinan Goknur, Sophie Rog, Taja Will, Takemi Kitamura, Taylor Shevey, Tim Glenn, Timothy Wagner, Willa Bartholomay, Wendy Morris, Wes Winship, Wynn Fricke, Yumi Inomata
Partners: Burlesque of North America, Bedlam, Walker Art Center, Young Dance, Interact Center, Public Art St Paul, Southern Theater, Minneapolis International Film Festival, Minnesota Public Television, Winona University, Macalester College, University of Minnesota, Perpich Center for Arts Education, Doug Aitken, Leadership St Paul, Zenon Dance School, VSA Minnesota, Studio 206, Intermedia Arts, Art of the Gallery, University of Minnesota, Northern Spark Festival, Spark Festival, Bell Museum, Outlet Performance Festival, Bryant Lake Bowl, Ritz Theater, Art Shanty Project, Center for Photography, Shoebox Gallery, Seward Art Crawl, Dances on the Lakewalk Festival, Duluth, Minnesota Museum of American Art, Lowertown St Paul, Made in MN, Minneapolis City Hall, Red Eye Theater.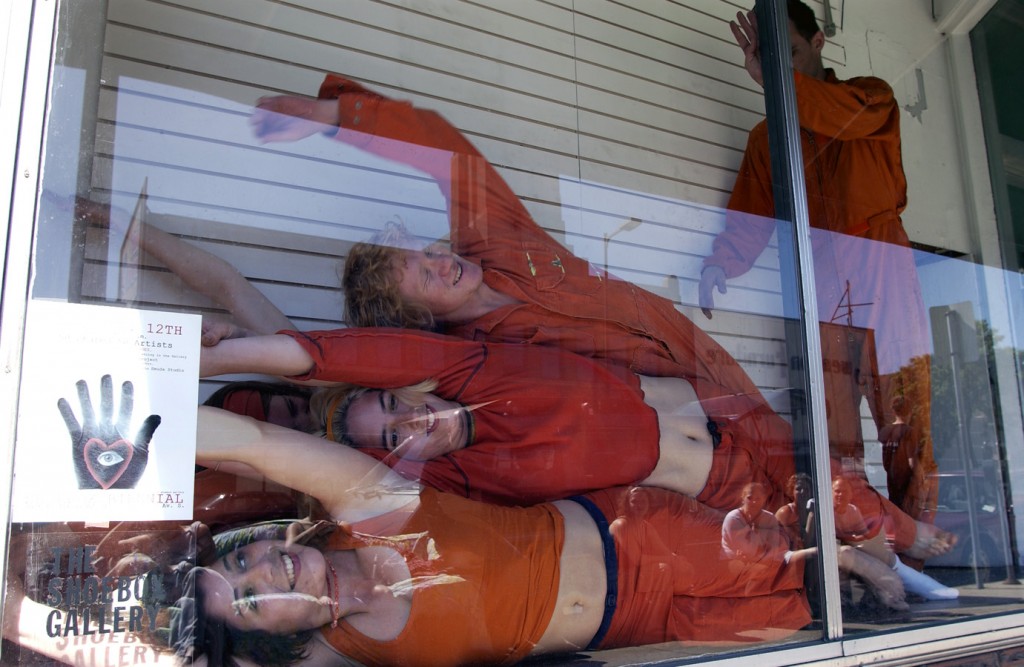 California 
Alan Abruzzo, Alicia Marvan, Alex Zaphiris, Ara Rosenthal, Beaker Prince, Begonia Caparros, Brendan Ramsden, Brenton Cheng, Brian Burt, Bryan Welch, Carin McKay, Carol Swann, Casey Crumpacker, Carrie Girstantas, Charlie Blizzard, Chris White, Chris Mooney, Christel Grande, Christina Lella, Christian Motos, Crystal Duncan, David France, Eric Fink, Frieda Kipar, Gretchen Schuster, Heather Pierce, Heather Ford, Heike Wrede, Illona Sturm, Ivy Greene, Jan Burkhardt, Jane Blount, Jared Kaplan, Jeff Mooney, Jessica Radclovich, Jez Parez, Jim Santi-Owen, Jon Lustig, Judy Cohen, Julie Sparling, Karen Schaffman, Kate Gibson, Kathy Ketman, Kerstin Kussmaul, Krista Denio,   Kristine Diekman, Kyla Wetherall, Laura Marsh, Laura Podowski, Laurel Carangelo, Lawrenzo Share, Lea Bender,   Leslie Seiters, Lindsay Hasset, Louisa Bertleson, Mandy Snyder, Manuela Hofer, Margaret Brunjes, Margot Lystra, Marit Elverland, Matt Sperry, Med-o, Neil Marcus, Nuria Bowart, Pato Draves, Patricia Zura, Patrick Barber, Priscilla Park, Rae Houseman, Rafael Cohen, Ray Chung, Rebecca Bryant,  Richard Hunt, Riccardo Morrison, Rita Venturini, Rivera Cook, Rob Penn, Rosemary Hannon, Frances Savage, Samantha Sweetwater, Sarah Bly, Sean Feit, Shana Sturn, Shelly Smith, Simon Walker, Stephan Habitz, Steven Kessler, Susan Glover, Susannah Zucker, Tara Brandell, Tara Hernandez,  Thomas Sepe,  Todd Jones, Tony Allard, Tony Bell, Tracy Vogel, Ulla Glaesser, Victoria Kelly, Wang PoShu, Zack Barnett, Zoe Miller
Partners: Burning Man, Lower Left Dance Collective, PADL West, SDSU, UCSD, CalArts, Headlands Center for the Arts, Axis Dance Company, California State University of San Marcos, Davis University, Harbin Hot Springs, Esalen Institute, West Coast Contact Improvisation Festival, Berkeley, ODC Theater, San Francisco, Outdoor Dance Experience Festival, Emeryville, San Francisco Street Theater Festival, Theater Unlimited, 848 Community Space, CELL Space, CounterPULSE

NYC, Chicago, Philadelphia, Pittsburgh, DC
Aaron Alonso, Alana Parekh, Alexandra Bodnarchuk, Alexandria Bright,Amelia Charter, Amelia Tarpey, Angie Chung, Anna Greenawalt, Becky Grajeda, Boris Willis, Carolyn Hoehner, Claire Alrich, Clare Tallon Ruen,  Dana Killmeyer, Daniel Bloom, Darling Squire, DJ Jake Pickel,DJ Intel, Hope Goldman, Jennifer Selgrath, Jesse Winship, Joanna Furnans, Joshua Kent, Judy Williams, Ken Olguin, Laura Grant, Laurel Atwell, Lisa Nelson, Meghan Moe Beitiks, Melissa Guerro, Meredith Rich, Michele Tantoco, Mita Ghoshal, Nava Benhaum, Nick Allia, Nyx Zierhux, Patrice Scanlon, Patricia Mullaney, Priscilla Park, Ru Emmons-Apt, Sam Horning, Sara Herrera, Sharon Mansur, Shay Turner,  Steve Paxton, Zeena Parkins, 
Partners: Dance Place, Kelly Strayhorn Theater,Performance Space 122, American Realness, City of Chicago Department of Cultural Affairs, Philadelphia Dance Projects, Dance Theater Workshop, Movement Research, Dance on Camera Festival, NYC, International Screendance Festival, NC, Philadelphia Dance Project, Maggie Allesee National Center for Choreography, Oberlin College, Dension College, Ohio, Luther College, Iowa, University of San Diego, University of Madison, Wisconsin, Earthdance, Northampton, MA,  American Dance Festival Screen Dance, NC, , Madison Improvisation Festival, DC Improvisation Festival, G.L.A.C.I.E.R., Seattle Festival of Alternative Dance and Improvisation, Mazomanie, Wisconsin, DanceAble – Florida Dance Festival, Northwest Vista Community College, Texas, Long Island University, City in Motion Dance Theater and aha! dance theatre, Kansas City

New Zealand
Adam Dramsfeld, Adam Naughton, Alana Yee, Alyx Duncan, Andy Irving, Anna Bate, Bronwyn Haywood, Brook Weatherwell, Bruce Connew, Catherine Griffiths, Cathy Livermore, Catrina Friedlander, Chris Jackson, Cindy Munn, Claire O'Leary, Eileen Watson, Eliza Sanders, Emma Mongan, Emma Deaken, Fiona Gillespie, Gabby Deighton, Geoff Gilson, Guy Robinson, Jade Dewi Tyas Tunggal, Jane Perkins, Jenny Lux, Jenny Cossey, Jo Craig, Joe Moe, Johanna Sanders, John Andrews, John Jacobsen, Josh 'Fale' Faleatua, Julia Sadler, Karen Daly,  Katie Regalsford, Kilda Northcott, Kim Buckley, Kosta Bogoievski, Kris Bieringa, Lee Parker-Prophet, Levity Beet, Lisa Ellen Mills, Lydia Connolly-Hyatt,  Marcus McShane, Maria Dubrowska, Mark Minnard, Matt Gibbons, Michelle Powles, Michelle Scullion, Mike Baker, Nick Granville, Noha Ramadan, Oliver Connew, Paige Shand, Pietr Roncevich, pupils of Clyde Quay School, Robin Ward, Roger Livingston, Ronnie Moe, Sally Barratt-Boyes, Sarah Campus, Sascha Copland, Sasha Whitehouse, Shona Holborrow, Sione Fataua, Stella Senior, Sumara Fraser, Tania Bond, Tony Wolf, Valanne Smith, Veronica Butturini,Vicky Kapo, Wilhemeena Isabella Monroe, Zoe Miller
Partners: Performance Arcade, Footnote Dance, Auckland University, SOUL, New Zealand Fringe Festival, Unitec, Wellington Performing Arts Center, Te Papa, NZ International Film Festival, Te Whaea/New Zealand School of Dance, Toi Whakaari, Otago University, Lambton Harbour Management, Kawai Purapura, Touch Compass, New Zealand Dance Company.

beyond
Marilla Veloso, Pia Lindy, Francesca Mattavelli, Tadayoshi Kokeguchi, Eneka Bordato, Benoit Koc, Harris Gkekas, Maite Cebrian, Aurelie Gaillard, Rebecca Makus, Fumie Yokoo, Kayako Takahashi, Masami Noda, Maya Ichikawa, Mie Kawata, Minami Kajitsuta, Mitsuo Inui, Miyako, Risa Takita, Tamami Yamada, Toshiharu Wataru, Yukari Ojika, Yumiko Nakata, Anthea Browne, Barbara Henoch, Beverly Clifford, Chelsey Braham, Crimson Coast Dance Society, Espirito Santo Mauricio, Eveningsong by Runningwater, Holly Bright, Lori Hamar, Nicole Armstrong, Patti Adye, Rachel Anderson, Samantha Letourneau, Sandra East, Sharon Lee, Sue York, Taiya Curle, Valerie Mermet, Adam Holloway, Alan Sherwood, Alice Kemp, Anne Harris, Bryony Henderson, Caroline Waters, Claire Reynolds, Fiona Sherwood,  Gil Burns, Jacqueline McCormack, Jody Morgan, Lisa Whetton, Nanwich Tea Dancers, Natasha Lowe, Rachel Dean, Ruth Spencer, Sam Carruthers, Sasha Spasic 
Partners: Impulstanz International Dance Festival, Vienna, Anti Festival, Dance in the City, Finland, Stromereien, Zurich, Lyon Opera Ballet, Les Subsistances, Lyon, Choreoessence, Grenoble, Gare au Théâtre, Canaldans, Paris, Cinedans, Amsterdam, Polish Public Television, Guaira Dance Company, Curitiba, Brazil, Crimson Coast Dance Society, Nainamo, Canada, Bunker Theater, Tokyo, Yokohama University, Japan, Tanzmesse, Dusseldorf, K3, Hamburg, Staats Theater, Kassel, Ponderosa Tanzland Festival, Contactfestival, Freiburg, Guggenheim Lab, Berlin, Germany, Impuls Festival, Sweden, European Contact Improvisation Teacher's Exchange, Bern, Stromerien, Switzerland, TanzLaboratorium, Karas Gallery, Kiev, Ukraine, PanCreas Festival, Denmark, Body-Navigation Festival, St Petersburg, Russia, Daghdha Space, Limerick + Dance House in Dublin, Ireland, Tameside College Dancers, Vale Royal Integrated Dance Group, CreweShall, COOP United 2000 Band, Cheshire Dance, Freedom Dance, Merseyside Dance, Liverpool Festival of Improvisation, British Dance Edition, Dartington College, Ovada Gallery, Oxford, Blue Eyed Soul,  DIGM, Merseyside Dance, UK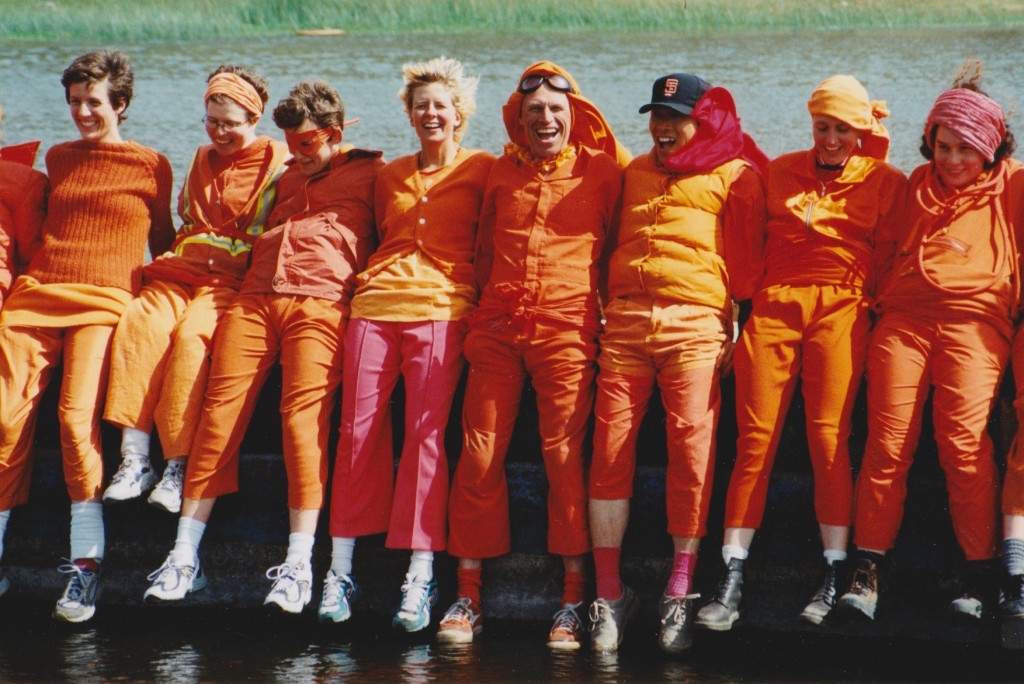 Funders
American Dances Abroad, American Composers Forum, Doris Duke Creative Exploration Fund, National Dance Project, National Performance Network, CEC Artslink, Dorothy Daniels Dance Foundation, McKnight Foundation, Foundation for Contemporary Arts, Metropolitan Regional Arts Council, Minnesota State Arts Board, Moore Family Foundation, St Paul Public Art, MAP Fund, Arts International, Bush Foundation, Jerome Foundation, Forecast Public Art Works, Lions Foundation, Wellington City Council, The Performing Arts Foundation of NZ, Creative New Zealand, San Francisco Arts Commission, Zellerbach Family Fund, CASH/ Hewlett Packard Foundation, amongst others.